Click here to get this post in PDF
As your B2B business enters a sustained growth phase, it presents you with incredible opportunities to use your resources to reach an expanded pool of customers. You're in a better position to deliver your value proposition to buyers and decision-makers who were previously outside of your circle of influence, and your sales efforts during this phase can lead you to exponential growth that can change the course of your entire organization.
Increasingly, businesses are investing more resources into social sales programs to engage their prospects in innovative ways. Attempting to scale a social selling strategy results in a delicate situation, seeing as how you need to increase efficiency in order to expand your reach, but you don't want to lose the intimacy of the platform that makes social media so effective. By using the advanced tools provided to you and giving your reps what they need to confidently approach prospects via social media, you can ramp up your social selling program to meet the needs of your expanding customer base.
Adopt a scalable model that sets your sales reps up for success
If you want to see real success when attempting to scale your social selling program, then it all starts with training. Do not rely on sales reps attempting to make social connections "whenever they have time" or "after they have finished their real sales calls."
During your sales training procedures, firmly layout why social selling is such an important part of your strategy and set clear goals for your salespeople in terms of their efforts (since nearly two-thirds of salespeople incorporating social selling techniques outperformed their peers, it shouldn't be hard to convince them). This way no matter how big your sales team grows your social sales connections will follow at an appropriate pace.
Employ automation measures strategically
Automation has created vast new possibilities for B2B marketers and sales managers, but it's important to remember that just because you can do something doesn't mean that you should. In their haste to imbue their social selling efforts with a quick shot of growth, many business leaders make the mistake of employing wholesale automation in order to reach the most people in the fastest way possible.
Automation must always be used in the service of connecting your audience with value-added information. If your prospects become accustomed to a barrage of posts from your accounts that offer little incentive to click, they'll be far more likely to lose faith in your company's expertise and unfollow.
The more specific your search queries are, the better the quality leads they'll produce
Scaling up your social sales is all about the quality of your leads. It seems counterintuitive since you would think that more leads would be better when you're trying to grow your business.
In reality, revenue growth allows you to sell to an entirely new segment of customers, so it becomes more important than ever that you spend your time and money selling to the right ones. Platforms such as LinkedIn and Twitter have developed new search tools that give sales professionals an unprecedented ability to identify quality leads more efficiently.
Use the power of your growing network for referrals
As your customer base, and therefore your network increases its scope, your opportunities for referrals will be greater than ever. Use the power of your network's connections to gain exposure to an even larger group of prospects.
Ask your satisfied customers and followers if they would be willing to tag interested parties on social platforms who could benefit from your product. Most of them will be happy to do so, and you'll gain the advantage of a built-in, warm lead.
Leverage a thought leadership position
LinkedIn isn't only the most popular platform for B2B content marketers, but it plays an important role in the majority of buyers' decisions as well. While it was once seen primarily as a haven for job seekers and networkers, the social site has emerged as a hub of knowledge sharing where everyone from sales reps to CEOs can establish their credentials as experts and thought leaders in a chosen subject.
As your social selling program grows, most prospects will want to quickly check to see if your company has specific insights that can help make their job easier, and publishing high-quality content on LinkedIn is a proven strategy for demonstrating this expertise.
This article is originally published at Tenfold.
Also read: How To Effectively Sell Toys in Social Media
About the Author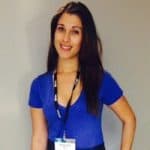 Brooke Harper is a seasoned writer and sales consultant and has written hundreds of articles and white papers covering all aspects of B2B sales, phone marketing, and advanced sales strategy. Brooke is one of the top writers on Quora in B2B and her answers get over 100K views a month and growing.