Click here to get this post in PDF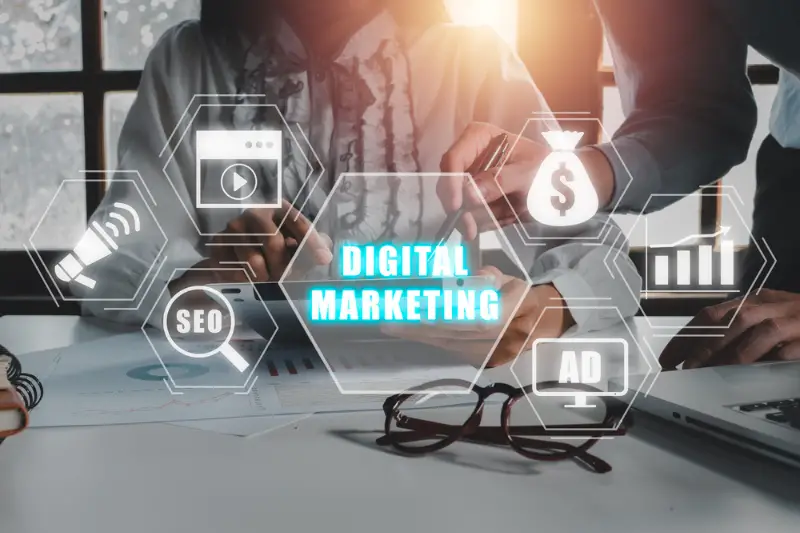 Employing a cost-effective and far-reaching marketing strategy is essential for small businesses to thrive in the online marketplace.
There are many different digital channels you can use to market your business. Some of them will drive instant results some will take longer to see an ROI. 
Nevertheless, all small businesses should have a clear and well thought out digital marketing plan.  This will help ensure their own future success. 
Search Engine Optimization (SEO) is a solid strategy
A good SEO strategy will help your website to rank near the top of the search page when somebody is looking for the goods or services that you provide. This is a fast-evolving sector of the online marketing world and although it can be daunting at first, once you get the hang of it you'll see new visitors flooding onto your site! 
Google handles over 100 Billion searches every month. This means if you can rank highly on their search pages you can expect to see a large volume of traffic coming to your site. 
Most of the time this is handled by an SEO agency. The majority will have SEO packages perfect for small businesses. You just need to make sure they contain the right things.
Display advertising
Make people remember your brand with a compelling display ad campaign. The eMarketer research indicates a US display advertising budget of $108.53 billion in 2021. And it will continue to grow. Despite the low conversion rates, display advertising is one of the most effective ways to boost brand awareness.
Your display ads will be more effective if you integrate media buying. It is the process of purchasing display ads across multiple platforms and negotiating to find the correct placement at the lowest price. You can also remarket to recent visitors by showing them ads while they are browsing the internet.
Mailing Lists
Your email list is an extremely cost-effective and powerful tool to promote the goods and services you sell. To build up your mailing list you can offer free ebooks, promotional codes and coupons or signups for competitions on your website. 
Once you have your list of emails you can send out regular updates about your business to an audience that is already interested in what you are offering. 
By continuing to provide valuable content through your mailing list you will help to foster a loyal customer base. You'll also be able to let your potential customers know about upcoming offers, new product ranges and other general information that would be useful for them.
Social Media
Social media is one of the most important places to grow your brand and build up a following of interested parties. It's free to create social media groups and if you want to advertise you can really tailor it so that you target a very select group of people, making it very cheap in terms of gaining traffic to your site. 
Your social media presence can also be used to educate your customers, promote your products and strengthen your relationships with them by offering regular useful information such as 'How to' articles and other relevant content. There's also a wealth of possibilities, even for niche industries like service businesses, to tap into with options like Facebook paid advertising or other platforms that work for your audience.
Content Marketing
This is when you create valuable content for potential customers within your niche and through this great content, you win the trust and faith of your clientele. 
If you run a business selling cameras it would be extremely difficult to rank highly on the search engines for 'camera' or 'buy camera'. 
So instead, you can produce articles answering questions that potential customers may also be asking, for example, 'Best Camera under $1000' or 'How to select a good camera'. 
This will bring new customers to your website who are looking for those answers and once they are there you can convert some of that traffic into sales.
Now you can write this content yourself or you can outsource it to an agency or freelancer. It really depends on how much time you have and your budget. Most SEO packages should include some form of content marketing though. 
PPC (Pay Per Click)
Buying advertising on sites like Google is a great way to supercharge the traffic that is visiting your website. This is a strategy to get quick results and provided that you can successfully convert the new visitors into sales then it's almost as good as printing money! 
However, you should not be paying for advertising until your website is fully set up and operational, so you don't waste money sending people to a half-constructed website! One of the advantages of advertising through Google is that you only pay for the advert when someone clicks on it.  
Search Engine Optimization is the Best Long Term Strategy for Small Businesses
For a small business to survive and grow it must have a good long-term SEO strategy that will drive organic traffic to its website and an effective digital marketing plan. This is the most cost-effective and reliable method of driving organic traffic to increase your online visibility and reach. 
Why is Search Engine Optimization (SEO) the Best channel of marketing for small businesses? 
Websites actually get more traffic from organic searches than from paid advertising traffic. This may be surprising and it certainly does not mean that you should give up on paid advertising, but you should always remember that a finely tuned SEO strategy will generate you the most traffic in the long term. 
When people are looking for products or services online, they usually start off by doing a search on Google. This means that if you can manage to capture even a relatively small proportion of this traffic you will potentially have huge numbers of visitors to your site. 
According to a study conducted by Forbes Magazine, the first page of a Google Search receives over 90% of total clicks. So, if you are not high up on the search results then you'll miss out on huge amounts of potential custom. 
Boosting your SEO performance will also improve your brand awareness online.
A Quality Digital Marketing Plan for Small Businesses is the key to success
Spending the time and money to set up your website so it is SEO ready and effective will be the best investment that you can make. Whether you are just starting out in eCommerce or have been in business for a while it is vitally important.
A Good SEO Marketing Strategy will help you build a strong business that will continue to grow with time. 
Don't be put off by the jargon or technical terms since with a bit of patience you can master it. Alternatively, don't be afraid of reaching out for help from freelance professionals who can help you to manage SEO for your small business. 
You may also like: 8 Offline Marketing Techniques that Still Work