Click here to get this post in PDF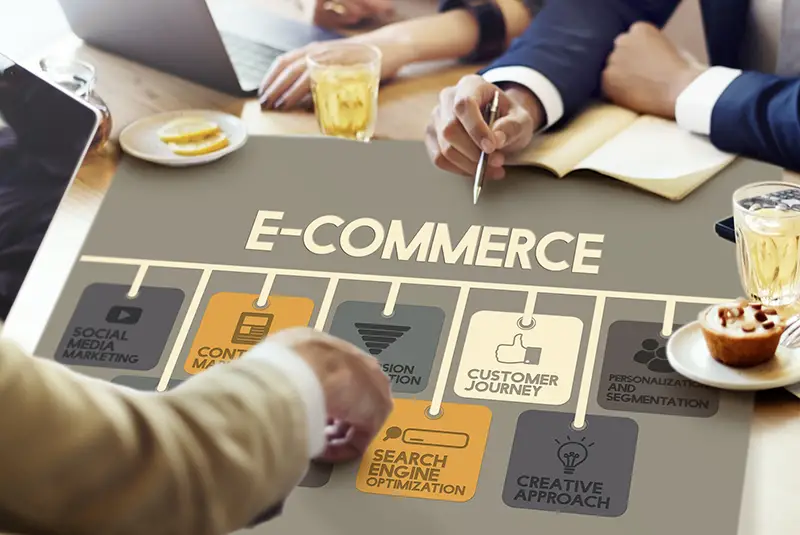 The method of using analytics and feedback from users to improve the performance of a website is called Conversion Rate Optimization, or CRO, and is a systematic process of increasing the number of visitors who conduct a certain action on your e-store or blog, which is the main goal of a business's online efforts.
However, you don't want to build traffic with people who are not interested, so optimizing the conversion rate must be in accordance with the consumers that you want to see the page or campaign since they are the ones who are going to turn from visitors into customers and are going to spread the word.
1. Increase your page speed:
A 1-second delay in the website's speed can result in a 7% conversion reduction.
2. Place your logo right:
Comscore.com increased its conversion rate (CR) by 69% by changing the location of its logo.
3. Keep your homepage simple:
The Weather Channel increased conversions by 225% by simplifying its homepage.
4. Make your navigation user-friendly:
The Olympic Store increased conversion by 7.74% by improving site navigation.
5. Keep the landing page short:
DesignBoost increased signups by 13% by compressing its landing page.
6. Use live chat:
intuit.com increased conversions by 20% and sales by 211% by adding a live chat to their website.
7. Offer free shipping:
NuFace increased orders by 90% after adding a free shopping threshold.
8. Avoid captcha:
Website's CR increased by 3.2% when captcha is turned off.
9. Avoid too many social share buttons:
taloon.com increased its CTA rate by 11.9% after removing social media share buttons from its homepage.
10. Add contact phone number: 
Flowr increased conversions by 5% by adding a phone number to the homepage.
11. Make your website responsive:
wallmart.ca's responsive web design boosted conversions by 20% on all devices.
12. Make your website mobile friendly:
Wallmart increased conversions by 20% after implementing mobile-friendly design.
13. Place promo codes on the homepage:
Build.com increased conversions by 6% by using promo code banner ads.
14. Redesign A/B test of your website pages:
Crazy Eggs increased its conversion rate by 21% by redesigning its website.
15. A/B test your pricing pages:
Redesigning pricing pages can increase conversions by 25%.
16. Let customers checkout as guests:
The checkout guest function increased ASOS Store conversions rate by 50%.
17. Add a PayPal button:
Adding a checkout through PayPal button increases mobile conversion by up to 34%.
18. Add free trials:
Muscle and Motion increased conversions by 14.5% after emphasizing a free trial on their homepage.
19. Use a trust seal:
cars.com recently boosted its conversion rate by 2.7% by having a security seal on its website.
20. Use a video on your homepage:
Vidyard increased conversions by 100% by using a video on its homepage.
21. Reduce registration form fields:
blivakker.no increased its CR by 10.48% after removing three fields on a registration form.
22. Share testimonials:
WikiJob increased conversions by 34% after adding testimonials on their homepage.
23. Add video testimonials:
Candlemakers increased conversion by up to 166% after adding video testimonials to their site.
24. Reduce feedback form fields:
ImageScape increased the conversion rate by 160% after reducing its contact form from 11 to 4 fields.
25. Use high-quality product images:
Hyundai increased requests for test drives by 62% after using target product images.
26. Highlighting sales for a product:
Corkscrew Wine increased conversions by 148.3% after highlighting sales for a product.
27. Use larger product images:
mall.cz increased conversions by 9.46% after adding larger images with product descriptions.
28. Make an accent on product video reviews:
voices.com increased their conversions by 400% by implementing demonstration videos.
29. Use bigger buttons:
SAP Business Objects increased their CR by 32% by adding a big orange button on the test.
30. Add product ratings:
63% of customers are more likely to purchase after checking product ratings.
31. A/B test your checkout page:
Shopping cart abandonments decrease by 26% after redesigning the checkout page.
32. Optimize your checkout process:
Faster checkouts increase conversions by 66%.
33. Add coupon discounts:
26% of customers prefer using online discount coupons when making a purchase.
NameBadge.com increased conversions by 6.8% after adding an instant discount coupon to the site.
34. Add alternate payment methods:
Baymard recovered 30% of lost transactions by letting customers use alternative payment methods.
35. Give visitors a bond option:
BellaCor increased conversions by 10.48% by protecting purchases with bonds.
36. Offer gift cards:
The $50 Amazon gift cards achieved a 31% higher conversion rate.
37. Optimize product page:
Veeam software increased CTR by 161.66% by changing one word on their product page.
38. Add an FAQ for products:
rollerskatenation.com improved their conversions by 69% by adding an FAQ in their product descriptions.
39. Let customers review products:
Express Watches increased sales by 58.29% after adding customer review widgets.
40. Show reviews by customers:
Figleaves' sales to women increased conversion by 35% after adding customers' reviews on their site.
41. Get more customer reviews:
Having 50 or more customer reviews per product can increase conversions by 4.6%.
42. Add personalized pictures:
37signals increased signups by 102.5% by adding a picture of a person. 
43. A/B test your website page:
Barrack Obama raised an additional $60 million in his campaign using A/B testing,
44. CTA button colors matter:
The red background was added to the UK airline's BMI's CTA, increasing their conversions by 2.5%.
Performance increased their conversions by 21% after changing their CTA button color to red.
Changing your CTA button from green to red can increase conversions by as much as 34%.
45. Place CTA right:
Changing the place of the CTA can increase sales via product pages by 36%.
46. Use proper CTA:
unbounce.com increased their CTA by 41% by putting a CTA visible above the fold.

Infographic by Website Builder
You may also like: Digital Marketing Channels for Small Businesses