Click here to get this post in PDF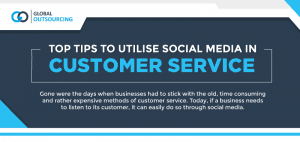 Nowadays, companies use social media for a variety of purposes – to boost sales, improve web traffic, and connect with influencers. However, overall, the overriding reason why many businesses use social media these days is to improve their customer service. With the advancement of social media over the past recent years, many companies are now able to deliver a quick and more efficient response to their customers that meet the standards of today's digital society.
However, to fully maximize its potential, one must have an intuitive understanding on how social media environment behaves; it is a global platform where a tiny mistake can impact your brand reputation and the future of your business significantly.
Using it right, however, can connect your brand with your target audience in a more personal and intimate way than ever before possible. To learn how you can use social media in customer service, check this infographic by Global Outsourcing. Also, know that using a social media scheduler will help you with the process even better.

Infographic created by: www.GlobalOutsourcing.com.au
You may also like: 6 Ways to Create a Culture of Customer Service