Click here to get this post in PDF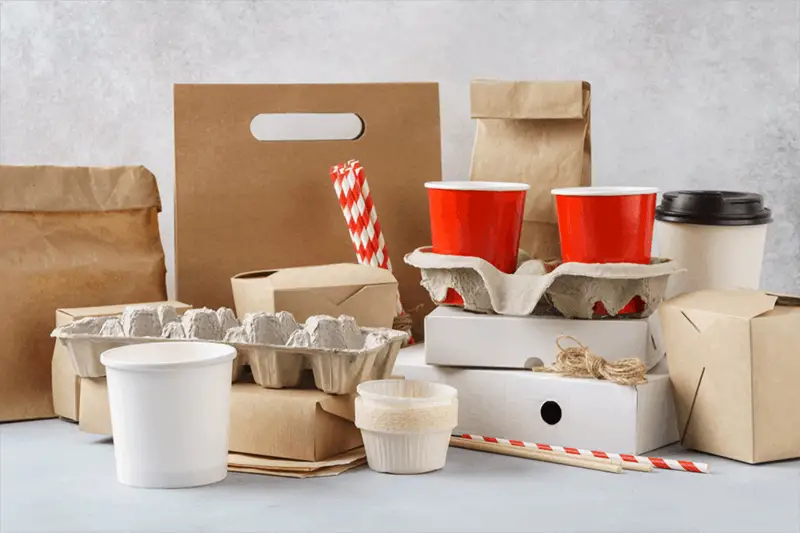 Image source: Shutterstock.com
With so many global campaigns raising awareness about climate change, waste disposal, air and water pollution, companies have become more concerned with their environmental responsibility. Businesses all around the world are doing their best to go green.
One of the best ways companies can reduce their carbon footprint is by rethinking the way they package their products. Plastic has become one of the most common packaging materials, but it's just not a sustainable option.
Eco-friendly packaging is becoming a necessity, not only because our environment is in dire need of help, but also from a sales perspective — consumers actively look for it.
Generally, eco-friendly or green packaging involves using biodegradable and reusable materials to pack and ship products. Its primary purpose is to promote recycling strategies designed to reduce pollution and other harmful environmental effects.
So here's how businesses can go green with eco-friendly packaging alternatives — and why they should.
Rethinking Plastic Packaging
Before we jump into environmentally friendly packaging options, why exactly has the world turned on plastic?
The material has played a vital role in manufacturing over the last century. It's inexpensive to create, lightweight, and flexible. It opened up a world of manufacturing and packaging possibilities.
But since discovering the possibilities of plastic, we've also uncovered the effects plastic has on our environment. It doesn't decompose, and not all plastic can be recycled. So most plastic ends up in landfills or the ocean.
Scientists have estimated that eight million metric tonnes of plastic are dumped into the ocean every year. Plastic on land and in the deep blue poses a threat to wildlife and humans — it can be accidentally ingested and leaks toxic chemicals into the ocean and air. Nowadays, plastic debris is everywhere. It litters our land, our drainage systems, rivers, and oceans — it's even in the stomachs of wildlife, from fish to sea turtles, whales and seabirds.
With 40% of the world's plastic produced for packaging purposes, businesses can make a huge difference simply by rethinking the way products are packed. Environmentally-friendly packaging alternatives can even be more affordable than plastic, so businesses can increase profitability while reducing their carbon footprint. 
Eco-Friendly Packaging Alternatives to Replace Plastic
The good news is that recent years have seen a wave of new eco-friendly packaging options emerge. Global environmental campaigns have sparked innovation in the packaging industry and it's now both easy and affordable to find biodegradable packaging options.
Cardboard
Cardboard is perhaps the most environmentally friendly packaging option on the market. It's biodegradable, and it breaks down much faster than plastic. It is also one of the easiest materials to recycle. So when the cardboard is disposed of, it does much less damage than plastic.
They way cardboard is made also makes it a more eco-friendly option. While plastic is manufactured using non-renewable fossil fuels, cardboard can be sustainably sourced and created with renewable wood pulp — in the UK, cardboard is never sourced from tropical rainforests or non-renewable supplies.
As well as being sustainable, cardboard is also incredibly practical. It can be used in almost every industry and can be used to create a variety of boxes, bags, containers, protective packing material and more. Corrugated cardboard can even protect and transport heavy loads. Whether you're in the e-commerce or logistics business, you'll find that packing boxes made of corrugated cardboard are highly suitable for packaging your products for delivery. 
Generally, corrugated cardboard boxes are durable and sturdy enough to protect products and other items from damage during transit. For this reason, they're one of the must-have protective packing materials in the moving services industry.  
Bioplastics
Sometimes, businesses need to use plastic, rather than cardboard, to package their products. For example, in the food and drink industry, plastic packaging can be used to increase the shelf life of food.
And while we've established plastic is the culprit behind so many environmental issues, not all plastic is equal. The most eco-friendly plastics are known as bioplastics, created using renewable biomass materials like vegetable fats, oils, and corn starch. Unlike most plastics, bioplastics are 100% biodegradable. They can be used to create straws, food containers, cutlery, and takeaway packaging.
The Business Benefits of Going Green
Businesses have the power to reduce the negative impact of packaging on the environment drastically.  But businesses who take environmental responsibility also benefit from more than just a clear conscience. Here are some of the advantages — from a business perspective — of going green.
Boost Your Brand Image
Brands that position sustainability at the heart of their corporate values are more likely to appeal to eco-conscious consumers. More and more customers are shopping with environmental impact in mind. So when they come across a brand with the same values, they're more likely to develop a strong and lasting relationship with the business.
Save Money 
Printing documents can be costly because you have to spend money on ink and paper. Also, these paper documents accumulate over time, and you may need additional storage facilities to keep them secure and organized. 
Cutting expenses on printing equipment, supplies, and storage is a compelling reason to go digital in some aspects of your business operations. When you opt to go paperless, your business can save more money in the long run while going green. 
Gain a Competitive Advantage
Offering eco-friendly packaging positions your business as more environmentally responsible than competitors who haven't yet made the switch. Consumers looking to make ethical purchasing choices will be more likely to shop with your business than your competitors — so they reduce their own carbon footprint.
Prepare for Future Legislation
Already we're starting to see environmental laws and regulations come into play. We'll likely see more legislation in the future designed to protect the environment and reverse the damage already done. So by making the switch to sustainable packing now, businesses can get a head start and prepare for future regulations.
Conclusion 
In today's modern world, many business owners have adopted eco-friendly practices to make their businesses green. Therefore, if you want your organization to take the first step toward having a green business, you can start by keeping the above information in mind. Rethink your packaging options and implement ways to make your business more eco-conscious.
Also read: Corporate Social Responsibility: Helping Others is Good Business
About the Author
Adam Middleton is Marketing Manager at Packaging Supplies, a company that provides custom boxes, design and solutions for industries in the UK and Europe.