Click here to get this post in PDF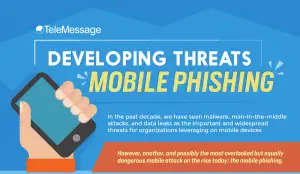 As much as mobile technology has evolved over the years, so has the mobile malware. In the past recent years, we have seen an increasing volume of attack direct at mobile devices – such as mobile phishing. Even though phishing is nearly a household term these days, its execution and how it affects mobile device users, in general, has not been explored that much. And if complexity were not bad enough, the differing mobile phishing techniques used by fraudsters are far more terrifying to learn.
How mobile phishing works is similar to how it is being used to attack PCs or laptops. But aside from malicious email or fake websites, there are other phishing techniques that attackers can use to lure their victims to provide their personal information unintentionally.
From SMS phishing, malicious apps, to modified content and URL Padding, check out the developing threats in mobile phishing by checking out the infographic below from TeleMessage.

Infographic by Telemessage