Click here to get this post in PDF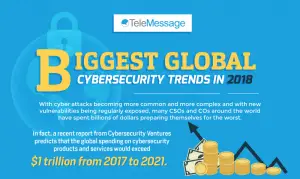 Cyberattacks are becoming more and more common but are also becoming more complex. New vulnerabilities are being exploited by cybercriminals with the passing years and have made for a more dangerous technological landscape that CSOs and COs all around the world must learn to traverse safely. Cyberattacks can come at a hefty price — billions of dollars have been spent just to ensure that they are prepared for all possible scenarios.
Several reports solidify the severity of the situation even more. According to a report from Cybersecurity Ventures, global spending on cybersecurity products and services would climb up to the trillions until 2021 to circumvent various cyber threats, while the cost of damages will rise to $6 trillion annually come the same year. Aside from the effects of the financial factors, cyberattacks and cybersecurity will also impact the security posture of many organizations in the coming years. This is according to the 2018 Study on Global Megatrends in Cybersecurity by Raytheon and the Ponemon Institute.
As such, the cybersecurity landscape is changing once again, with new trends and shifts happening to address these issues and predictions. Learn about the biggest global cybersecurity trends this 2018 and beyond with this infographic by TeleMessage.

Infographic created by TeleMessage
You may also like: Developing Threats in Mobile Phishing