Click here to get this post in PDF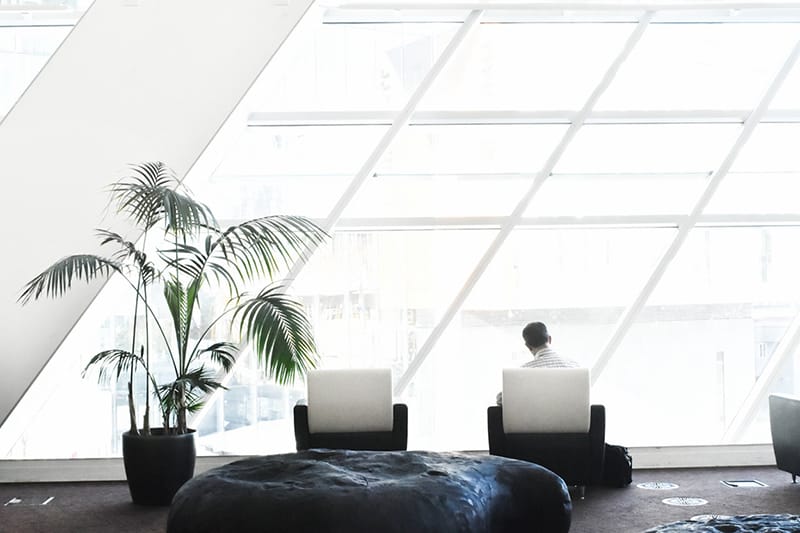 As a business owner, there are an awful lot of things to think about – but arguably one of the most important questions you should constantly be asking yourself is 'am I doing everything I can to facilitate my staff working at their best?' There are lots of elements to this, but something that often comes lower down the list than it should is your office environment – and in particular, its lighting.
Lighting – and more specifically, natural lighting – is one of the most potent and powerful ingredients that you can use to help your staff reach their full potential and achieve maximum productivity consistently. But why is this the case? What does this have to do with windows? And what can you do to take ensure your space is optimised? Let's take a look…
Understanding the link between environment and productivity
Before diving in and making any changes, it's essential to understand a few things. There is a direct link between the environment in which we work and how productive we are – and as a result, a business owner's choices about their workspace will have a big impact on their team's output.
If you think about this in terms of an extreme example, this concept makes a lot of sense. Which space would you find more effective to work in, a poorly lit, stale-smelling cupboard – or a bright, luxurious, open office with state-of-the-art facilities? In this respect, the importance of the environment is obvious.
Many elements make up the link between workspace and productivity, and lots of research has been done into the impact of various factors on our ability to work effectively. One of the most important, though, is natural light.
Why is natural light valuable to your business?
While natural light might be an essential part of our lives, biologically speaking, it's important to recognise the tangible impact this can have on your business. Understanding the specific ways in which natural light can impact your business's success is essential. One of the typical examples is having uPVC windows in your office. They are incredibly durable and require minimal maintenance, making them a cost-effective choice for businesses.
Natural Light improves focus, productivity, and creativity
The more productive your team are, the more they'll get done, and the greater your financial returns. Research has indicated that workers in windowed offices spend significantly more time sat working at their computers than their counterparts in windowless offices. It's also been found that complex tasks, such as the 'Backward Number' recall test, are completed up to 13% more quickly by people exposed to natural light.
Natural light improves attendance
One of the biggest negative influencing factors to a business owner is employee absence. Even the most productive staff can fall foul of both physical and mental health issues, but science indicates that plentiful exposure to natural light can actually contribute to reducing the likelihood of both of these – which in turn is conducive to a healthy team, who turn up every day ready to work their best.  Exterior window cleaning will ensure that windows are kept pristine at all times.
Natural light helps staff sleep better
Our 'circadian rhythms' – the biological process governing our body clock and sleep/wake cycles – depend on sunlight as a form of calibration. Our modern existence, with more exposure to artificial light after the sun has gone down, can play havoc with these rhythms, and exposure to plenty of daylight to regulate them has never been more important.
What can you do to improve it?
So with the case made for the importance of natural light, what can you actually do about it as a business owner or facilities manager? While the amount of daylight in your workspace will inherently be dictated by the glass installations present, there are a number of steps, both small and large, that you can take:
The windows in your office will only be effective if they are completely unobstructed, and this is one of the simplest – and most effective – steps you can take. If anything is blocking any of your windows, ensure it's reassigned to a less problematic space in the office.
Aim to have every window in your space completely unblocked and clear, to maximise every particle of potential lighting. This includes making sure things like blinds don't block out the light, and if you need to install anti-glare films to facilitate the use of computers, put them on the machine screens – not the windows themselves.
Rearrange to ensure people get plenty of light
It's not only important to think about how much daylight gets into your office, but how it reaches your team too. To reap the benefits of natural light, it needs to actually reach your team's skin and eyes – as such, it's important to think about the way your office is arranged and positioned.
Configure the location of desks and workstations to ensure that where possible, they're in proximity to the windows and other glazing features in your office. Ideally, everyone in the workspace needs to have a window in their line of sight. This is another extremely simple step you can take that has a vast potential impact.
Install new windows (if an option)
While a more dramatic step and one that only a handful of businesses will be able to take advantage of, one of the most significant and impactful changes you can make to your office is by physically installing more windows. Renovation work like this isn't easy to organise, but for established businesses with their own premises, it can lead to numerous long-term benefits.
It's valuable to consider alternative or more unusual opportunities for glazing installations too, such as by installing a glass roof to allow natural light to flood down from above without having to worry about things like office arrangements.
Conclusion
When it comes to things like wellbeing and productivity, it can be easy to see a lot of this kind of advice as hokum. While there are, undoubtedly, countless workplace trends that will be debunked as ineffective in years to come, something as fundamental as natural light is scientifically verified as essential to our effectiveness in employment.
Understanding daylight's importance, and making sure we take whatever steps we can as business owners to improve how much of it our staff get, are crucial cornerstones to maximising efficiency. Both anecdotally and objectively, a bright and sunny office is a more pleasant – and more productive – place to work.
About the Author
This article was contributed by James Hale. James is the chief content creator for Cantifix, one of the UK's leading structural glazing specialists – Cantifix design and install architectural glazing for all kinds of residential and commercial projects, and are passionate about the link between natural light and wellbeing.
You might also like: How to Switch off From Work to Get the Best Night's Sleep
Image source: Pexels