Click here to get this post in PDF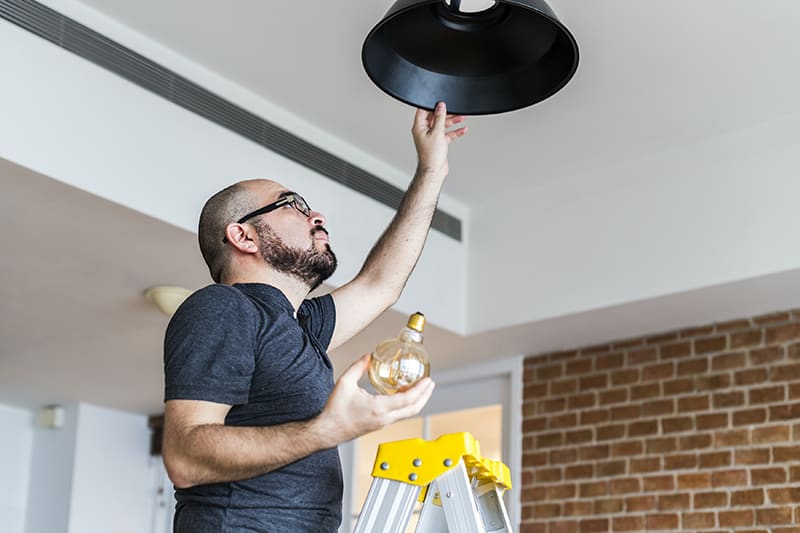 High ceiling lights often provide a major attraction in properties, but they also come with a few challenges. There are two significant challenges with these lights, which are cleaning and replacing the bulbs. Many property owners, often worry about the day when they need to replace a ceiling light.
When this day does come, most people usually pick the more comfortable option – calling a professional to help. For others who do try, they may find out that their ordinary ladder isn't high enough to get to the ceiling. We understand the problems you face.
To get you through this challenge, we have prepared this guide to help. In this guide, you will find the essential steps you need to take if you need to replace high-ceiling light bulbs in your office. One of the most important is using Telescopic ladders – sometimes referred to as extendable ladders. These sturdy, load-bearing ladders will ensure, there is no risk of injury to yourself or the building.
When changing these light bulbs, please make sure you buy energy-efficient bulbs. Also, there are some tools you need to have available. You will learn about this in the next section.
Necessary Tools for Replacing a High Ceiling Light Bulb
The right tools for the job will make your task a lot easier. The first on our list is a pair of rubber gloves. These are crucial in ensuring you remain safe and protect yourself from shocks while you go about changing light bulbs. Although you still need to turn off the lights before replacing the bulbs, you're better safe than sorry.
Another important thing you need is a ladder of the right height. You may need to purchase a new ladder that will help you cover the distance between the floor and the ceiling. To get a ladder that fits perfectly, you will need to measure the distance between your height and the ceiling when going to purchase the ladder.
The ladder you need will usually differ from the regular ladder you find in stores and homes. The last tool on this list is a bulb grabber. Depending on the direction your bulbs are facing, this may not be necessary.
For offices with lights facing downward, then a bulb grabber with an extension pole is an excellent pick. If the bulbs in your property are facing upwards, then you don't need to spend on this tool.
Steps You Must Take to Change High Light Bulbs Safely
When you have all the tools ready, you can begin the critical task of changing your light bulb. These high light bulbs include both ceiling fan lights and high chandelier light bulbs.
For individuals who have upward-facing light bulbs, then you can follow these steps:
Upward Facing Light Bulbs (Using a Ladder)
1.  Before changing any light bulb, switch off the lights.
2.  Clear the floor beneath the light bulb to give room for the ladder.
3.  Set up the ladder by opening and steadying it on the ground or close to a wall if possible.
4.  To keep the ladder steady while you climb, enlist the help of a colleague to hold it.
5.  Protect your hands by wearing a pair of rubber gloves.
6.  Climb the ladder, and grip the light bulb while turning it in a counter-clockwise direction slowly and gently.
7.  Fix the new bulb by screwing it into the socket. You need to turn it in a clockwise direction this time and be sure you do this gently.
8.  Flip the light switch on to see if your new bulb works perfectly. 
For offices with downward-facing bulbs, then there is the option of using a bulb grabber to replace light bulbs. This is also an excellent option for anyone scared of heights.
Changing Light Bulbs with a Bulb Grabber
 1.  Connect the bulb grabber to an extension pole of the right length.
2.  Gently and slowly, move your hands toward the bulb that needs to be replaced.
3.  Grab this bulb with the bulb grabber and hold it.
4.  Now get the bulb out by turning in the counter-clockwise direction.
5.  Bulb grabbers usually have a release string to help loosen the hold on the bulb. Pull this string to release the old bulb.
6.  Hold the new bulb, and slowly move it into the light bulb socket.
7.  Once inside the socket, turn it in the clockwise direction to secure it in place.
8.  Pull the release string to let go of the new bulb.
9.  Remember to turn on the light switch to confirm you have successfully replaced the bulb.
Many people are scared of heights, and this makes it challenging to change high light bulbs. The bulb grabber makes it easy for those with downward-facing bulbs to solve this problem, but what about those with upward-facing bulbs? These are common with individuals that have chandeliers in their homes.
For those with chandeliers that also have a fear of heights, you can use a special type of bulb changer available on the market. This is one with a sticky bulb changer. They are simple to use and work for both upward and downward-facing bulbs. Or, you could get contractor Singapore to assist with your needs.
The top of the sticky bulb changer is a sticky silicone. When you intend to change your upward-facing bulbs, turn the sticky silicone downward. You can turn this silicone upward when you need to change downward-facing bulbs.
Be sure to let the silicone stick to the top of the bulb or the tip of the candelabra light bulb you need to replace.
Conclusion
From the steps given in this guide, you notice that replacing a high ceiling light bulb isn't as difficult as you imagined. All you need to do is purchase the right tools to aid you in your task. There are several options available, and you can make a choice based on your preference.
You have the option of using a sticky bulb changer, a high ladder, or a bulb grabber. These tools are easy to get at a local hardware store, so you should head out and make your purchase now. When you have the essential tools right in your home, you can quickly replace any dead bulb in the house as soon as you find them.
Also read: Are LED lights safe for your health?
Also read: Why Your Windows Could Be The Most Important Part Of Your Office
Image Source: Rawpixel.com