Click here to get this post in PDF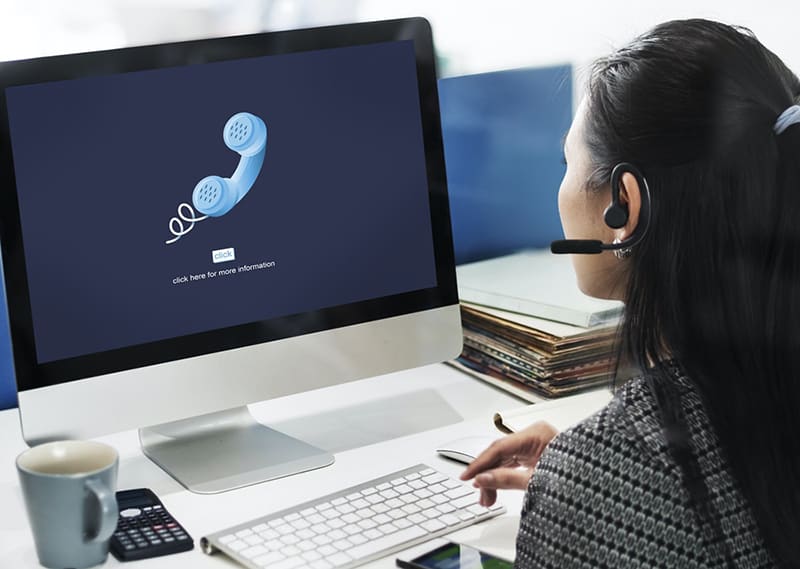 Optimal customer experience is the ultimate goal of every call center. As it turns out, one of the most sustainable ways to achieve it is through call deflection.
Call deflection provides a way for a contact center to be both efficient and cost-effective. By tweaking your call deflection strategy, you can improve call center customer experience.
The Importance of Call Deflection
One thing is certain – each customer is unique. Each one of them has different preferences. This includes the ways in which they want to reach you.
Some customers like solving things on their own (with the help of a resource center or a FAQ). Some prefer chatting over a voice channel.
You may think that the best way to provide amazing customer service is to invest a lot in your call center agents. They will speak with your customers one-on-one, which is the best way to help them solve their issues.
But is it really? Many customers seem to think that this is actually not the case.
Having more choices means that you'll be able to have more customer preferences served. When done right, this can result in a positive customer experience.
This is what call deflection is all about – it allows customers to get their answers in the way they want. It does this by routing the calls to an alternative service channel. It also decreases the number of calls routed to human agents. This makes the entire process far more efficient.  
Popular Call Deflection Methods
Self-service is becoming a popular option in the world of customer care. For that matter, call centers are searching for more efficient call deflection strategies. These are the most popular methods:
Chatbots
These days, it seems like most websites have started using chatbots. These conversational AI platforms can be of great help when you have to deal with high call numbers. They're capable of scaling and automating one-on-one interactions.
Technology is getting more sophisticated every year. Similarly, chatbots are getting smarter too. They can successfully deflect hundreds of calls.
In this way, they allow call center agents to deal with more complex inquiries. They also decrease the workload for the agents. This prevents them from feeling burned out and thinking about quitting.
User-friendly self-service channels
Today's customers prefer solving issues themselves over dealing with call center agents. Companies have to make their self-service channels as efficient and intuitive as possible.
To be successful, user-friendly self-service channels have to be fully functional. This means no irrelevant information, confusing language, or dead links. The whole process of helping the customer needs to be crystal-clear and seamless.
In most cases, placing such channels into action requires the use of analytics. These allow one to determine when and why customers abandon the self-service channels. Once these points are found, solutions can be implemented.
Computer Vision AI
In simple terms, computer vision AI is actually a virtual assistant. It is capable of identifying the customer's problem via the camera on their smartphone. By doing so, it can diagnose the issue and then interact with the customer visually.
Computer vision AI can also use augmented reality. This allows it to use a visual step-by-step process to guide the customer toward the solution.
This option is highly effective when it comes to deflecting unnecessary calls. It utilizes enhanced self-service capabilities, smarter routing, and faster issue identification. As a result, computer vision AI can have a very positive impact on call volumes.
Proactive Customer Communications
What is the best way to reduce incoming calls to your call center? By identifying and solving issues before they turn into major problems, of course!
For example, a consumer electronics company can periodically check in with its customers. The goal is to determine if they need help with the new features. Similarly, a utility company can proactively notify its users about upcoming outages.
These types of proactive communications can drop a massive number of incoming calls.
The Advantages of Call Deflection
A well-implemented call deflection strategy lets customers get answers however they want. It also introduces several other benefits:
Fewer Errors in the Website
For many companies, websites are more important than their actual physical branches. As one of your flagship branches, your website is essential. It needs to be error-free, well-maintained, and regularly updated.
An effective call deflection strategy can be of great help here. It helps in identifying the weakest point of the website, allowing you to apply fixes. With time, your customers will stop encountering problems on your website.
Simplified Online Customer Processes
Once the issues are reported by the customers, you're guaranteed to receive fewer and fewer calls. This is because callers simply won't report the same issues in the future.
Your customers will be finding problems and you'll be fixing them. As a result, your online processes will become perfected and simplified. The online experience of your customers will be improved. There won't be any issues for them to encounter – it's as simple as that.
Better Service as a Result of Less-Stressed Agents
One of the main reasons for employee burnout is the increased workload, and call center agents often quit their jobs due to burnout. Whenever you lose one, you have to hire and train a new one with less experience.
The newly-hired call agent won't be able to deliver the same customer satisfaction. Moreover, all the time and money you invested in training the employee who quit will go to waste.
This can be avoided by employing an effective call deflection strategy. Your agents will be able to give their full, undivided attention to one customer at a time. With decreased workload and less customer waiting time, your agents won't fell burned out.
Conclusion
As you can see, a well-implemented call deflection strategy brings many benefits. No matter which method you decide to go with, you're bound to improve the experience of your customers. You will also cut costs and decrease the workload for your agents.
You may also like: Why You Should Have Good Customer Service
Image source: Rawpixel.com