Click here to get this post in PDF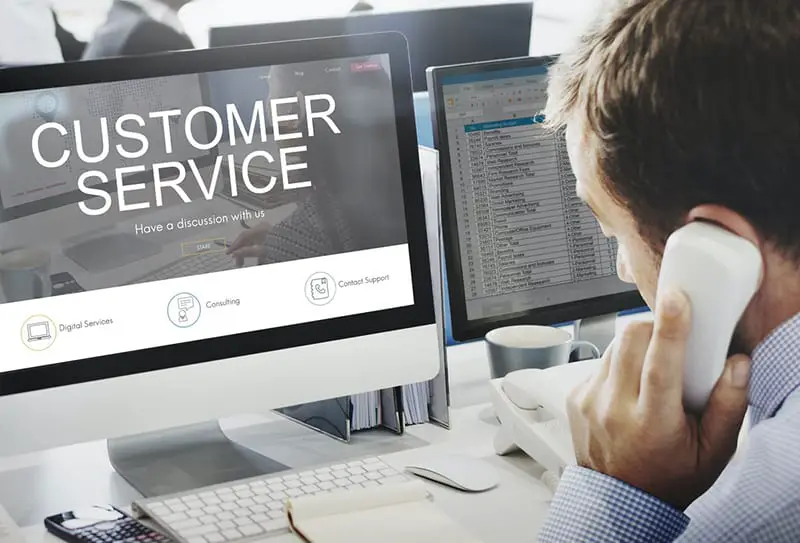 It seems that no one remembers picking up a phone book and calling a business anymore (although phonebooks are still distributed widely). Think about wanting to get in contact with a company – if you wanted to get in touch with your local ice cream store, what would you do?
How about your local city government? Your college? A restaurant? How would you go about getting a quote from professional glazers if you were remodeling your bathroom? Think that everyone would have the same type of answer? Think again.
People have become scattered in their communications. They are comfortable with different ways of getting in touch and not all of them are like you. The hard part about having a business like a construction company, a bakery, or a service-based organization, is that you need to make sure that however people try to get a hold of you, they are able to do so – this ensures that no question is left unanswered and no one left hanging.
Customer service depends on prompt interaction. It may cost you a sale, a steady client, or an opportunity. Chances are that if you don't answer to your Google Review comments or your Facebook messages, your competitors are.
Here are some ideas of how to tighten your customer response rate and better your clients' experience with your business:
Answering the Phones
First things first – you don't want to leave your phones unanswered. We want to mention this first because, according to Small Biz Trends, 60% of people still prefer to call small businesses the old-fashioned way.
Why is this a problem? There are a few small businesses that have a dedicated receptionist for answering phones. This might mean that a lot of calls might fall through the cracks – even if you call a number back, it won't have the same warm and welcoming vibe as a promptly answered phone call and hearing a calm, professional voice on the other end of the line.
A perfect solution for this issue is looking into a professional answering service – yes, it's essentially outsourcing the gatekeeper job. This means that you have more time to run the company and don't' have to stress about glancing at your phone during meetings and conversations with other clients.
This is a win-win – when you answer the phone and are obviously in the middle of something, you send a message to both the client on the phone and the client with whom you are dealing with at the moment.
Bots, Chats, and Personalized Responses – Is AI a Good Idea?
A lot of people try to contact small businesses through Facebook chat. This is especially true if someone "only has a small question" or doesn't have time for a phone conversation. People are used to communicating through Messenger, WhatsApp, LinkedIn – a lot of people visit business websites in order to check if there is a chatbot available for them.
It might seem impersonal, but if a chatbot is set up properly, it will only solve problems for you. People tend to have similar questions – that's right – they repeat. Pre-programmed answers are just fine for those people – they want their answers fast, concise, and often don't want to talk more than necessary.
Most chat platforms, like WhatsApp, will require you to get a business API program – in the case of WhatsApp, it's simply WhatsApp Business API. Once you have outfitted your Facebook page, WhatsApp, or website with a chatbot, don't just stop there.
AI and answering FAQs aside, people need to have an option of contacting a real human being – otherwise, they're going to feel like there really is no one at the other end of the keyboard. Chatbots are all fine and great for managing volume and getting back to people quickly, but if there is a complicated question that truly needs your expertise – don't leave them hanging, or they'll go elsewhere with their questions.
Always make sure you provide your customers with an alternate mode of contacting you or give them clear and concise information on when and where you are available. 
Respond Personally
Another way that clients like to interact with businesses is through reviews – Yelp, Google reviews, product review pages, Foursquare, Glassdoor, Angie's List, or MerchantCircle. There are tons of specialized review sites as well – like OpenTable for restaurants.
There are a few golden rules for engaging on review sites:
Address both positive and negative reviews
Be gracious – don't lose your temper
Have pride in what you do – don't throw your staff under the bus
Offer freebies – they lead to second chances whether you're at fault or not
Present your case – let people see that you address any problems that may arise
People are more likely to try out a business when any bad reviews are addressed than a company that ignores any feedback. Engagement means caring and paying attention to what people want.
Conclusion
Contact is important – and customers respond to "just in time" contact and engagement. They will go to a business that answers their questions and provides knowledge simply because they feel like they can trust them as an authority.
Whether on the phone, in person, through online chat, or responding to feedback – don't miss this important chance to build relationships.
You may also like: What It Takes to Understand Your Customers Today
Image source: Rawpixel.com