Click here to get this post in PDF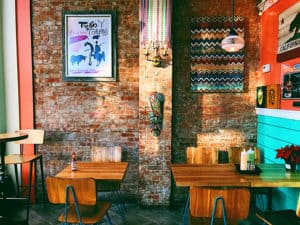 Over 200 million Americans dined in a restaurant in 2018, which means it's quite possible to have a popular and profitable eatery. But how do people decide where they are going to eat, and what can you do as a restaurant owner to entice diners to come to your establishment? Here are three ways you can attract more customers to your restaurant.  
Brighten up your space
The interior of your restaurant is crucial. When diners enter, what they first see, and experience will set the mood for how their night will go. Your interior design choices will help dictate what your customers experience, and if they don't enjoy that experience, they certainly won't be coming back again. There are some important things you definitely need to address in order to provide a perfect experience for your diners.
Make sure you've thought about the layout of your restaurant. Think about any problem areas in your space and how you can troubleshoot them. For instance, if you know you have to put a table by the restrooms because of space, place a divider or a plant between the table and the restrooms. You can address all the problem areas in your restaurant by examining the space from every angle and knowing what your customers will be experiencing. Another great way to liven up your restaurant is to add a little color, like with canvas printing. Pops of color will help your space feel exciting and fresh. Ultimately, you want to make sure your guests have the best experience possible and will be rushing to tell their friends about the beautiful new restaurant they just visited.
Make marketing a priority
90 percent of guests research a restaurant online before they go, which means digital marketing is huge. Investing in marketing will help bring people to your restaurant. Not only that, but because of what they've seen online and on social media, your guests will be excited to eat at your establishment. Pre-setting diners' expectations and helping them anticipate something incredible will improve their experiences.
Straight Marketing LLC can provide you with excellent marketing solutions for your restaurant. By engaging with customers on social media platforms, you will be able to connect with your community while also gaining valuable insights into your target market. It might be tempting to ignore marketing and just focus on your food, but when you run a business, you need to do everything you can to engage your customers. Digital marketing will help ensure your business continues to thrive.
Help your staff look appropriate
What your employees are wearing is a huge facet of how your restaurant will be perceived. It's crucial that your staff look professional and clean. Chefclothing helps your employees feel confident and unified as they serve customers. Uniforms also help customers understand who is an employee and who is not, while reinforcing your restaurant's ideals and atmosphere. You should choose uniforms for your staff that match the atmosphere you are trying to create in your establishment. Something as simple as a branded t-shirt will help your customers identify employees while also signaling that your restaurant is a casual establishment. Your staff can look appropriate and professional even while wearing something more laid back.
Remember that your employees will need to work in these outfits, so make sure you are choosing something that is comfortable and easy to move around in. You might also want to consider clothing that is easy to clean since your employees will inevitably dirty their clothing throughout their shifts. It's vital that you consider your business and decide what will work best for you and your staff.
If you pay attention to the overall atmosphere of your restaurant, your employees, and your marketing, you will have no shortage of customers in your incredible and unique business.
You may also like: No Restaurant Is An Island: A Definitive Guide to Working With Other Companies
Image source: Unsplash