Click here to get this post in PDF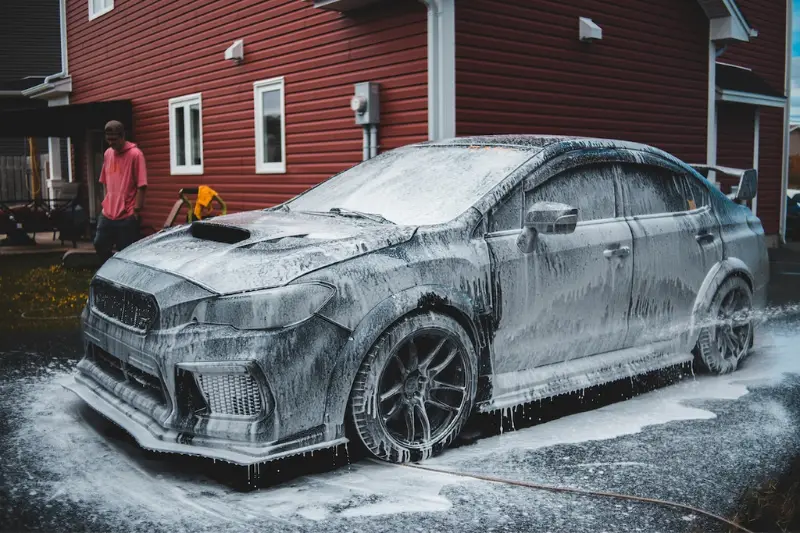 Starting a mobile car detailing business can be an exciting venture, especially for the young and enterprising individuals out there. 
It's more than just a wave to ride on. It's an opportunity to combine your love for cars with a profitable business model. 
Low startup costs and high demand for car detailing services make it a lucrative endeavor. But it's not just about getting your hands on a buffer and some wax. 
There's a lot more to launching a successful detailing business. This involves knowing the laws, understanding your market, and mastering the art of marketing. 
Through this guide, I'll share my tips and experience to help you navigate this promising journey.
Tip 1: Make Sure You Know The Laws
Jumping headfirst into a new business is always thrilling. But before you put your foot on the gas, you need to make sure you're well aware of the local laws that apply to mobile detailing businesses. 
Laws can differ significantly from state to state or even country to country. So, you must verify if you can operate as a mobile detailer in your area. 
There's also the question of the detailing products you'll be using. Some states mandate the use of only bio-degradable products for such businesses. This is all part of being a responsible, eco-friendly business owner.
Finding out about these rules isn't too challenging. You can either visit your city municipality to clarify these details, talk to a lawyer, or you can reach out to other mobile detailers in your area. They are often more than willing to help fellow detailer get their start. After all, knowledge is power, and having a thorough understanding of the laws will keep your business on the right side of them.
Tip 2: Conduct a Deep Market Research and Analysis
Having a firm grasp of your local market is crucial when starting a mobile car detailing business. It's a step you shouldn't overlook.
First, you'll want to know how many mobile car detailers operate in your area. Is there room for another, or is the market saturated? Knowing your competition helps shape your business strategy.
Understanding the potential customer base is another key factor. Are local people willing to pay for car detailing services? How much are they willing to spend? Research this by connecting with local car detailing groups on Facebook or chatting with friends and family.
Next, you should figure out how much it will cost you to detail a car. Knowing your expenses per car will help you decide your pricing strategy.
Instagram, TikTok, and other social media platforms can be great sources of information. Look out for discussions on car detailing to get a feel of the current trends and customer preferences.
Finally, consider the overall financial situation in your area. If people struggle to meet their basic needs, they might not have the extra money to spend on detailing services. However, if the local economy is thriving, your mobile car detailing business could really shine!
Tip 3: Find a Reputable Insurance
While you may be very confident in your skills as a car detailer, accidents can and do happen. You might inadvertently cause a headliner to sag during cleaning, or perhaps some interior plastics could get damaged while using a steam cleaner. It's these types of incidents where having reputable insurance becomes crucial. 
Choosing the right insurance will protect your business from potential financial losses stemming from accidental damage. It shows your clients that you're a professional who takes their business seriously.
Apart from protecting your business, don't forget about the vehicle you're using. Make sure it's insured too. If an accident happens while you're on the road to a job, you want to ensure you're covered.
In essence, having comprehensive insurance not only shields you from unexpected events but also enhances your reputation as a reliable and professional mobile car detailer.
Tip 4: Buy a Vehicle, Tools, and Products
Having the right vehicle is the backbone of any mobile car detailing business. It's your mobile base, carrying all the tools and products necessary to deliver top-notch detailing services.
A caddy or a van is highly recommended because they can accommodate a wide range of equipment. From polishers and microfiber cloths to water tanks and generators, you'll need ample space to haul everything around.
Next comes your toolkit. As a beginner, it might be overwhelming to think about the variety of tools needed. However, the basics should include items for washing the car, clay bars, quick detailers, spray ceramic coatings, a steamer, an extractor, and a high-pressure washer. 
Don't worry about having every single tool out there. You can always add to your collection as you expand your services. Remember, it's about starting smart and scaling up as your business grows. With the right vehicle and essential tools in your arsenal, you're well on your way to launching a successful mobile car detailing business.
Tip 5: Learn the Basics of Marketing
Understanding the basics of marketing can play a vital role in the success of your mobile car detailing business. You might think it's not crucial at the moment, but trust me, having a solid marketing strategy can put your miles ahead of the competition.
Harness the power of social media for your business. Facebook, Instagram, and TikTok ad campaigns are effective ways to reach potential customers. These platforms allow you to specifically target people in your area who might be interested in your services.
But marketing doesn't always mean spending money. You can also use free strategies, like opening profiles on various social media platforms and regularly sharing your work. Show the world those shiny, detailed cars you've worked on. 
Sharing customer testimonials, before and after photos, and the detailing process can catch people's attention. Word-of-mouth spreads quickly online and can be a powerful tool to grow your client base, making your business profitable sooner than you might expect.
Conclusion
Embarking on a journey to start a mobile car detailing business isn't akin to rocket science. Yes, it involves a mix of careful planning, groundwork, and a dash of entrepreneurial spirit. But with a measured approach and the right preparations, you can significantly increase your chances of success. 
The key is to create a business that not only brings customers to your door but also keeps them coming back. With each polished car and satisfied customer, you'll be on your way to making your mark in the thriving world of mobile car detailing.
You may also like: 7 Essential Tools For Starting a Car Washing Business