Click here to get this post in PDF
A lot of folks understand loyalty programs for B2C businesses. Many do not, however, understand that this type of program is also very important to B2B businesses. Usually, the thinking is that corporate clients are objective with their decision making and will do business with the company that offers them the best value.
While this is largely true, human beings are still involved in the decision-making process. To this end, except yours is the only company providing the service or product you offer, you cannot expect to earn the loyalty and continued patronage of any business unless you are doing a little something better than your competition.
When service rendered or product offered is the same across the board, a loyalty program can be an effective tool to retain and even attract customers.
What is a Customer Loyalty Program?
An understanding of what this term means will bring some illumination to this subject. It is simply defined as a marketing plan or strategy used as an incentive to encourage customers to buy the product or service to which the incentive is tied.
There are a whole lot of these programs and you can read about them here. Given the definition above, it should be pretty clear that similar strategies can be employed for both individual customers as well as corporate ones.
Things to Consider when Setting Up a B2B Customer Loyalty Program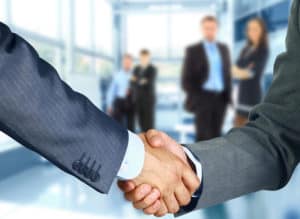 There are a few differences between a loyalty program directed at individual customers and those directed at corporate bodies. There are a few important things any B2B business should understand before setting up their program.
Programs Should be Customized for Each Customer
Unlike a B2C situation where you can have a blanket program – buy one, get one – and it is applied to every customer, a B2B situation may require more customization. Corporate clients are usually heavier spenders and will only likely be incentivized by a reward which offers a value proposition that resonates with them or the individuals making the decision.
You should, therefore, consider the client's buying pattern and their buying potential and based on this, offer a reward that is commensurate. You cannot offer the same incentive you offer to a client who does business worth $10,000 with you to another client who does business worth $100,000 with you. The reward should reflect the importance of the client to you.
You should also consider a company's culture when choosing a reward. A reward that tallies with the company's culture and ideologies will certainly be better received.
Identify Key Decision Making Positions
Another important thing to consider is the personalities that occupy the key decision making positions. While it may not be ethical for those individuals to receive personal gratification for having their companies do business with you, they must see whatever reward you offer as being worth it for the company.
You must, therefore, understand these key individuals, their profiles and the kinds of things they consider important. To understand these key roles that influence how a business makes a purchase, read this article: https://www.business2community.com/b2b-marketing/makes-b2b-buying-decisions-5-b2b-buyer-influencers-0897588.
Examples of B2B Customer Loyalty Programs
While the types of corporate clients' B2B businesses have may vary widely, thereby requiring customized rewards, there are a few general examples of reward programs that we can look at.
Purchase Based Incentives
This type of approach involves offering a discounted price once a certain purchase threshold is reached. So, the more you purchase, the cheaper your cost gets.
Another variation of this is a new offer made at a highly discounted price for a purchase. This usually works best in a situation where there is a related product or service that the client company can also use. Once the first purchase is made, the new offer is made available as a reward for the first purchase.
Referral Bonuses
While this is mainly a B2C approach, there are certain B2B situations where they can be applied. The client company gets discounts for any new business they refer.
There are many examples that will fit into different situations. You just have to find the ones that fit your niche the best.
How to Get Started
Thinking about the right B2B Customer Loyalty Program to deploy can be distracting from the actual task of running the business. Efficiency stems from knowing your strengths and sticking to them while outsourcing those areas where you are not so efficient to those who are.
In this case, there are companies that specialize in designing loyalty programs for B2B or B2C businesses. Some of these companies will not just design them but will also manage and administer them. This allows you to focus fully on delivering your services or products without distraction while your clients keep getting the rewards.
For any B2B business thinking of starting a reward program for its clients, finding and working with the right company can get things started pretty fast. You won't have to worry about ideas or execution. All will be fully taken care of for you.
You may also like: B2B Services For A Smooth Workflow