Click here to get this post in PDF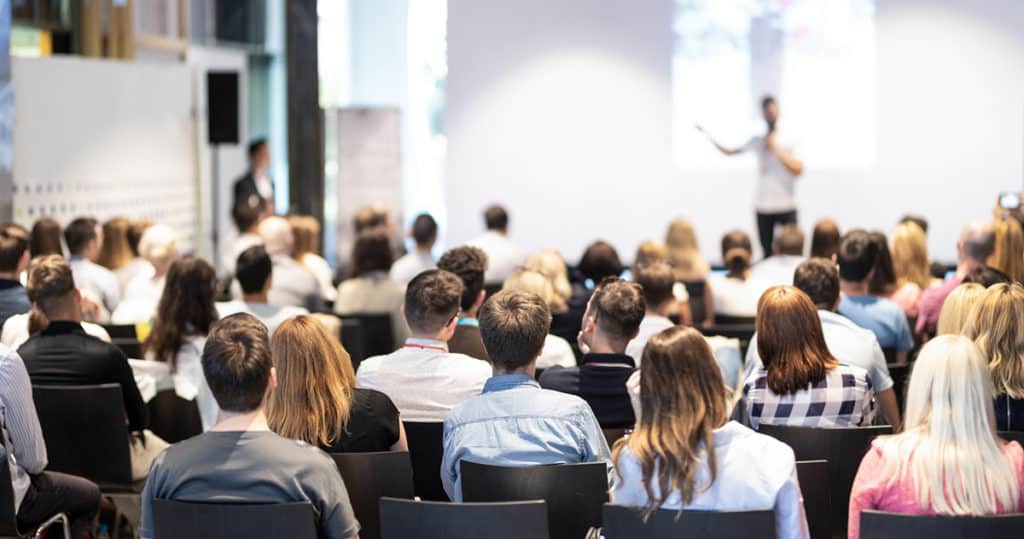 Live conferences and events continue to bring in audiences. Data shows the conference industry should grow by 44% through 2020. While this is good news for event planners, it also means you need to work harder to grab attendee attention.
This means you need to start planning for your event at least a year in advance to get everything right. If you don't know how to plan a conference, there are some basics you need to have in place. Once you have a basic outline, you can move to attract big names in your industry.
How to Plan a Conference: Basics to Details
Professional conferences are 23% of the event market globally. Conferences offer your business a chance to stand out in the industry if you do it right. This means providing a conference that people remember. You want attendees, exhibitors, and speakers to talk about their experience.
Conference Plan Basics
A good conference offers attendees networking and learning experiences. In fact, 82% of attendees join for networking, and 71% attend to learn something new. These facts are important to keep in mind when it comes to planning your conference.
Planning the Theme
The first step in conference planning is choosing a theme. You want to determine the topics for discussion. You also want to come up with an overall theme for the event.
What do you want attendees to take away from your conference? The theme that ties your discussion topics together is important for marketing your conference. This will help you come up with the materials you choose to attract speakers, exhibitors, and attendees.
Based on the discussion topics, you can start planning your itinerary for attendees. The earlier you plan sessions, the easier it is to plan your space needs.
Planning the Date
Once you have a theme, you need to plan for dates. It's a good idea to start with multiple dates to compare for pricing and availability. Make sure you choose dates that will not compete with other major events or holidays.
Contact potential vendors and venues to make sure space is available for one of your dates. If you choose multiple dates, you can also check for discounts for certain days of the week.
You also need to plan for the conference time frame. Determine how many days the conference will run and the times for each day. This will help with your negotiations.
Attendance and Exhibiting Planning
You should determine early on who you want to invite to your conference. This will help you make estimates about attendance so you can plan your budget. Knowing the attendees will also help you reach out to the best exhibitors for your event.
Think about what groups in your industry you want at your conference. Think about what level you want to attract and the age range. This will help you when planning your marketing material. This will also help you set prices.
Sources of Revenue
You will need to set prices for attendees and exhibitors based on how much the conference will cost and the profit margin you need to make the conference worth the price. You can create attendee or exhibitor tiers, offering more networking opportunities to higher-priced tickets.
Determine whether you want to offer sponsorships and what you can offer sponsors. Determine the prices you want to charge so you can determine the budget you have to work with.
Venue and Vendors
Once you know your budget, you can source a venue that will fit in with these limitations. You want to find a venue that meets the demands of your expected attendees and has ease of access. You want a place that out-of-town attendees can access, or offer transportation for these people.
You also need to understand the conference policies of your preferred venue. Many require you to use their in-house vendors, so understand how much this will cost. You also need to ensure they are capable of meeting your technical needs.
Check for room availability to make sure you have the room you need for exhibitors and sessions. You want to make sure session rooms are available and near the main conference area. You also want to make sure you pick a venue that provides nearby attractions for off-time.
Getting into Details
The details are not separate from your planning basics. You should consider how you plan to market as you plan your budget and pick your venue. You want to have an idea of potential speakers as you plan your sessions.
Once you have the frame in place, it's time to get the details in order.
The Speakers
You want to look for recognized names in your industry when planning speakers. Make a list of people you want to reach out to. You want to come up with several names in case your first choices aren't available.
Determine the compensation required by keynote speakers so you can determine who you can work with. Make sure you plan backups in case of last-minute cancellations.
Marketing Your Conference
You want to market your conference based on the attendees you want to attract. Consider advertising in industry newsletters or blogs. You should also target your current customers and leads with email and blog campaigns.
You can also ask exhibitors and speakers to mention the event to their followers. Many are willing as it's a good advertisement for them as well. You can also set up a social media campaign to target your audience.
Trade magazines and newspapers often have event calendars you can take advantage of as well. You can even ask the venue to mention the event on their website.
Managing Registration
You want to provide registration as early as possible. This helps you plan for catering and space needs. Offer early-bird specials on registration so you grab attention early.
You should also consider investing in an event registration platform. Some platforms allow you to create fully customized event registration websites and keep track of detailed attendee information. 
On-Site Setup
You want to show up to the event site early so you can plan your space. Check it out before the event so you know how you want to set up.
You want to figure out the best place to set up for on-site registration. This is where you will keep attendee essentials such as the itinerary, coupons, special offers, and name badges. The best name badges will help you distinguish between attendees with different access, vendors, exhibitors, speakers, and event workers.
You also need to understand the layout so you can determine where to place food, sessions, exhibitors, and vendors. Do a walk through to make sure of easy navigation. You should also make sure there are signs available to direct traffic.
Planning and Marketing Essential to Success
Whether you want to know how to plan a conference or another business event, your business plan and marketing are essential. You want to plan an event just like you would any other business venture. To make your event a success, check out more planning and marketing tips in our other blog posts. 
You may also like: 7 steps for planning a successful business event