Click here to get this post in PDF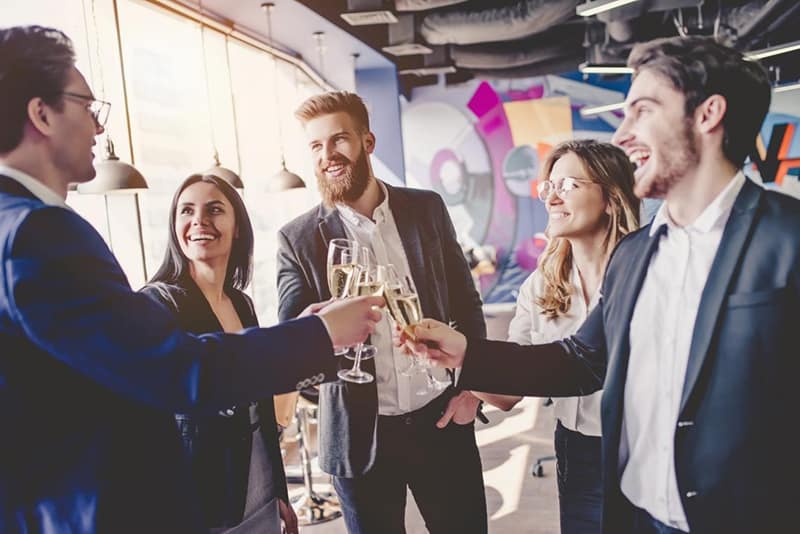 Every once in a while, you may notice the people around your office are sluggish and not really motivated to communicate with each other or work. This means that it is time for a fun corporate event!
There are tons of fun corporate event ideas whether you have them within your office or take everyone out. They're an awesome way to help promote team building within your office and get everyone motivated to work again. 
A fun corporate event is also a great way to tell your team thank you for all the hard work that they do each and every day. 
Keep reading for seven fun corporate event ideas that your team will love. 
1. A Cook-Off
There are many different ways that you could host a cook-off within your office. If you have the right amount of space and equipment, then arrange everyone into teams where they must work together to create a new dish. You can have a few people judge and see who created the best tasting dish. 
Another way would be to do it pot luck style for lunch. Have all your employees bring in the most delicious dish that they came make for everyone in the office. You can all sit back relax and enjoy a fun potluck together. But at the end vote for who's dish was the best!
2. Bowling Event
When it comes to fun company events you can never go wrong with taking everyone to the bowling alley. Bowling is a very nostalgic activity that adults don't regularly do anymore. You and your team will have fun bowling, eating snacks, and drinking. 
This is an awesome event for you and your employees to create fun memories together. Before going bowling you could have everyone get into teams that they aren't used to working with. This way your employees can meet their other coworkers and build new relationships in a fun way. 
3. Escape Room
Another awesome and fun corporate event is taking the team to an escape room. An escape room usually takes about an hour. This is a great way to promote team building because everyone must work together to solve the clues and escape from the room. 
Escape rooms are a great way for your team to learn the best ways that they can work together. Sometimes these rooms can be a bit stressful so that is something your team will have to work through when trying to solve the clues. Escape rooms are also tons of fun so no one on your team will be bored with this corporate event. 
4. Board Game Tournament
If you're looking for a fun activity where you don't need to leave the office, then host a board game tournament. This is a way for your team to pull out their competitive side and win at each board game. An awesome way to get more participates is by giving away great prizes to the winners. 
Getting prizes that your team will actually want to win is a great way to say thank you for everything that they do for the company. You could also have a raffle for a really big prize. You could have people buy raffle tickets and this will help to compensate for buying the prizes. Make sure to have tons of snacks at this event too!
5. Do a Decorations Contest
The holidays are quickly approaching so if you want your office to be decorated with fun holiday decorations, then hold a decoration contest. Your team can decorate their office doors, desks, or even cubicles. Let them know that they can go all out to try and win a fun prize. 
This doesn't have to be a holiday only event either. You can have your employees decorate at any time of the year. You could do a monthly decorating contest or even every other month as the seasons change. This would be a fun way to get everyone involved in decorating and making the office a fun and happy place to go each day. 
6. The Egg Drop Challenge
The egg drop challenge was probably something you did during grade school but it can be very fun and a great way to promote team building. Basically, this is where you would drop an uncooked egg from a high place without it breaking. Everyone will be separated into teams that will create devices for their eggs to survive the fall.
The fun part is that you will provide the teams with specific items that they can use to create their egg holders and they can't use anything else! You can provide straws, newspaper, cardboard, tape, or even just let them use anything that they can find in the office. This is a great way to get all of your employees working together to solve a problem. Make sure to have lots of eggs and a way to clean them up once they break!  
7. Volunteer Together
One of the best ways to host a corporate event and promote team building within the workplace is to volunteer together. Within your community, there are tons of different opportunities that you can find to volunteer. You can volunteer at a soup kitchen, plant flowers around the community, or even visit sick children at the hospital and bring them fun gifts. 
An easy but rewarding way to give back to your community is to adopt a family for the holidays! You and your team will all buy necessities as well as gifts for a family in need. This is a great way to make sure that a family has a great holiday. 
Fun Corporate Event Ideas
When you're planning your next corporate event just think of fun ideas that you think your team will enjoy. There are tons of fun corporate event ideas that would work well for team building and having a good time together by creating memories. 
If you're looking for more tips and tricks on the best way to do things for your business, then make sure to subscribe to our blog as we are constantly posting informative advice.
You may also like: How to Plan a Conference and Attract Industry Insiders