Click here to get this post in PDF
Workplace discrimination and harassment can prove a challenge, but employment lawyers are on hand to help deal with issues.
Discrimination and harassment in the workplace are serious issues that can have profound impacts on individuals and organisations alike. Fortunately, employment solicitors in Witney, or wherever you're based, play a crucial role in addressing and resolving these issues. 
Workplace discrimination and harassment encompass a wide range of unfair and harmful behaviours that can occur in professional settings. Discrimination can be based on factors such as race, gender, age, religion, disability, or sexual orientation, while harassment includes unwelcome conduct, comments, or actions that create a hostile or intimidating environment.
In this article, we will delve into what constitutes workplace discrimination and harassment. We'll then explore how employment lawyers can assist, both from the perspective of the employee and the employer.
Defining Workplace Discrimination and Harassment
Workplace Discrimination
Employment discrimination occurs when an employee or job applicant is treated unfairly or unfavourably due to their membership in a protected class. These protected classes are defined by laws and can include characteristics like race, gender, disability, age, religion, and more. Discrimination can manifest in various forms, such as hiring and firing decisions, pay disparities, promotions, and unfair treatment.
Workplace discrimination and harassment are serious issues that can have a detrimental impact on employees and work environments. Understanding what constitutes these behaviours is crucial for preventing and addressing them effectively.
Discrimination can manifest in various forms, including:
Direct Discrimination
Occurs when an individual is treated less favourably than others due to their protected characteristics. For example, not promoting an employee because of their gender.
Indirect Discrimination
Involves policies or practices that appear neutral but disproportionately affect certain protected groups. For instance, requiring all employees to work on a religious holiday can indirectly discriminate against those of that faith.
Harassment
When offensive, intimidating, or hostile behaviour is directed at an individual because of their protected characteristics. This can include verbal abuse, offensive jokes, or offensive comments.
Retaliation
Occurs when an employer punishes an employee for asserting their rights under anti-discrimination laws. For example, firing an employee who filed a discrimination complaint.
Workplace Harassment
Harassment in the workplace refers to any unwelcome behaviour or conduct based on a protected characteristic. This can encompass verbal, physical, or visual harassment, including offensive jokes, insults, slurs, offensive pictures, or physical intimidation. It creates a hostile work environment that interferes with an individual's job performance and well-being.
Workplace harassment involves unwelcome behaviour, comments, or actions that create a hostile or intimidating work environment. Harassment can be based on protected characteristics such as sex, race, religion, or disability, but it can also include non-protected categories like bullying or personal conflicts.
Harassment can take various forms, including:
Sexual Harassment
Inappropriate and unwelcome sexual advances, comments, or requests for sexual favours. This can include quid pro quo harassment, where employment benefits are contingent on submitting to sexual advances, or creating a hostile work environment through sexual jokes, comments, or imagery.
Racial Harassment
Offensive or derogatory comments, slurs, or actions directed at an individual or group based on their race or ethnicity. This can create a hostile work environment for those affected.
Religious Harassment
Involves offensive comments, actions, or ridicule related to an individual's religious beliefs or practices. It can create a hostile environment for employees of that faith.
Disability Harassment
Occurs when individuals with disabilities face offensive or derogatory behaviour related to their disability. This includes mocking or demeaning comments.
The Role of Employment Lawyers
For Employees
Employment lawyers are essential allies for individuals who have experienced workplace discrimination or harassment. Here's how they can help:
Legal Advice
Employment lawyers can provide legal counsel to victims, helping them understand their rights, the legal process, and the potential remedies available.
Filing Complaints
Lawyers assist employees in filing complaints with the appropriate government agencies, ensuring that complaints are filed correctly.
Evidence Gathering
Employment lawyers help collect and preserve evidence of discrimination or harassment, such as emails, messages, witnesses, or other relevant documents.
Negotiation
Lawyers can negotiate on behalf of the victim to reach a settlement with the employer, often avoiding the need for a protracted legal battle.
Litigation
If necessary, employment lawyers can represent victims in court, presenting their case and seeking justice and compensation.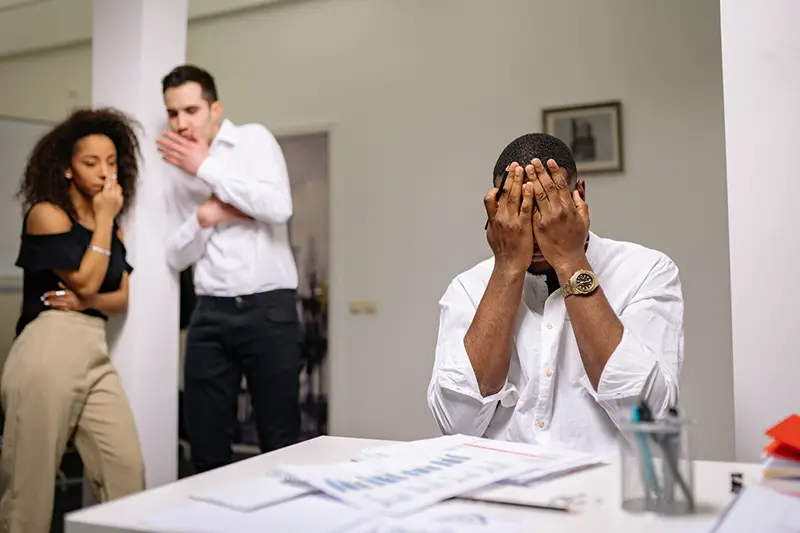 For Employers
Employment lawyers are also valuable assets for employers striving to maintain a discrimination-free workplace:
Policy Development
Lawyers can help businesses develop anti-discrimination and anti-harassment policies that are compliant with relevant laws and regulations.
Training
They offer training programs to educate employees and management about discrimination and harassment prevention and response.
Investigations
Employment lawyers can conduct impartial investigations into discrimination or harassment complaints, ensuring a fair and thorough process.
Defense
In cases where an employee files a complaint or lawsuit, lawyers can provide a robust defence to protect the interests of the employer.
Compliance
Lawyers help businesses stay compliant with employment laws, reducing the risk of costly legal disputes.
Preventing and Addressing Discrimination and Harassment
Employers have a responsibility to prevent and address discrimination and harassment in the workplace. This often involves establishing clear anti-discrimination and anti-harassment policies, providing training to employees, promptly investigating complaints, and taking appropriate corrective action when violations are substantiated.
Seeking the Help of an Employment Lawyer
Employment lawyers are essential in addressing workplace discrimination and harassment. They help victims seek justice and assist employers in fostering a safe and inclusive work environment.
By understanding the complexities of workplace discrimination and harassment and the role of employment lawyers, individuals and organisations can work toward a more equitable and respectful workplace for all.
You may also like: Workplace Discrimination: Examples, Laws, And Steps To Deal With It