Click here to get this post in PDF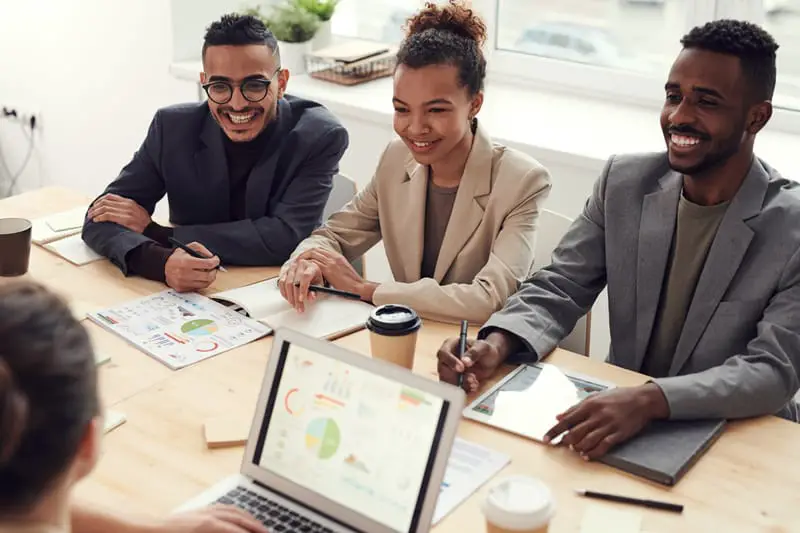 According to  Gallup's 2017 study, there is a high chance that only 15 per cent of your employees are actually engaged with their work, while the others are just slacking off.
Reasons for staff disengagement are different but are always related to the conditions at the workplace starting from low salary, poor management, poor communication, lack of opportunities for career growth, recognition or training.
However, such a low workplace engagement can have hazardous consequences to your bottom line, as your employee disengagement can cost your company up to $3,400 for every $10,000 they earn.
If you want to avoid such negative effects on your small business and boost the morale and engagement of your employees, you need to find the right ways to motivate them.
Here are a few good ideas you can begin with.
1.  Provide a Friendly Workplace Environment
Having a friendly work environment can make all the difference when it comes to your staff morale.
It's important that your employees feel pleasant and accepted at work, and you can hardly achieve that unless you allow them to interact with each other and form meaningful professional and personal relationships.
Provide your employees with enough opportunities to socialize by organizing team building activities, in and out of the workplace. You can always find an option that fits into your budget.
Whether it's a team dinner at a nearby restaurant to celebrate the success together, getting a charter bus or trolley to get you to the destination of your choice, or a company soccer match –  it will all give great results in forming a team spirit and keeping it alive.
2.  Enable Open Communication
However, your workplace can hardly be friendly and stimulating, if workplace communication is not open. Your employees need to have enough opportunities to express their ideas and their concerns freely, and at the same time, to be taken seriously.
Open workplace communication means that you will listen to your employees and discuss issues with them, and if it is within your power, take steps to resolve them. This way all the possible problems will be out there, in the open, and won't lead to negativity and loss of productivity.
As communication works both ways, you need to talk to your employees too. Treat your employees as equals, be transparent when it comes to the plans and the future of your business, give regular feedback about your employees' performance and thank them for their accomplishments.
Such communication within your workplace will improve your staff's motivation and productivity.
3.  Celebrate and Reward Success
Another way of effectively motivating your employees is by acknowledging the extra effort they're putting in their work and celebrating their wins, no matter how big or small.
There are many budget-friendly ways for effective employee recognition that can have a high impact on their motivation:
Acknowledge an employee's success during a team meeting.
Post about the hard work of an employee on your social media accounts, or in your newsletter.
Put up a bulletin board in the break room and encourage your employees to give kudos to their coworkers. You can choose the employee of the month together, and reward them.
Make it a habit to celebrate a big success together, with an office party.
The rewards you give don't have to be expensive, as long as they are tailored to each one of your employees individually. When choosing the appropriate one, take their hobbies, interests or their family situation into account.
4.  Listen to Your Employees' Needs
There are lots of things you can learn about how to motivate your employees if you know them well, and carefully listen to what they're saying. Each one of your employees has different needs, and to keep them motivated, you need to try to address those needs.
Something that you can hardly be wrong about is allowing your employees more flexibility when it comes to the time and location of working on their tasks.
Employees nowadays crave a healthy work-life balance and showing your support in getting closer to achieving this goal can be essential.
If you think that your small business is not able to meet such demands, you can always allow them flexible lunch breaks that they can spend whenever and wherever they want, and several days a month to work from their homes.
Also, make it a rule that your employees can work from home if their kids or their partner are sick, or that they can leave the job early if they have an appointment with a doctor.
Such little gestures won't cost you a lot, if anything at all, and can be crucial for your employees' motivation.
5.  Nurture Individuality
While it's important to nurture the team spirit at your workplace, it's also necessary to give each one of your employees a chance to grow and develop.
To be able to achieve this, you need to recognize the strengths and weaknesses of each one of them, and set the individual goals accordingly.
Take your employees' individuality into consideration when you delegate your tasks so that you can give them a push in the right direction.
 Sometimes, a task that is a little above the skill set of your employees can motivate them to continue with their own development and work harder.
Use these tips to keep your small business employees happy and motivated with their work and reap some great benefits from their engagement and productivity.
You may also like: 5 Budget-Friendly Ways to Keep Your Millennial Employees Happy
About the Author
Michael has been working in marketing for almost a decade and has worked with a huge range of clients, which has made him knowledgeable on many different subjects. He has recently rediscovered a passion for writing and hopes to make it a daily habit. You can read more of Michael's work at Qeedle.