Click here to get this post in PDF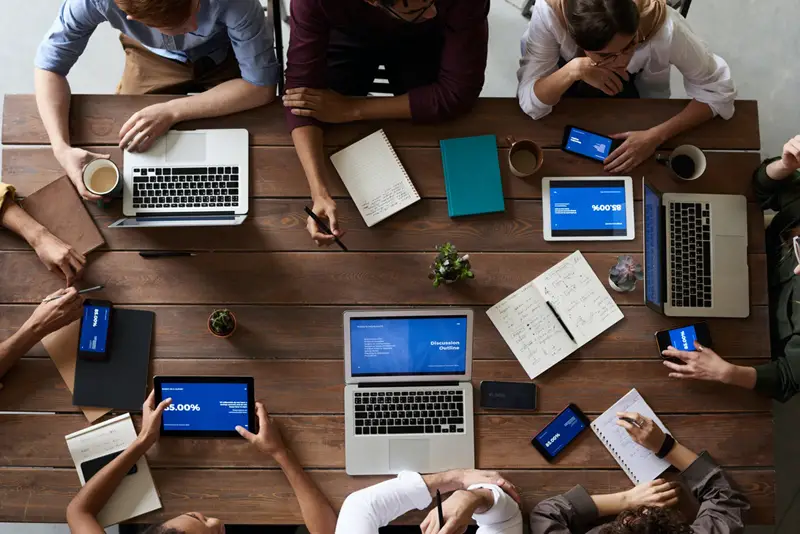 Digital transformation is a concept that has been around for a couple of years now, but its true importance and potential emerged after the coronavirus outbreak.
Social distancing and other measures have pushed numerous companies to adjust their business models and start heavily relying on digital initiatives and remote work. It's safe to say that thanks to high-speed internet networks, cloud technology, and online collaboration tools, the consequences of this health crisis can be somewhat mitigated.
Apart from reshaping the way we do business; recent technological innovations also affect employee expectations and experiences.
Digital transformation has only gained momentum, and it will help organizations from different industries to reinvent and rewrite themselves in the post-COVID world.
Here's how it is changing employee expectations.
Job Candidate Experience Matters Too
Even before they officially join a company and become its employees, candidates expect to have a positive experience during the screening and recruitment phases.
A complicated, non-transparent, and time-consuming recruitment process scares off top talent. Skilled candidates can choose their employees, and organizations can attract them by leveraging modern technologies as well as a frictionless, mobile-friendly approach. Such a recruitment experience promises that working for the organization will be equally pleasant.
Companies that want to keep their candidates in the loop throughout the hiring process need to leverage digital transformation. Otherwise, 72% of candidates won't refrain from sharing their poor experience on different review websites and social media, and that can harm an organization's reputation.
As digital transformation is all about flexibility, companies should think about designing a hiring process that will allow applicants to provide all the necessary information from a mobile device, send them notifications about the latest developments, remind them to complete certain tasks, and provide time-saving options such as a digital signature. Experts such as Cavendish Wood can provide you with a strategy to meet the ever-changing digital demands.
The Onboarding Process Has to Be Streamlined
Breaking in and onboarding new employees is a challenging task.
There's so much that they have to learn and understand that if not properly organized, this entire process can be overwhelming and frustrating for them.
Since the relationship between new employees and the organization is still fragile at this point, it's crucial to make it stronger, and a proper onboarding process can help with that. Still, according to stats, only 12% of employees strongly agree that their organization is effective when it comes to onboarding new hires.
No wonder that almost 50% of new employees stick around for 18 months only, while more than 25% of them leave after just 90 days. As a result, employee turnover rates are skyrocketing in different industries.
Digital technologies such as online onboarding platforms allow employees to progress at their own pace and learn when it suits them – there's no need to be limited to business hours or schedule training sessions with managers or HR specialists.
Similarly, when a job requires training that's risky, augmented reality (AR) is used for creating immersive learning environments in which new employees can learn new skills without any risks.
It's worth mentioning that the concept of lifelong learning is something that pushes organizations to invest more in their employees' training and education. Companies that fail to offer their employees enough opportunities to expand their knowledge and learn new skills will lose their competitive edge – 76% of employees hold career growth opportunities in high regard.
That explains why cloud-based training management software that streamlines learning and development is a must.
The Power of Feedback
When we talk about feedback, we must emphasize that it's important for employers to provide it to their employees on a regular basis. Organizations with such an approach see a 12% improvement in their performance as employees need to hear what they're doing right as well as what needs to be changed.
But that's not all there is – management should also actively listen to what their employees want to tell them and any suggestions they might have.
However, not everybody feels comfortable when it comes to stepping up and saying something unfavorable to their boss. That's where a real-time feedback tool comes in and offers a convenient solution in the form of a platform that will collect and analyze employee feedback via surveys or chatbots.
This way, organizations can be sure that their employees will feel comfortable when sharing honest feedback. Moreover, by acting on their employee feedback and implementing some of their ideas and suggestions, companies will see a significant increase in engagement – employees who feel that their opinion matters will be invested in their work and more willing to contribute to their company. 
The Shift in Workplace Culture
Generally speaking, digital transformation will bring about a tremendous shift in workplace culture and the way employees interact and collaborate with each other.
The very idea that many companies don't need brick-and-mortar offices or that they can, say, hire an online accountant who lives in another state changes the old paradigm and allows for a number of improvements. Organizations no longer have to limit themselves to hiring only people who live nearby – they can cherry-pick the best people for the job, regardless of where they live.
Besides that, telecommuting significantly cuts costs as employers don't have to pay rent and other expenses for physical offices, while employees don't have to waste time and energy commuting to work.
And all this is thanks to digital transformation, with which employees can work from any place in the world and have access to their business documents and projects via online collaboration tools.
Another point worth mentioning is that digital transformation also provides mechanisms that will bridge the gap resulting from the lack of direct contact between employees and employers. Big data analytics allows for analyzing employee performance metrics and identifying inefficiencies. Moreover, such sophisticated methods can also be used to unearth reasons for employee dissatisfaction reflected in their lack of engagement.
In other words, data-driven technologies can help both sides fix their mistakes and create a productive and high-performing workplace culture.
Digital transformation has a significant impact on changing employee expectations, as companies that stick to outdated and clunky processes are no longer attractive as places of work. In other words, leveraging digital transformation will become a critical factor for attracting and keeping top talent, even after the COVID-19 crisis, which exposed organizations incapable of operating in these new, challenging circumstances.
Also read: 5 Ways Small Businesses Can Keep Employees Motivated
About the Author
Michael has been working in marketing for almost a decade and has worked with a huge range of clients, which has made him knowledgeable on many different subjects. He has recently rediscovered a passion for writing and hopes to make it a daily habit. You can read more of Michael's work at Qeedle.