Click here to get this post in PDF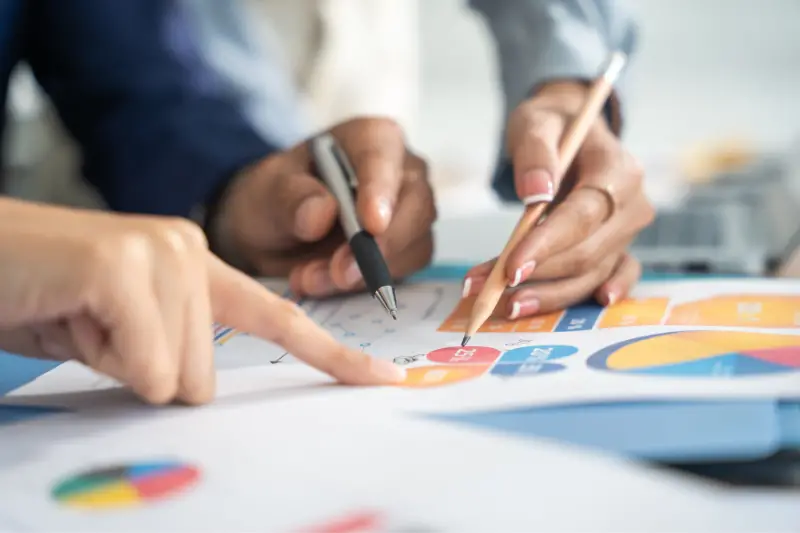 The importance of a successful marketing strategy in today's fast-paced corporate environment cannot be overstated. The intense competition across industries and finite customer attention spans are just two of the contributing factors. This reinforces the role of a marketing strategy to guide a business's efforts to connect with, engage, and convert its target market.
Despite its importance, many businesses remain caught up in inefficient marketing techniques, often unknowingly. Such tactics usually result in lost chances, resource waste, and a lack of connection with potential clients.
This article explores the common mistakes people make while using marketing methods and tips on how to prevent them.
#1 Lack of Clear Target Audience
A grasp of the target market is one of the cornerstones of every effective marketing strategy. Without it, marketing initiatives may seem like a blind man firing arrows. More than simply having a basic concept of who your potential clients are is needed to define the target audience.
Demographics, psychographics, behaviors, and pain spots must be thoroughly examined. Every aspect of marketing is affected by the lack of a well-defined audience. Resources could be squandered on media that doesn't resonate with the target demographic, and messages might fall flat.
Comprehensive market research, the creation of customer personas, and routine audience analysis to adjust to shifting consumer behavior are strategies for avoiding this blunder.
#2 Inconsistent Branding and Messaging
Consider the scenario in which a brand was a person, and each engagement with it represented a dialogue with that person. Just like memorable conversations with a person will always remind you of them, unique marketing and consistent branding will remind users of a business.
On the other hand, inconsistent branding may confuse customers and deviate them from your brand identity. It could send conflicting signals, making it challenging for customers to comprehend a brand's principles and products. Different factors, such as fragmented marketing teams, shifting brand strategy, or insufficient style guides, may be to blame for this inconsistency.
Establishing and following clear brand rules, ensuring all marketing materials adhere to them, and routinely evaluating and updating them to stay up with changing market trends and customer expectations are all necessary to maintain consistent branding and messaging.
#3 Neglecting Digital and Content Marketing
How organizations communicate with customers has changed due to the evolution of the digital landscape. Neglecting this digital transformation is like choosing a quiet alley over a busy market. With its unmatched reach and precision, digital marketing is the successful strategy of the present and the future.
Parallel to this, content marketing has become a key component of successful digital strategy. To engage viewers, brands must create continuous, valuable, and pertinent content rather than only existing online. Neglecting this vital component may lead to lost opportunities and virtual disappearance.
Effective digital and content marketing involves a comprehensive strategy that includes content planning, SEO improvement, and multichannel distribution. It involves building an integrated digital environment that leads potential clients through the sales funnel.
#4 Ignoring Data and Analytics
In today's data-driven world, marketing without utilizing analytics and data is equivalent to operating a vehicle while wearing a blindfold. Data is the foundation for effective marketing initiatives by offering insightful knowledge of consumer trends, interests, and habits.
Ignoring this wealth of knowledge is a severe mistake. Common errors include improper tracking setup, ineffective data analysis, and failure to use data to improve plans. The strength of data-driven marketing is its real-time campaign measurement and optimization capacity, ensuring that resources are deployed effectively.
Implementing sophisticated monitoring solutions, using analytics tools to generate actionable insights, and continuously testing and improving marketing initiatives based on data-driven results are all strategies for leveraging data and analytics.
#5 Failure to Adapt to Market Changes
The market is a dynamic ecosystem that changes in response to consumer preferences, technical improvements, and outside influences like societal or economic changes. An outdated and unsuccessful marketing plan can result from a failure to adjust to these developments.
Stagnant growth, declining consumer engagement, or a drop in ROI are all warning signs of this trap. Being flexible and agile in marketing requires anticipating market changes and pivoting as necessary. The marketing team may undertake competitive assessments, routinely analyze market developments and consumer behavior, and promote an innovative and adaptable culture as part of a strategy.
#6 Lack of Goal-Orientation and Measurement
Setting clear objectives is the first step in effective marketing. These objectives act as beacons, illuminating the way to achievement. The campaign frequently becomes aimless and meanders when this crucial phase is skipped.
The SMART acronym stands for specified, measurable, achievable, relevant, and time-bound goals. Measuring these goals' success once they've been set becomes crucial. Key performance indicators (KPIs) are used to track progress, and analytical tools are used to evaluate the success of campaigns as part of goal orientation and measurement strategies.
SMART objectives should be defined to be in line with corporate objectives. Monitoring and assessing progress toward these objectives regularly ensures that marketing initiatives stay on track and are flexible enough to respond to changing conditions.
Conclusion
Marketing that works is a combination of art and science. Understanding the target audience, upholding brand consistency, embracing digital and content marketing, leveraging the power of data and analytics, adjusting to market changes, and setting clear goals while continuously measuring and optimizing strategies are all critical components of avoiding common pitfalls.
Recognizing and overcoming these obstacles requires constant commitment rather than a one-time effort. This is why several businesses hire a professional SEO agency in London to help them steer clear of unsuccessful marketing techniques.
The marketing landscape is still changing due to technological development and evolving consumer behavior. Businesses that successfully handle these difficulties in this dynamic climate will survive and grow.
You may also like: 5 Biggest Marketing Mistakes to Avoid in 2023
Image source: stock.adobe.com