Click here to get this post in PDF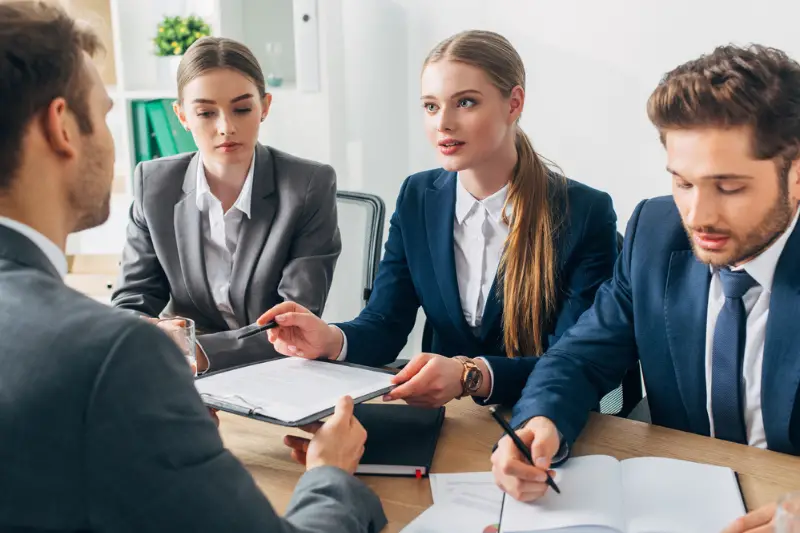 In today's rapidly evolving business landscape, staying ahead requires a compelling product or service and a strategically managed workforce. This is where HR Consultancy Services come into play, offering invaluable expertise and guidance to organizations of all sizes. 
This article will explore why your business should consider leveraging HR consultancy services to drive growth, streamline operations, and foster a thriving work environment.
The Evolution of HR: Beyond Traditional Functions
Historically, Human Resources (HR) departments were primarily responsible for administrative tasks such as payroll, benefits administration, and recruitment. However, the role of HR has evolved significantly over the years, transitioning from a support function to a strategic partner in achieving organizational goals. 
Modern HR goes beyond administrative functions to encompass talent management, employee engagement, workforce planning, and culture development.
The complexity of modern HR management can be overwhelming for businesses, particularly SMEs that lack the resources to maintain a dedicated HR department. 
HR consultancy services have emerged as a solution to bridge this gap. These services provide access to HR experts who are well-versed in contemporary HR practices and can guide businesses in navigating the intricacies of human resource management.
Strategic Workforce Planning
Effective HR management begins with strategic workforce planning. HR consultants collaborate closely with businesses to understand their short-term and long-term objectives, analyze the workforce's skill sets, and project future growth. 
By aligning HR strategies with business goals, HR consultants ensure that an organization's workforce is well-equipped to meet existing demands while also being adaptable enough to tackle future challenges.
Furthermore, HR consultants assist in identifying skill gaps within the organization. Through careful analysis, they pinpoint areas where additional recruitment or training is necessary to ensure optimal performance. 
Succession planning is another critical aspect of strategic workforce planning that HR consultants can help implement. Organizations can maintain continuity and minimize disruptions during leadership transitions by identifying and developing future leaders within the company.
Navigating Employment Regulations
The legal landscape surrounding employment regulations is intricate and ever-changing. Compliance with labor laws, benefits administration, and workplace safety standards are vital components of HR management, and non-compliance can lead to severe consequences. 
HR consultants specialize in staying up-to-date with these regulations, ensuring that businesses remain compliant and mitigate legal risks.
By enlisting HR consultancy services, businesses can gain peace of mind knowing that their HR practices align with current employment laws. This expertise extends to anti-discrimination regulations, wage and hour laws, and data privacy requirements. By adhering to these regulations, businesses can uphold ethical practices while minimizing the potential for costly legal disputes.
Tailored Training and Development
Investing in employee development is a cornerstone of maintaining a skilled and motivated workforce. HR consultancy services offer a wealth of knowledge in designing tailored training programs that cater to the organization's needs and the growth aspirations of individual employees. 
These programs encompass various aspects, including leadership training, technical skills enhancement, and soft skills development.
Customized training programs improve employee skills and contribute to higher job satisfaction and engagement levels. This, in turn, translates to reduced turnover rates and increased employee loyalty. 
HR consultants can conduct thorough assessments to identify skill gaps and training needs, crafting training modules that address these gaps and align with the organization's strategic goals.
Enhancing Employee Engagement
Employee engagement is a driving force behind productivity, innovation, and overall organizational success. HR consultants play a crucial role in measuring and enhancing employee engagement levels. 
Consultants gather insights into employee satisfaction, motivation, and concerns through surveys, focus groups, and other assessment methods.
Based on these findings, HR consultants collaborate with businesses to develop strategies that foster a positive work environment. They assist in recognizing employee achievements, addressing concerns, and implementing initiatives that promote work-life balance and well-being.
By focusing on employee engagement, businesses can create a culture that attracts and retains top talent while promoting collaboration and creativity.
Change Management and Restructuring
In the dynamic business landscape, change is inevitable. Mergers, acquisitions, restructurings, and other organizational changes can significantly impact HR functions and employee morale. 
HR consultants are adept at guiding businesses through these transitions, ensuring that the human side of change is managed effectively.
HR consultants develop communication strategies during change that keep employees informed and engaged. They help manage expectations, support employees experiencing uncertainty, and minimize disruptions to daily operations. By facilitating smooth transitions, HR consultants contribute to maintaining a positive workplace culture and employee morale.
Cost Efficiency and Scalability
Establishing and maintaining an in-house HR team can be financially burdensome for SMEs. HR consultancy services offer a cost-efficient solution, allowing businesses to access HR expertise without the overhead costs associated with a dedicated HR department. This scalability is particularly valuable for businesses with fluctuating HR needs.
HR consultancy services can be tailored to match each business's specific requirements and budget. Whether a business needs assistance with a specific project, ongoing HR support, or crisis management, consultants can provide the necessary guidance and expertise. This flexibility enables businesses to allocate resources more efficiently while benefiting from comprehensive HR solutions.
Embracing Technology and Innovation
Technology has revolutionized the way businesses operate, and HR is no exception. HR consultancy services can recommend and implement HR technology solutions that streamline processes, improve efficiency, and provide valuable insights. 
HR technology enhances various aspects of HR management, from applicant tracking systems and employee self-service portals to data analytics tools.
By integrating technology, businesses can automate routine tasks such as payroll processing and benefits administration, allowing HR professionals to focus on strategic initiatives. 
Furthermore, HR technology provides data-driven insights that inform decision-making. Consultants collaborate with businesses to identify the most suitable technology solutions, ensuring they align with the organization's goals and needs.
Conclusion
HR consultancy services are pivotal in ensuring organizational success in a business landscape characterized by rapid change and intense competition. The evolution of HR from traditional functions to strategic partnerships has led to a demand for specialized expertise that not all businesses can maintain in-house.
HR consultants bring a wealth of knowledge in strategic workforce planning, compliance management, employee engagement, and technology integration.
By leveraging HR consultancy services, businesses can drive growth, streamline operations, and foster a thriving work environment. From navigating complex employment regulations to enhancing employee development and engagement, HR consultants provide solutions tailored to each business's unique needs.
In an era where talent is a critical competitive advantage, embracing HR consultancy services can empower businesses to unlock their full potential and achieve sustainable success. So, consider integrating HR consultancy services today and embark on a journey of strategic HR excellence.
You may also like: Evolution of Human Resource Management
Image source: Depositphotos.com