Click here to get this post in PDF
The most important asset in your business is your employees. Thus, it is essential to look closely at how one can create a healthy relationship and working environment for its people. Employee engagement, in particular, plays a vital role in any organization. Aside from it promoting better work relationships, it also actively contributes to employee satisfaction and productivity.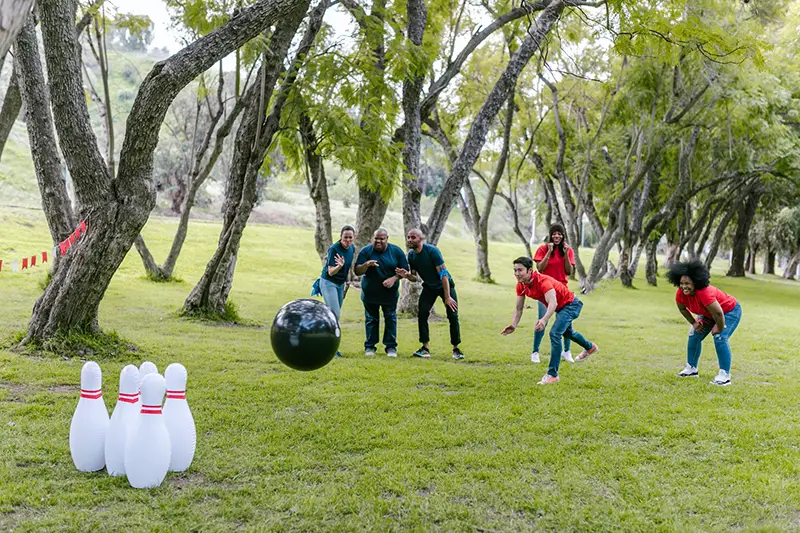 Strong leadership comes with the initiative to boost motivation and encourage engagement among its people. Creating different activities for employee engagement is one of the most effective ways to create connections with your employees. But, of course, employees love it when they can enjoy things outside their usual setup at work. 
Here is a list of fun employee engagement activities you can try outdoors.
Training
Arranging employee training shows your willingness to invest in their growth and development as professionals. Training activities are the key to sustaining the business' growth and success. Although for some, activities like this are boring and a waste of time, you can always find ways and fresh ideas to help employees enjoy it. 
According to a survey conducted by Statista, countries that are most invested in professional training and development include China, Russia, Spain, Switzerland, Germany, the United States, etc. 
Similarly, in Australia, employers are highly committed to providing training and upskilling their employees, aiming to improve the overall skills levels of the organization. That's why employers in the country are on the hunt for effective ways to replace traditional training with fun alternatives. 
This may include using props and allowing them to be physically involved through playing games. You can only make all of these activities possible with the right venue, like the fully-equipped hunter valley function venue that offers a suitable place for small and large-scale events. 
Parties
Most companies today throw annual or seasonal parties for their employees. Some trendy party ideas include Halloween parties, Christmas parties, or anniversary parties that are done annually to celebrate the successes and wins of the company. 
These types of parties are helpful to create positive energy around the organization and allow everyone to share some fun time occasionally. In addition, special days like this give employees something to look forward to. 
When everyone in the company is involved in a celebration, it creates a camaraderie that can lead to stronger relationships and improve employee morale. 
Games, Sports, Tournaments, and Competitions
Who doesn't love enjoying games? Employees love to engage in tournaments and competitions that interest them. Events like this don't have to be fancy. Fun events you can consider may include online game tournaments, pool tournaments, or anything related to what interests your employees the most. 
Moreover, sports fests are also an excellent idea to promote the spirit of winning and encourage achievement among your employees. Of course, activities that require physical engagement can promote physical health. If employees are physically healthy, they become more productive inside and outside the workplace. 
The effort and willingness of the employees to win in any competition can also reflect how they take ownership of their and the company's successes.
Community Service Projects
Community service is an active outdoor team building you can actively do. It is the best way to connect not only with the people within the organization but also a great way to bring back to the community. Community services involve activities perfect for serious excitement! Some projects you can try with your employees include the following:
Tree Planting. Being with nature is one of the most refreshing things to do. The company can connect to local organizations and contribute to creating more green spaces in the community, reducing climate change, and achieving a healthier environment for all.
Local Neighborhood Clean-Up. Organizing community clean-ups share the common goal of saving the Earth and achieving a safer environment that helps achieve positive impacts for everyone. 
Volunteer. Random acts of kindness like volunteering in soup kitchens and other causes also promote employee team satisfaction.
Recognition Programs
Aside from events that aim to upskill the employees, it is also essential to have programs that recognize their hard work and achievements. If the company recognizes and celebrates it, big or small wins, employees can feel that they're well-appreciated and valued. Thus, improving employee satisfaction and will to be productive in work. 
Aside from monetary and social recognition in employee networks, you can also prepare dinner nights solely to recognize outstanding people in the organization to make it more memorable.
Final Thoughts
Employee engagement is ideal for all organizations to achieve success. Thus, setting aside enough budget, time, and resources is crucial to create fun and useful employee engagement activities. 
In addition, the ability to provide these activities to the employees will eventually increase and boost motivation and retention, making the workplace more efficient and productive. But, of course, there are still other activities you can think about and choose from for your employees. 
Just make sure you create one that is effective and will allow improvement for all in the organization.
You may also like: The Best Team Building Activities To Motivate Your Team
Image source: Pexels.com