Click here to get this post in PDF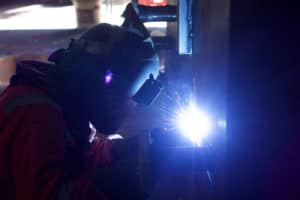 Profits build bottom lines. But profits are revenues net of operating expenses. Those expenses include the burden incurred by a business's working people. One-and-only one metric of employee value is a measure of their productivity.
It's a vague metric. It isn't easy to measure productivity and efficiency among laborers or executives, for that matter. Employees operating manufacturing machines are monitored more easily.
Productivity isn't always a matter of speed. It is reduced to some measure of output per unit of time. Efficiency is different. It is a measure of the resources—labor, time, money, supplies, and more—consumed in that output. 
Business math finds productivity and efficiency are expenses that affect profits. The Bureau of Labor Statistics points out, "Increases in inputs impose costs on society: increasing labor means having less leisure time; increasing investment in capital means lowering current consumption; and increasing material inputs reduces reserves of natural resources." Outputs, therefore, must provide a return on that investment.
8 ways to improve productivity in your business:
1.    Build a continuing education culture
The best performing businesses have committed to continuing education for employees at all levels. The commitment offers a real and shared understanding of the value in life-long learning.
They schedule at least 5 percent of employee hours in internal training presentations. They encourage and enable employees to complete outside training courses. And, they subsidize and reward employees seeking education specifically related to their present or future work.
Workers appreciate the chance to improve skills tied to their advancement. They want to keep up with the latest technologies in office work and machine floor operations. Employees understand they must know how to operate the tools of the future. And, employers understand they can't update their processes without the latest technologies and tools.
2.    Build a reputation for top-of-the-line technology
The price of the latest tools seems prohibitive.Still, your competitive position depends on leveraging your leadership spending decisions. It's tough choosing between facility improvement, increased labor force, increased marketing efforts, or buying gold standard tools and equipment.
You'll learn you cannot recruit talent without the machines for them to operate. As more tools and equipment interact digitally, you must launch strategies to integrate their inputs and outputs. Today, that might mean working with mobile technologies, exploring the Cloud's potential, and involving more employees in programming and coding.
3.    Collaboration is more important than teamwork
Teamwork too often becomes regimental. Employees feel pressure to work in units in processes they find boring and unproductive. Some lack the background and sophistication to work in organized groups.
Teams can work well with an emphasis on value-added collaboration. Done correctly, collaboration works in "no fear" situations where diversity of individual backgrounds and inputs are genuinely respected. CIO.com feels, "Your employees are core to collaboration in your organization. They're the ones that benefit the most from it, and they're the ones that suffer when it's absent or not effectively encouraged. The human element should always be the first consideration when making a new technology purchase or beginning a new cultural initiative."
Employees perform better in a collaborative climate where they understand how they profit from the experience and its outcomes. For example, encouraging and enabling collaboration to reduce safety risks pays off for everyone.
4.    Tomorrow's technology engages employees
Engaged employees are more productive because the technology eases their work and sustains their interest and participation. This asks corporate leadership to invest in ideas for their potential. 
Companies tend to buy tools, machines, and technology to stay current. However, they should take the lead with purchases that drive performance forward. Remaining current is not enough. Employees learn more quickly when you challenge them with new work, equipment, and software.
When it comes to futures-designed software, today's workers have digital experience and identity. If you add gamification to their training, they will make progress, and their progress will show in their increased productivity.
5.    Employees work better in comfortable surroundings
Some industries are uncomfortable by nature. Food processing requires colder temperatures. Temperatures vary greatly throughout warehouse work. Office workers will complain about temperatures.
The complaints usually reflect the individual's tolerance. But environments between 68° and 70° reduce complaints and distractions. You can add supplemental air systems, place vents strategically, and browse hot air blowers for portable or permanent placement.
6.    Social media is a major distraction
Social media take up too much time. Employees' phones and other devices tempt them throughout the day with calls and notifications. Employees will plea they must have access to children, babysitters, and caregivers.
The social media traffic does allow employees to reach customers, recruit other employees, and build the brand. But it also puts the employer's security at risk of hacking, loss of intellectual property, and reduction in productivity.
Some industries simply forbid the use of the devices because they present a bona fide danger to the employees' and products' safety. Others provide social media breaks when employees can catch up with their social media. Striking happy balance employees understand and honor can be difficult.
7.    Employee investment in the business motivates workers
Pensions and stock ownership programs have declined, partly because they had lost their clear motivation. Workers lost a connection with the devices, and many plans failed to stand up to inflation and changing economies.
That investment can take other forms. If increased compensation doesn't do it, investment in employee needs like healthcare, continuing education, and the family-work balance will. Employers waste time with their benefits if they don't communicate them constantly. Internal communication must happen daily over internal and external networks. It can't all be left to occasional newsletters. Every business needs an "employee engagement" function and manager.
8.    Employers must invite, accept, and integrate feedback
Employees come to resent the company's stance on feedback if the business does not install and implement the contribution. It's like the old "suggestion box" that invited employees to drop in written ideas. The company's failure to acknowledge and act on those suggestions only angered workers.
However, employers can promote feedback as constructive advice on processes in a climate where those ideas are recognized if only by email or personal "thank you." It engages employees better when their feedback is used. Their input should become part of the work and their contribution praised and communicated broadly
Increased productivity hits the bottom line
Lee Michael Katz, writing for SHRM, warns, "When employee monitoring is done poorly, businesses may find that what they hoped to gain in productivity is undermined by what they lose in engagement and trust." Though employers now have better tools to measure productivity, that money might be spent in better ways improving employee lives, interest, and ability to work.
You may also like: How To Make Factories A Safe Place Of Work