Click here to get this post in PDF
In an environment where technology and digital marketing is at the forefront, the power of print media can sometimes be forgotten and underutilised. For leisure facilities such as museums, entertainment centres and arenas, print is an extremely useful tool that can not only drive customers to your brand, but keep people engaged in your product long after they've left. Here are several effective ways how print media can increase the number of customers through your door:
Print increases credibility
If you are keen to show consumers that you're confident in your business and product, show them that you're prepared to invest in yourself. By presenting potential consumers with a well-designed map or brochure of leisure opportunities that you offer, such as events or attractions, your potential audience will not only be impressed, but will be even more excited and engaged about the leisure experience that your offer, which may play a part in what makes them want to return.
Digital detoxes are good for us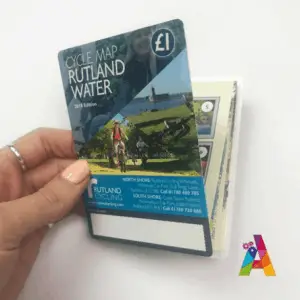 A digital detox is recommended for at least an hour each day, but many people choose to stay offline longer, due to information overload that can make people feel overwhelmed, stressed and in need of a break. Leisure facilities are a great sector to take advantage of consumer digital detox by giving an experience which can only be enhanced by clever and innovative print marketing.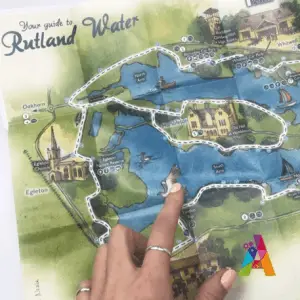 Whitwell-based company Rutland Cycling made use of the Alpha Z fold Card to be handed out to visitors on arrival at their visitor centre, with an attractive map designed by illustrator, Karen Neale detailing pitstops along the trail to help cyclists have an enjoyable ride. The cards are not only a great use of marketing but are also likely to be kept by visitors to return to, as they are compact and durable for easy storing on a bike ride and contain all the information needed on a visit.
Print drives action
When using ad campaigns in print, it is important to be strategic and informed while planning where and how your ads will appear, as this will determine who will be exposed to your brand. Not only will your audience be more engaged with print media, but a recent study reported that 65% of readers take action after viewing a newspaper ad, meaning that positioning yourself in print makes the consumer six times more likely to buy your product.
Print readers are the customers you need
The digitalisation of brands has vastly decreased our attention spans, with many of us consuming media through several channels at once, so it can be hard to keep up with the amount of new information constantly updating our feeds. Today, it's normal to watch TV, instant message and check social media at once, whereas print readers are less likely to multitask when a leaflet or card is in their hands, making them more engaged and receptive to the information that you're giving them. Many people enjoy visiting leisure facilities to escape and be entertained, making the leisure industry a great industry to utilise print media as much as possible.
You may also like: Electronic Detox: Going Off The Grid