Click here to get this post in PDF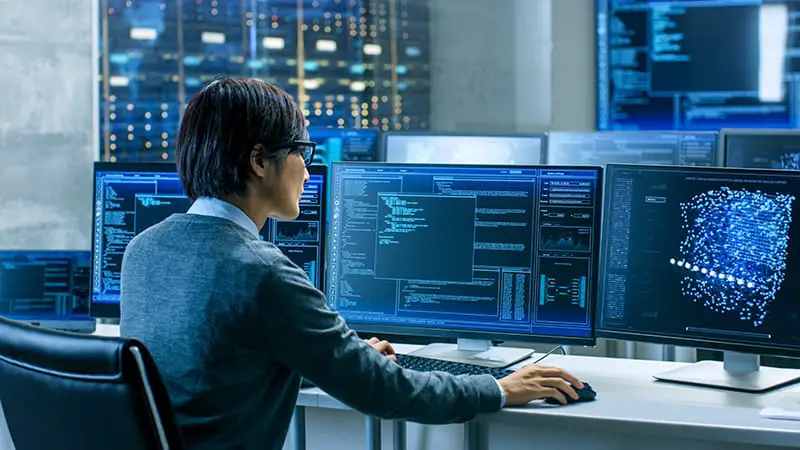 If you're looking for an in-demand, well-paid, and satisfying career, then data science is a great choice. Data is currently one of the world's most valuable assets and companies need talented people who know how to extract powerful insights from raw data. It's also a future-proofed career path since we're likely to see a lot of growth in the field for years to come. 
These days, you have some options if you're considering a career in data science. Big data teams have expanded and there are different roles available for people with a range of technical skills. Here are some of the top careers in data science to consider. 
Programmer
One of the most versatile careers in the field of data science is programming. As a programmer, you'll be working with the building blocks of computing in a variety of different programming languages. 
Programming can open up a lot of doors for you. All data scientists need to know how to code, but becoming a programmer will also allow you to build on your knowledge in different directions, making it easy to pivot as necessary. If you're interested in becoming a programmer, a good place to start would be learning how to use the most popular programming languages. 
Machine Learning Engineer 
Big data is becoming more powerful all the time, especially now that artificial intelligence tools like machine learning are allowing automation to take over some data processing tasks. Machine learning is the creation of algorithms that will get "smarter" over time and learn by processing more and more information. 
Machine learning engineers sit on the line of data science, engineering, and artificial intelligence, making this career path both challenging and fascinating. They build systems that can process data and learn as they go. Machine learning engineers work closely with data scientists to build production-level systems from models and prototypes that can scale and provide practical benefits. 
Most machine learning engineers have a master's degree. But since the field is relatively new and the demand is high, many companies will be willing to hire people who do not meet the degree requirements but have all of the necessary skills and knowledge. 
Data Scientist 
Many people who want to work with data aspire to become data scientists. But what is it that data scientists actually do? Basically, they use large, unstructured datasets and create methods for answering questions. 
If a company needs to know why a certain aspect of their operations isn't running efficiently, or they want to know when their customers are most likely to buy, a data scientist can analyze data the organization has collected and find the answer. They create mathematical models and algorithms to structure and sort through the data to extract relevant insights and find patterns. 
Data scientists must wear many hats. In addition to working with data, they need to be skilled programmers and communicators. They also need to be curious and patient to successfully use big data for strategic insight. Most data scientists today have a master's degree, especially now that there are degree programs emerging all over the world. 
Data Architect 
Data architects are crucial to large-scale data operations. They work closely with data engineers and data scientists to create data management systems. Like architects in other fields, data architects are tasked with the design portion of creating large-scale data systems. They create a blueprint, which the data engineer can then use to build the framework.
Being able to visualize and design the big picture isn't easy. Most data architects have a degree in computer science, plus years of additional experience in the data field, working with data management and data storage. It's a prestigious role that can be very interesting but requires a great deal of training. 
Data Engineer 
Data engineers are software engineers who specialize in building data systems. The need for data engineers was created when companies started discovering that most data scientists didn't have the skills to build the systems needed for large-scale data processing. Data engineers work with data scientists and architects to build these systems for enterprises. 
To be successful, data engineers need to know languages like SQL and Python and they will typically need a degree in software engineering. It is a demanding career path that requires engineers to be familiar with both traditional and up-and-coming technologies. 
Follow Your Interests
In data science, there's no easy way to just "jump in" to this in-demand career path. Most roles require advanced degrees and/or years of study and experience. That's why it's so important to follow your interests and choose a career path that will keep you interested now and in the future! 
You may also like: The Demand for Data Scientists
Image Source: Shutterstock.com