Click here to get this post in PDF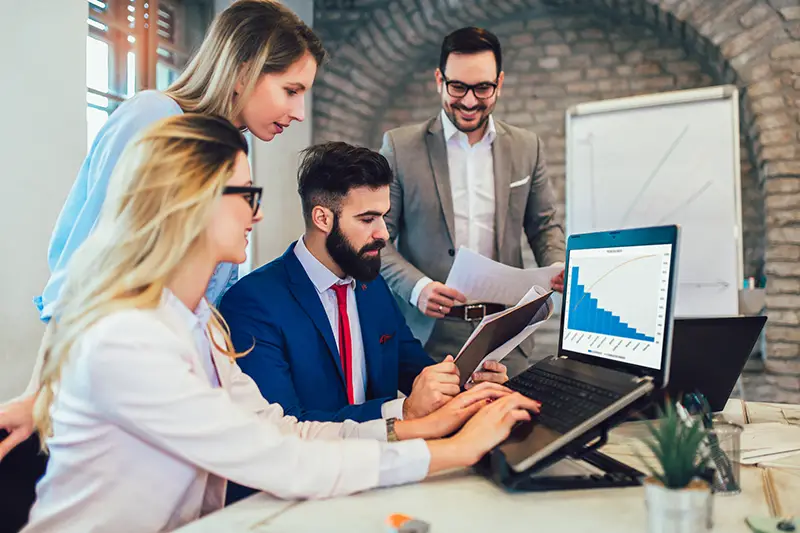 In today's dynamic and fast-paced business environment, companies rely heavily on data to drive growth, optimize operations, and gain a competitive advantage. As a result, the demand for professionals with expertise in business analytics has skyrocketed, creating many lucrative and rewarding career opportunities.
According to the BLS, the employment of management analysts, including business analysts, is projected to grow 11 percent from 2021 to 2031. It is driven by the increasing need for organizations to improve efficiency and profitability through data-driven decision-making.
With a degree in business analytics, you can pursue various career paths in diverse industries, from finance and healthcare to technology and retail.
Now let's explore the exciting career paths that await you in business analytics.
1. Business Analyst
Business analysts gather and analyze data to identify organizational problems and opportunities. They help develop business strategies and improve organizational efficiency. To succeed in this role, they must deeply understand data analysis tools, business analysis, and data visualization techniques.
Their key responsibilities include:
Gathering and interpreting data to identify improvement areas and make recommendations.
Developing reports and dashboards to track and monitor company performance.
Working in collaboration with stakeholders from different departments to ensure the timely and cost-effective completion of projects.
Participating in the development and implementation of new business strategies.
Earning an online and affordable business degree, such as an M.S. in Business Analytics, can be an excellent way to advance your career as a business analyst. Moreover, today's e-learning era allows you to opt for online programs that fit your busy schedule, hence making it a viable option for all.
2. Statistician
A statistician designs experiments, collects and analyzes data, and creates statistical models to solve business problems. To succeed in this role, they must have a strong foundation in mathematics and statistics and excellent analytical and problem-solving skills.
The primary responsibilities of a statistician include:
Designing experiments and collecting data to test hypotheses and answer research questions.
Performing data analysis using statistical software and techniques to identify patterns, trends, and relationships in data.
Developing and implementing statistical models to forecast future trends and make predictions.
Communicating findings and insights to non-technical stakeholders clearly and understandably.
Collaborating with other professionals, such as researchers, data scientists, and business analysts, to develop data-driven solutions to complex problems.
Continuously updating and refining statistical models and methods to improve accuracy and efficiency.
Ensuring all data is collected, stored, and analyzed under ethical and legal standards.
3. Market Research Analyst
A market research analyst is an expert who aids businesses in understanding their target market by gathering and examining data related to consumer behavior, preferences, and trends. They use a variety of research methods, including surveys, focus groups, and statistical analysis, to collect data that can be used to improve business strategies.
Some of the key responsibilities of a market research analyst include:
Market research analysts use statistical analysis and other research techniques to identify trends and opportunities in the market. The data gathered by market research analysts can be leveraged to create new products or services, enhance existing ones, and target specific consumer segments.
Based on their market data analysis, market research analysts recommend improving business strategies. They may suggest changes to product features, pricing, or marketing tactics to increase sales and improve profitability.
4. Data Scientist
Data scientists use their data analysis, statistics, and programming expertise to help businesses make data-driven decisions leading to improved operations and increased profitability.
The critical responsibilities of a data scientist include the following:
Data scientists collect data from various sources, including internal databases, external sources, and social media platforms. They must then clean and transform the data into a usable format for analysis.
Data scientists utilize statistical methods and machine learning algorithms to construct models capable of projecting future trends and patterns. These models are used to make data-driven decisions to help businesses improve their operations and increase profitability.
Data scientists use programming languages such as Python and R to develop algorithms that can solve complex business problems. They work with other professionals, such as business analysts and data engineers, to create and implement these algorithms.
5. Operations Research Analyst
An operations research analyst uses mathematical and analytical techniques to help businesses improve their operations and decision-making processes. Key responsibilities include:
Operations research analysts use mathematical modeling techniques to develop optimization models to help businesses use their resources better. These models can be used to optimize production schedules, minimize costs, and improve overall efficiency.
Operations research analysts analyze business processes to detect areas for improvement. They use data analysis and other techniques to identify bottlenecks and inefficiencies and recommend changes to improve processes.
Operations research analysts scrutinize business processes to pinpoint opportunities for enhancement. They employ various methodologies, including data analysis, to identify bottlenecks and inefficiencies and suggest modifications to refine processes.
6. Quantitative Analyst
A quantitative analyst analyzes financial data and develops models that simulate various investment scenarios. It helps businesses make informed investment decisions that lead to increased success in the financial marketplace. 
Some of the core responsibilities of a quantitative analyst include:
Quantitative analysts examine financial data to detect trends and patterns that can help make informed investment decisions. They use statistical analysis and other techniques to identify opportunities and risks.
Quantitative analysts develop mathematical models and simulations to predict how investments will perform under different scenarios. 
Based on their analysis and modeling, quantitative analysts make recommendations to improve investment strategies. It may include changes to asset allocation, investment diversification, or risk management strategies.
Final Thoughts
In today's data-driven business environment, pursuing a degree in business analytics opens a world of challenging and rewarding opportunities for you. From data scientists and business analysts to market research analysts, there are a variety of exciting career paths to explore with a business analytics degree.
Remember, with the right skills and knowledge, you can become an invaluable asset to any organization. Pursuing a career in this field ensures job stability and offers a chance to contribute significantly to a business's accomplishments.
You may also like: Why Study for an MBA in Business Analytics?
Image source: Depositphotos.com