Click here to get this post in PDF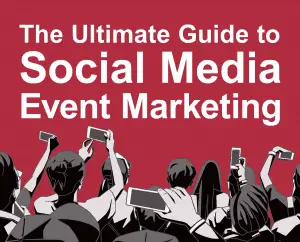 No matter what kind of event your organization is holding, it needs people to be successful. Even an event with big-name guests, attractive branding, or noteworthy activities will be a failure if people don't attend. Fortunately for marketers and event organizers, it's never been easier to get the word out about an event to a broad audience, thanks to the rise of social media. With social media, marketers, and event planners can let millions of people know about their events with relative ease. What's more, they have greater control over the message they want to deliver than they could with traditional marketing tools such as print advertising and radio spots.
Yet the sophistication of social media relative to traditional marketing methods means publicizing an event through social media channels is a bit more complicated. When used properly, social media can be an essential tool for featuring an event. However, if social media isn't utilized the right way, it's just as good as having no promotion.
For example, marketers must understand how to use the interactivity of social media to their advantage when promoting an event. Responding to people's questions about the event promptly or sharing relevant content generated by others can go a long way to building awareness of the event — as well as loyalty to the brand. Marketers also must understand how to take advantage of social media's built-in metrics to measure the reach and scope of their messaging and its impact on the intended audience.
Social media makes marketing an event easier and more effective than ever, but only if the marketing professionals involved use it correctly. The accompanying guide contains some important information about social media event marketing. Take a look to make sure your next event leverages social media to its full potential.
The Ultimate Guide To Social Media Event Marketing
created by
AttendStar
About the Author 
Gary Bradshaw is CEO and owner of AttendStar, an online event ticketing software company. He has 17 years of experience in the industry and focuses on blending ticketing with event marketing to help events be successful.
You may also like: How To Reach Your Full Event Marketing Potential: Custom Printing And More…