Click here to get this post in PDF
No matter the type of business you have, attracting clients is a must for your business success. But attracting new clients when you're just getting started can feel nearly impossible, especially if you don't have the budget to throw to marketing or referral partners and no reviews touting your exceptional service.
Getting those first clients to put their trust in you is challenging, but you can do it! Once you get your first few clients, you can set up processes that keep them coming.
What is Client Acquisition?
Client acquisition is the process of bringing new clients into your business using specific techniques and planning. Like marketing, client acquisition needs a solid strategy to attract clients consistently and systematically.
Client Acquisition Strategy
Define the Audience
The first step in client acquisition – or any other marketing – is defining the audience. If you don't know who you're speaking to, you can't sell to them effectively. When you understand who your audience is, you can create compelling messages that resonate with them.
If you have a business with diverse offerings, such as a law firm with different practice areas, you may need to segment your audience.
Showcase Your Value
Your business exists to solve a problem for the client. It's up to you to show them how you solve the problem and add value to their lives. All of your strategy should be focused on communicating the benefits of your product or service, not the features.
This is easier said than done. Many businesses get wrapped up in the bells and whistles, but they're meaningless without context. Connect the dots for your prospects and show them why they need what you have to offer.
Create High-Quality Content
Content marketing is valuable for driving organic growth and improving brand recognition. You can provide information and insights to customers in a way that's more passive and not overly pushy. If they search for information and you can solve their problem, you're more likely to stay on their mind when it comes time to act.
Remember, don't create content for the sake of it. It's better to produce less content of higher quality and value, so consider the types of questions your clients ask and the information they search for.
Use Your Network
Some of your first clients may come from your existing network, whether professional or personal. You may get your first client from your family and friends, or their family and friends, past colleagues, old classmates – the possibilities are endless.
You never know who may need what you have to offer. Treat everyone as a potential future client, and don't miss out on chances to pitch! If nothing else, it will give you practice for when you're pitching to a possible client needing services like a prenuptial agreement.
Invest in Client Acquisition for the Long Term
Client acquisition takes time to build, but you can't just relax when the clients start flowing in. It's an ongoing process, one that will require your care and attention to make it effective. But once you start bringing in your first few clients, you'll get the momentum you need to generate future business growth and success.
Also read: 7 Points Business Startup Checklist for Your Business
About the Author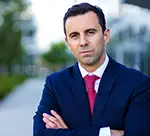 Maxwell Hills is the founder of Hills Law Group, a premier Orange County family law firm with a concentration on high net worth divorces. Max's entrepreneurial career stretches back to his teenage days when he had his music used in Grey's Anatomy and ESPN. Today, Max has used that experience to build Hills Law Group with 0 customers and $0 in revenue to a respected firm in the industry.