Click here to get this post in PDF
The interest in entrepreneurship is at an all-time high. Do you have a unique business idea too? Let us tell you, the journey involves a lot of preparation. 
A business startup checklist is what you need to stay on track and launch your business successfully. 
Knowing the worth of it, we bring you a list of 7 steps every entrepreneur needs to follow to set up his business. 
An Essential Business Startup Checklist for Every Business 
Here we have a 7 points checklist to give you an overview of all the essential steps you need to cover to turn your idea into a running business. 
Have a look.
1. Start with Market Research 
A survey conducted by CB Insights shows that 35% of startups fail because they don't meet the market need. In other words, they failed to make something that people wanted. 
That's why thorough market research is critical to understand product-market fit. In-depth research helps you analyse your target market, your competitors and their offerings. 
2. Write a Business Plan
You have a great business idea and want to see it grow into a company. 
But how? 
By having a detailed business plan, of course. Write down the purpose of your business, your vision and mission, your unique offering, and what are your goals. 
An effective business plan should also include market analysis, financial plan, go-to-market strategy, organisational structure, and so on. 
3. Select a Business Name 
Now, your business needs to have an identity and that will be given by its unique name. Your brand name has to be easy to remember and easy to spell. Your clients and customers should be able to recognise your business by its name easily. 
While selecting a name for your business, don't forget to abide by the state law and regulations. 
4. Apply for Business Registration
The next step on your business startup checklist is to register your business. While you apply for business registration, you must specify whether your business will be a sole proprietorship, partnership, LLC, or corporation. 
The type of business entity will determine the details of the registration process. 
5. Applying for EIN 
EIN is a must to identify a business entity. You can apply for EIN online once you decide on the category your startup fits into. 
This 9 digit number is mandatory for you to hire employees, open a bank account for your business, create s trust, etc. 
There you have it, the essential steps for launching your startup. 
But is there more to this business startup checklist? 
Yes, there are a couple of other steps you need to keep in mind. To explore them all, here is the infographic by GovDocFiling, which gives you an overview of all the steps you need to follow to roll out your startup successfully. Check it out. 
---
5 Things To Include In Your Business Starter Checklist
---

About the Author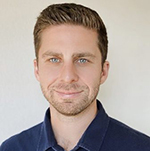 Brett Shapiro is a co-owner of GovDocFiling. He had an entrepreneurial spirit since he was young. He started GovDocFiling, a simple resource center that takes care of the mundane, yet critical, formation documentation for any new business entity.