Click here to get this post in PDF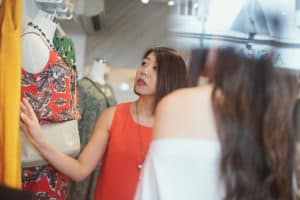 There's no denying that the owners of retail businesses are always hard at work trying to think of new ways to entice customers into their stores or to check out their websites online. With the ever-increasing use of mobile phones, it seems highly probable that some businesses will only be available online. Gone are the days where people need to go into a shop to get what they want. The majority of people in this world now have access to a smartphone, so it makes sense to use this to your advantage. So how can a retail business keep up with the ever-changing future?
Personal Shopper Apps
If you can afford to do this, then there is nothing better than treating your shoppers to their own personal shopper, even if it via a mobile app. Just because a customer might not come into a store, does not mean that they don't want to be treated with respect. A happy customer is someone who is looked after properly. Rather than just letting them aimlessly scroll through your products online, you can designate a team member to help them find what they are looking for.
Know your Customer
If you're going to use something like a personal shopper app, then knowing your customer is an incredibly good thing. However, it's important to remember that not all business will just be an online thing. Having a physical shop will still be a thing. When that customer comes into your shop, you should talk and listen to what they want. Otherwise, you'll never know what they want.
Another way that you can get to know your customer is to think like a customer, this will really help you when it comes to marketing your products. By getting to know your customer you can understand what they want better, what they'll be willing to spend etc… A customer doesn't want to just see you as a salesperson, they want to see you as the person who is there to help them.
Rely on Software
Finally, it's important to note that businesses need to make use of software that is already available. Software can help you connect with your customers better and this will benefit your business. You can even use software to help you find out the best prices for your products. For example, by monitoring your retail prices with a company like PricingHUB, you can find out how much your customer is willing to spend and what they spend their money on. This will help you in the long run, as it means that you can measure your performances and get the most profit. Whilst also keeping the customer happy as you could potentially offer them a better price.
It's important to note that technology will help with any business, be it online, or an actual shop. Just because the world is changing does not mean that things will become useless in the future. Go into the business world with an open mind and you can have a successful business in no time. You can find more tips on how to improve retail sales here.
You may also like: Is the Retail Industry Taking Steps to Reduce Unemployment?
Image source: Unsplash