Click here to get this post in PDF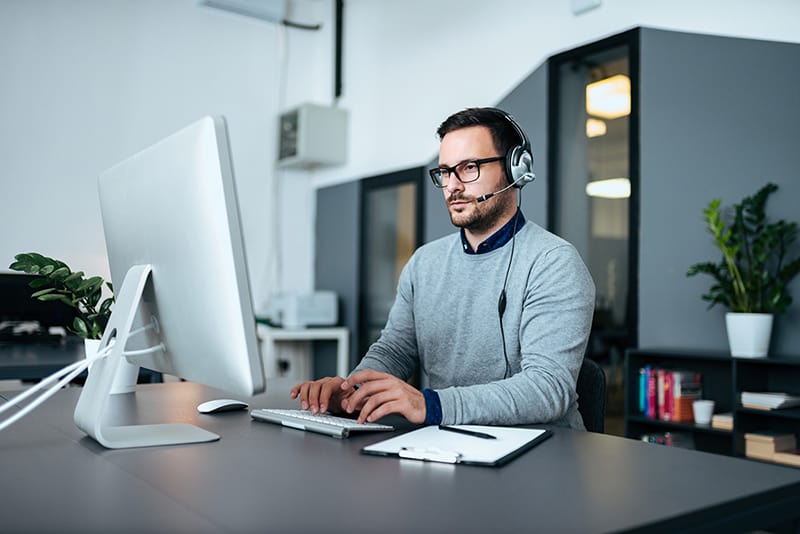 You didn't see it coming, but it happened. Your in-house IT support took a better offer. Just like that, he's gone.
Or, perhaps, you never had IT support, to begin with. Either way, you are completely open to cyber-attacks, system failures, and other tech problems. The lost or leaked data resulting from these security risks can destroy your company in a matter of months.
Better security and reliability are two of many reasons to outsource IT support to a qualified, third-party company. We've got plenty more where that came from. Outsourcing IT support is also cheaper, easier, and better all around!
To learn more of the reasons you should look into outsourcing your IT department, read on.
1. It Doesn't Have To Be One Or The Other
In-house vs. outsourced IT—whoever said you had to pick just one? Maybe you already have some really good IT support on your payroll. Maybe this employee or team is so qualified and loyal that you wouldn't dare let them go.
If their workload has grown too large for them to handle, simply hire a little outside help. This especially helpful for companies who change size often, like those with seasonal workloads. It's no bad thing to outsource only when you need to.
2. It's More Secure
Speaking of changing scale, let's not forget that your third-party IT team can instantly scale to your needs as well.
Picture this. Your small, in-house IT team is doing great. And then, BOOM—a cyberattack hits out of nowhere. Immediately, your in-house employees are in over their heads, drowning in more IT problems than they have hands for.
Without enough IT manpower, the breach is successful and data is lost. After that, there's a 60% chance your company will never recover and will shut down permanently within 6 months.
With managed IT services, access to large enough team to handle this crisis is only a phone call away. That is if they're not on top of the problem already. The bottom line is, you're far less open to cyberattacks when outsourcing IT support.
3. No Hiring Process
Thinking about hiring a qualified IT team? It's a long process so you'd better get started now. 
You'll have to advertise "help wanted" or else scout for talent and make some calls. Then there are all the resumes to review and applicants to interview.
Just kidding, someone already took care of all that for you. They're called a third-party IT specialist.
They do all their own hiring and interviewing so you don't have to. What a load off!
That's not to mention the savings. In business, time is money. And oh, the time you'll save not having to hire in-house when outsourcing it-support.
4. It's Cheaper Up Front
Plus, IT specialists, like all uniquely-talented hiring pool rarities, are expensive. If they're any good at all, they already have top-dollar offers flooding in from other employers, bidding for their services. While entry-level applicants compete for your employment, IT specialists have you, the employer, competing over them.
In contrast, third-party IT companies flip that competition back around again. They are competing for your business, which means they're willing to serve your IT needs for less than their competition. So you end up with competitively competent IT service that fits your budget.
5. No Turnover
Oh yeah, it's also a terrible, burdensome business to hire in-house IT anyway. Let's be real, here: employees quit sometimes.
Even when they're entry-level, generally-skilled employees, it's still a hindrance. While a paid intern or receptionist may not be hard to replace, it will nonetheless take some time and a decent amount of money to hire and train the replacement. 
How much worse it is when your most expensive employee takes a better offer. And as we said, good IT specialists have no shortage of offers coming in, which makes them rather flighty. While good talent is hard to find, it's even harder to keep.
Outsourced IT takes care of its own turnover. These companies will always make sure they have a large enough staff to handle the workload of all their clients.
6. No Training or Managing
Think about it: do you really need more employees to worry about? That means more training, staff meetings, one-on-one coaching, performance tracking/evaluation, etc. 
Wait, a second, do you even know how to tell an IT specialist how to do his job? Obviously not or you wouldn't be hiring one in the first place, right?
Will you know whether they're working effectively or if it just looks like it? How can you help them do their job if you're not an IT specialist yourself?
Lucky for you, you don't have to be. And you don't have to worry about any of that other stuff either.
Just outsource to a company who will worry about it for you, and is more qualified to do so. Plus, they'll share performance reports with you to explain exactly what their work is accomplishing anyway. 
7. They Don't Sleep
If you took any employee position at your company and made it a 24-hour position, you'd need three shifts a day to cover it. So to make your 9-5, in-house IT support a 24-hour position will cost you 3 times more than you're paying now. If you want it 24/7, you'll have to add on the weekend shifts, too.
Or, you can outsource, get 24/7 IT support, and pay less than you're paying now.
What's so important about 24/7 IT support? It's that your company never sleeps, either.
Some of your tech is awake at all hours, like your website and your storage servers. What if cybercriminals attack these while you're sleeping? If you outsource, you can rest easy knowing your systems are safe.
Top Reasons To Outsource IT
Why outsource IT service? It's cheaper, easier, safer, and more reliable than relying on in-house IT. With outsourced IT, you're paying for peace of mind and spending less to do it.
Really, these top reasons to outsource IT support don't leave you many reasons not to! For competent service that just won't quit, outsource your company's IT needs.
Did we miss anything? Tell us what you think about outsourcing IT in the comments below.
---
Also read: Business Services You Should Consider Outsourcing To Be More Productive
Also read: Choosing between internal and external IT support
---