Click here to get this post in PDF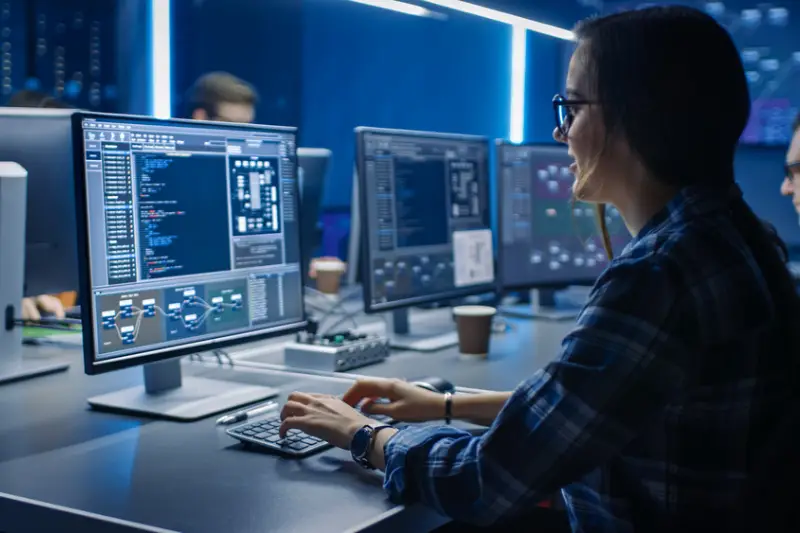 Your business needs dedicated IT support to help it run smoothly and to ensure that the data you collect from employees and customers will stay safe. While you may recognize the importance of having IT support, the idea of hiring staff, paying for them, and providing benefits can seem overwhelming for many small businesses. 
The good news is that you can outsource your IT support to make sure that you are able to get the help you need, and there are so many benefits to getting this done as well. There are a wide variety of benefits to having IT support for your company; let's look at some of the most significant.
More Productivity and Efficiency
When you hire IT support, you will have the benefit of knowledgeable experts at your fingertips; they can come in and handle complicated technology for your business. Often this is more efficient than trying to figure it all out on your own; therefore, outsourcing can save your company a lot of time and money. In addition, you will experience fewer downtimes resulting from IT problems.

These are not the only benefits, however. IT support can help with:
Quickly resolving IT issues: With the right IT support team to help you, any issues that come up with your IT can be quickly handled. The IT professionals are familiar with all of these systems and can resolve problems in a speedy and efficient way to minimize downtime so that you can maintain productivity.

Proactive maintenance: With the right IT support team, you will be able to prevent potential problems from showing up in the first place. These professionals are able to monitor the system and look for potential issues for you, taking steps to make sure that all problems are addressed before they turn into major issues for your company.

Customized solutions: A dedicated IT support team will provide some of the customized solutions that you need; this can be very important for companies with unique requirements or specialized software and hardware. 
Your company will not be able to make enough in profits if you are low on efficiency and productivity, and, unless you have IT professionals on staff, when there are issues with security and the network, the problem will only get worse. A dedicated IT support team will be able to keep everything running smoothly and can implement policies and procedures so that you and your team can focus more on the other aspects of running the business. 
Enhanced Data Protection and Security
Having the right IT support team in place will make sure that the data your network holds onto is secure and protected at all times. The right team will help set up the firewalls, handle antivirus software, and other security measures to protect your data and network from attacks. Some of the ways that IT support can help you include:
Expertise in cybersecurity: You need to have the right cybersecurity plan in place to ensure that your data is secure and protected the whole time. An IT support team will help you get the system secure so no one is able to get onto it.

Regular updates and patches: Your IT team will be able to keep the system up to date with the necessary updates and patches. This will ensure that vulnerabilities are addressed quickly and can reduce your risk of a data breach on the network.

Disaster recovery planning and implementation: There are times when a hacker will get through or the system will go down. Having dedicated IT support will ensure that the damage done here is minimal, getting your network back up and running as quickly as possible. 
Cybersecurity needs to be important to all companies to ensure that their system stays up and running and all the data they store is safe and secure; however, knowing how to do cybersecurity on your own can be a challenge and not always as easy as it seems. Hiring dedicated IT support can make a difference and will ensure that your network is always safe. 
Better Customer Satisfaction
Hiring your own dedicated IT support team is going to provide you with a way to give the best in customer service to each customer. With a team of professionals there to address the technical issues that come up, customers will get their needs addressed in an effective and timely manner. When this is done well, it helps lead to increased customer satisfaction and loyalty. 
Outsourced professionals offer a timely and effective resolution of issues. In addition, they offer better contact and support. Having a dedicated IT support team in place will help ensure there are relays and avenues of communication between the different departments and that everyone is on the same page. This can lead to everyone working together to provide better customer service.

While you may not think about how IT support can help with customer service, the two are closely linked. When you want to provide the best to your customers, it is important that your network is up and running well and the right team of IT support professionals will make sure this happens.
Furthermore, a skilled IT support crew allows you to focus more on business functions, as you can direct your attention to core business functions and plans for company growth without having to worry about technical issues. 
The Bottom Line
No matter the size of your business or the industry you are in, it is important that you take your network security as seriously as you can. You may not be able to afford a full team of IT professionals working out of your business, but dedicated IT support is an affordable and effective method to help you with all potential IT issues that may come up. Take time to consider some of the benefits of IT support to see if it is right for you.
You may also like: Why IT Support is Important for Non-Profit Organizations
Images source: Depositphotos.com