Click here to get this post in PDF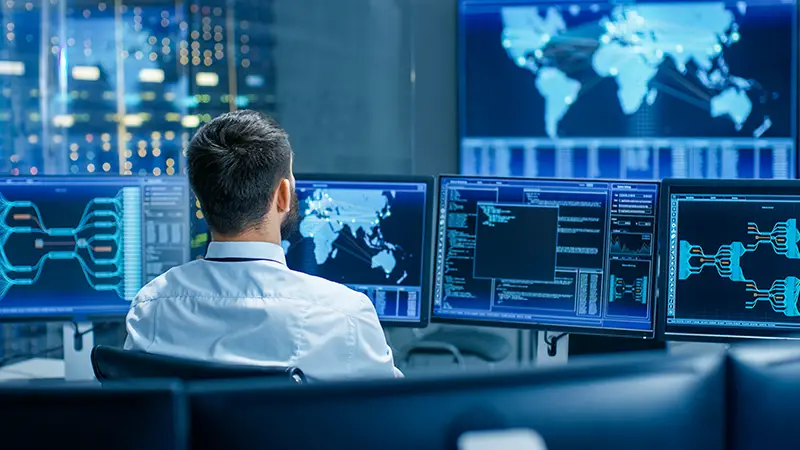 When your business is growing, you'll find that you have more and more avenues that you could potentially invest your time, money, and resources into. You might be drawn to more exciting ideas relating to areas like growing your sales teams, establishing popular marketing campaigns, or researching and developing new products and services. However, factors like human resources, financial controls, and IT networking definitely shouldn't be ignored.
As the foundation of your business, these areas keep all the more exciting parts of your business going, ensuring that you can get the absolute most from your other resources – this applies to your IT network and its related support more than perhaps any other part of your company.
So, if you want to make sure your IT systems are always running as well as they can, where should you invest your money? You essentially have two choices: employ an in house team to keep it going, or outsource your needs to a specialist management company. There are advantages and disadvantages to each of these choices, but we're here to clarify what direction you might want to take your business IT needs.
Compromising On The Perfect Solution
The absolute best route for your business to go down is to have a dedicated in house IT team made up of the best talent you can find – but this is only possible in an ideal world. 
Unfortunately, the cost of this kind of service is astronomically high, and a large, highly qualified IT team could easily cost your business over fifty thousand dollars per month!
If this has your jaw on the floor, remember that this is the absolute dream scenario: 24/7 systems monitoring and coverage, an efficient management structure full of experienced team members that all have the latest training and qualifications, and the capacity to provide all of them with holidays, absences, maternity leave and more. You might even want to add a reserve of additional people who can step in if you suddenly want to scale up. 
But sadly, this perfect set up can only truly become a reality if you're an IT company – establishing a team with this kind of talent and depth would prove a massive challenge for people outside of the IT industry.
So how do you make a compromise on this perfect solution?
Employing the Services of an MSP
Actually, this ideal set up is possible for your company – you just need to look outside of adding people to your own dedicated workforce. MSPs (or Managed Service Providers) can provide a fantastic level of service, as long as your happy to share with other businesses.
Theses businesses won't be able to access any of your information – your Service Level Agreement (or SLA) will mean that your data and relationship are completely watertight – but you may have to compromise in some areas. For example, accessibility can prove tricky; if you want an IT manager who can always be available to you, you won't find that in an MSP. However, you will receive your own account manager just a phone call away, and the fact that this service will cost you so much less than the ideal in house solution more than makes up for these issues.
Quick Access to Best Practice
Something you can find in an MSP that is almost impossible to replicate with an in house team is the huge depth of best practice approaches they can provide.
In house teams certainly aren't inexperienced – the issue is just that by hiring them, you prevent them from gaining any additional experience. They'll always be working on your systems and your systems alone, so while they'll know your own network like the back of their hand, their ability to work with new networks or programs might be hampered somewhat.
This isn't the case when you employ an MSP – when they aren't working with you, they're working with another company that has hired their services, and the staff are all gaining experience with new systems outside of what your network currently consists of. If this talent has been hired by an MSP, it's also likely that they'll possess a host of qualifications that you simply couldn't outfit a dedicated team with.
This means that you'll always have a huge amount of knowledge and experience at your disposal. For example, if you ask an in house IT team member about implementing a new system, they'll likely need to do some research, whereas an MSP will have already worked on a similar project and know all the ins and outs of it.
You can imagine how useful this is when you're wanting to grow and adapt your IT network to fit with your growing business – if you want your company to stay on the cutting edge, then a wealth of knowledge of the latest tech is sure to help.
Deciding on your Service Level Agreement
Having lots of IT people on your payroll can be useful, but it doesn't guarantee that any IT task will be done right first time. Anyone you hire for your IT team will have to sign an employment contract that you provide, but this is completely different to a service contract.
A Service Level Agreement legally binds the MSP you have hired to the service that you've outlined together on the document itself. If you've asked for them to provide 99.9% uptime, then they'll have to deliver it, or face the consequences of breaking the contract. This carries over to support issues; if they've said they're available to call 24/7, then they have to be.
You can't guarantee this same level of productivity and service from your in house team. Of course, they have the potential to be absolutely fantastic, with a great work ethic and only the best interest for your business, However, there's no legal requirement for them to do this, regardless of whether they should in your eyes, and ensuring that they're up to scratch isn't a simple process. With an MSP, you get what you've signed up for, which can give you a sense of security when you're taking risks with your company.
You may also like: 10 Tips for choosing the best IT Support Company for your Business
Image Source: Shutterstock.com