Click here to get this post in PDF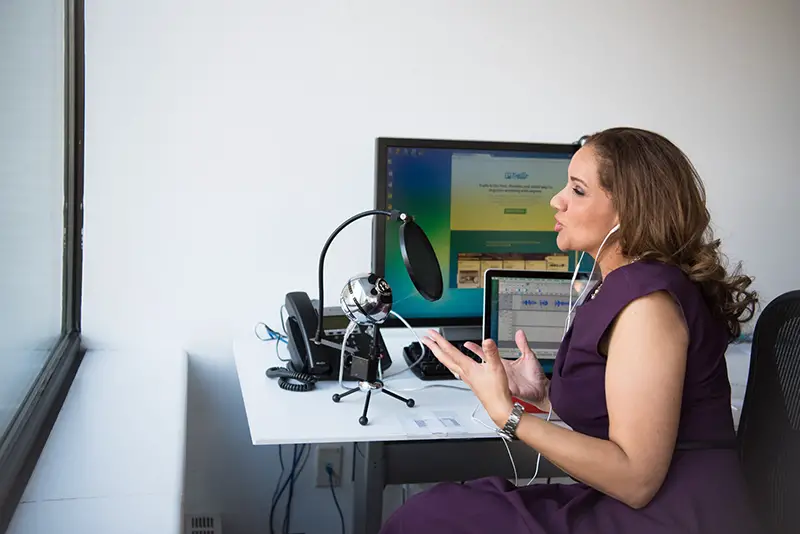 Business advertising and marketing strategies easily get old. With ever-advancing technology, it is easy for other businesses to ride on a current trend and to make their own. Granted, there are some methods that stood against a period of time. 
Facebook and Google ads are still standing their ground and are still favored by businesses as the main means of advertising. For more out-of-the-box owners though, they are venturing into podcasting.
Podcasts are like scheduled radio shows. When business owners choose to start their own podcast shows, they often host and handle the entire production. The shows usually comprise their take on a particular issue in their industry. 
Real estate businesses with podcasts usually take on topics of taxation issues or current rental hotspots in the area. It is a way to advertise their business by going through a more personal and engaging route. 
More business owners are getting into the drift. Here are some more reasons why you should too.
Why Your Business Should Start a Podcast Today
1. Establish Better Relations with Customers 
Most podcasts have informal scripts. Oftentimes, the Podcast Creator just prepares a topic and an outline for a particular episode and just goes with it. The freeform approach makes it more personal and engaging for the listeners. 
It creates an image that the person behind the business is more than just an owner and entrepreneur. They have their own personalities and quirks. 
More often than not, the first listeners of your business podcasts are your existing clients. Your podcast lets them learn more about the business. Its roots, why it exists in the first place, and your plans for the future include the welfare of your clients. 
Even if it's a one-way method of reaching out, it is one of the ways to build a more solid relationship with your clients. 
2. Expands Reach
Aside from maintaining and strengthening existing relationships with current clients, podcasting also expands the reach of your business. It is easier to target your particular niche too. Podcasters can be as specific as they want to connect easily with their target population. 
Interview-style episodes are also a popular trend for business podcasts. Smaller podcasts can interview hosts/business owners from established shows to reach their audiences. In a similar manner, the favor is returned. This practice makes it easier to connect with a wider audience. 
3. Popular New Medium 
Although podcasting is not an entirely new medium, its popularity and demand as a business marketing tool started recently. 
This is why several podcasting platforms are available. Over the course of the pandemic, more people are tuning into podcasts. From entertainment to serious business topics, podcasts offer quality content that is more manageable than watching videos or reading. 
4. Convenient for the Listeners
Another thing why your business should have a podcast is because current and future clients can listen to your shows at their own convenience and through their preferred platform. 
Ideally, you need to conduct market research to figure out the preferred platform of your target population. In this way, you can streamline your resources towards the top platforms and get the most out of them. 
As for the clients, they can listen to podcasts anywhere they go. They can listen to it when they're out running errands, traveling, or waiting. They can also listen to it at home. What makes it better is that listening to a podcast does not limit one's mobility. Even if they do listen, they can still do other tasks, such as cooking or exercising. 
5. Cost-Friendly 
Venturing out to podcasting does not cost much. You can publish on several platforms at once. What you basically need are high-quality cameras, lights, and microphones. If you're still in the dark on what to choose, you can look up several reviews on which are the best microphones for podcasts and Youtube. 
Starting out a podcast promises a great return despite a small investment. Likewise, a greater investment promises an even greater return. If you invest more time in creating top-quality content and take even more time recording both video and audio, it will attract more subscriptions. 
6. Fits in Busy Schedules
Though many people say that podcasting is a difficult job to do. But usually, the tough part is only in the beginning. You would, of course, need to build your podcasting setup that includes your equipment. Once it's all set up, you just need to show up on time and begin talking. You only need to make sure to allocate a spot in your schedule for this and stick to that schedule.
7. Easier to Maintain Consistency
When you're posting blog posts, there's a lot of things to consider and do. You have to study different trends on blog posting to compete with other bloggers. In podcasting, you only need to be natural and conversational. You can be as casual as you want and your listeners will come back to listen to be entertained and learn.
Still you'd need a script especially when you have a guest over. It doesn't require a strict script that should be followed to the tee. Just a list of the questions you'll be asking the guest will be enough so they're prepared with their answers. This prevents dead air while you're live.
8. Helps Develop Your Speaking Skills
As a business owner, you'd need to practice your speaking skills as much as often and podcasting is a perfect way just to do that. You can ask for feedback from personal friends and family on what they think and you can improve based on their feedback.
When you have a guest over, you'll be able to enhance your rapport-building skills. And when you practice enough, you'll be able to do presentations and speak in big events with ease. 
Key Takeaways 
Podcasting is a modern twist on business marketing and advertising. It is now one of the main methods of establishing a brand and effectively marketing it to its niche target. 
This method also targets personal relations with listeners to make them interested in the services of the business. With all the potential benefits that podcasting brings, it is amazing that it's very easy to get into. You can start with a target, an engaging script or flow, and a microphone. 
You may also like: Convert Potential Viewers into Happy Travellers by Using Instagram Marketing
Image source: Pexels.com