Click here to get this post in PDF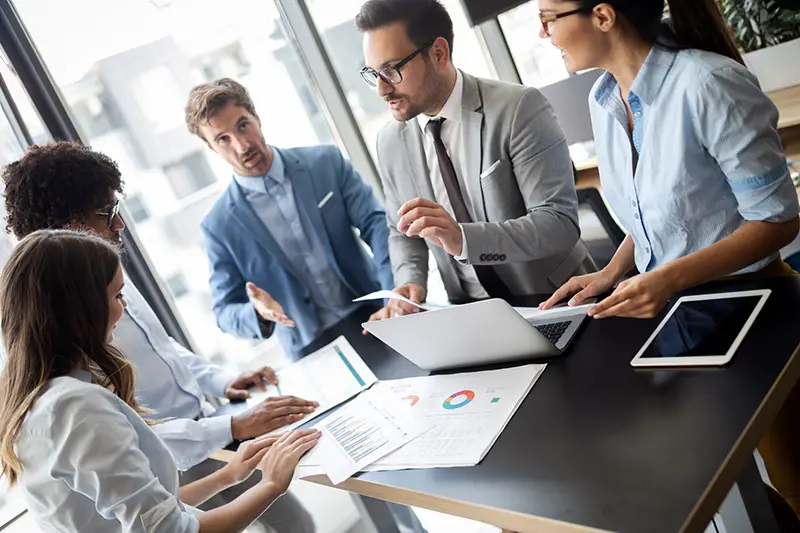 As a business leader, you will need to develop a variety of skills to help you tackle different challenges and make informed decisions. Effective organization is one of the most important leadership skills you must master, as it can impact your company's success. Becoming a well-organized leader may take some time, but it will be worth it in the long run, as you will be able to enhance productivity and reduce stress within your business. We've prepared some strategies to help you improve your organizational skills and become a better leader. Try them and see which ones suit you best.
Plan Your Time Wisely
Time management is a key aspect when it comes to staying organized and productive in the business world. With the appropriate tools and resources, you can accomplish more in less time, even when facing time constraints. You can use various things, including physical tools like planners and calendars, as well as digital solutions, such as project management software. You can also make to-do lists and cross off tasks when you complete them, which can help increase your motivation.
Learn About Different Tools
Depending on the tasks you are dealing with, you will need to use different tools, so it's important to look for the right solutions and expand your knowledge. For instance, managing digital documents may require you to use a PDF compressor. At Smallpdf, you can compress large PDF files for free, which can help you improve your document management processes and save time. Once you reduce the size of your files, you can easily share them with your team and get things done faster. As a result, you will be able to focus on other tasks and responsibilities.
Ensure Clear Communication
Communication is another key part of effective organization in the workplace. Therefore, it's crucial to learn how to be clear and concise in your messages, whether you are speaking to your team or responding to emails from clients. This will prevent confusion and ensure clarity regarding everyone's responsibilities. It might be a good idea to use collaboration tools to ensure key information is easily available and hold regular team meetings to check on everyone's progress and address any concerns your employees may have.
Develop Problem-Solving Skills
Developing effective problem-solving skills is the best way to ensure minor issues won't escalate and become more serious problems. It can be helpful to establish a systematic approach when it comes to resolving issues. For example, you may want to start by identifying the problem and breaking it down into smaller parts. From there, you will be able to develop potential solutions for each part and come up with a comprehensive solution. Also, sometimes you may discover that solutions won't come from linear thinking, so you will need to embrace creativity. This means that you will need to be open to unconventional ideas and strategies.
Keep Your Workspace Tidy And Organized
Your physical environment will also have an impact on your productivity and ability to stay organized. Keeping your workspace neat and organized is a smart move to save time by avoiding searching for documents or other items. It's advisable to eliminate any items you don't use, such as papers, stationery, or old mugs. Also, you can purchase desk organizers, such as boxes, trays, or drawer organizers. Another helpful strategy can be to label items, especially the ones that you use more frequently.
Establish A Good Work-Life Balance
Achieving a good work-life balance can be especially challenging as a business leader, as you will likely have a lot on your plate. However, there are some effective strategies that can help you establish boundaries between your work and personal life. For example, you can avoid answering emails or calls after a certain hour so that you can unwind. Also, you can delegate tasks to employees and empower them to make decisions. Don't be afraid to take breaks to clear your mind, and remember to take care of yourself by eating a balanced diet and exercising regularly. As a result, you will be more likely to come back refreshed and stay focused.
Collaborate With Other Business Leaders
Collaborating with others can be a great way to learn new ideas and suggestions to tackle organizational challenges and boost productivity. Every business leader has a unique set of expertise and experience. As a result, networking with other business professionals may open your eyes to new insights that will lead to better decision-making and problem-solving in the future. 
You can find networking opportunities by:
attending conferences and events
utilizing social media platforms
seeking out mentorship opportunities
engaging in discussion boards
using online collaboration platforms
participating in industry panels
Having a network of other leaders also means that you will have someone to turn to for advice.
Encourage Employee Feedback
It's impossible to progress without the help of your employees, so it's essential to listen to their thoughts. This way, you may identify areas for improvement and foster a sense of involvement and ownership. However, if you want to get your employees' honest feedback, it's important to create a safe space where everyone's voice is valued. Make sure you use multiple channels, allowing employees to choose the way they wish to express their opinions. Once you receive their feedback, take action so that they can see that their feedback can result in tangible changes. If there are any ideas that you can't implement, explain why they are not feasible.
Stay Committed To Your Goals
Staying committed requires persistence and dedication, so it can be helpful to constantly review your progress towards your goals. It's essential to maintain a positive attitude since it's inevitable that you will encounter certain obstacles and challenges. Keep learning and improving every day so that you can continue seeing results and reaping the benefits of staying organized. For example, reading books, listening to podcasts, and attending workshops related to organization and leadership can be a good idea. There will always be room for improvement, so don't get discouraged if something doesn't go as planned.
You may also like: What Are the Characteristics of a Boss Compared to the Characteristics of a Leader?
Image source: Depositphotos.com