Click here to get this post in PDF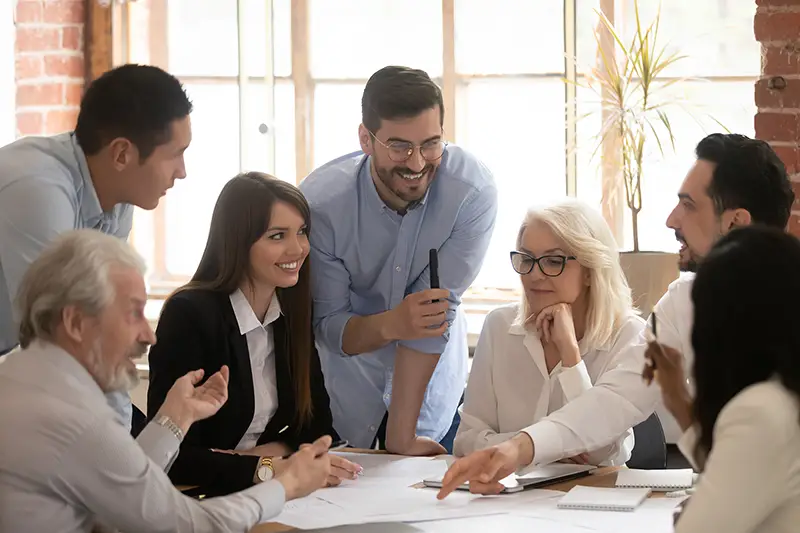 Do you feel like your employees are constantly relying on you to solve any problem that comes their way? As an entrepreneur and a leader, it's part of your responsibility to help them face challenges and overcome obstacles. However, you should also consider finding ways to encourage them to develop their problem-solving skills.
When all the members of your team can identify and solve different types of problems, your entire business benefits. Plus, problem-solving skills can be useful in all areas of life. Your employees will become more well-rounded individuals with their problem-solving skills.
Let's learn about how to train employees on their problem-solving capabilities:
Schedule design thinking workshops
Whenever your business faces a big challenge, you could schedule a design thinking workshop with your team. Design thinking workshops use the principles of design thinking to involve your team in a creative problem-solving session. The process is similar to a team brainstorming session. It teaches your employees to identify a challenge, generate ideas, test possible solutions, and implement the best one.
Design thinking workshops are instrumental whenever you have to come up with a new product or service. The creativity that flows in these workshops will help you meet the needs of your target users.
Stop looking over your employees' shoulder
As a manager, you should stop looking over your employees' shoulders to ensure they are doing everything right. If you have developed this habit, your employees are probably not even trying to solve problems independently. They know you are always there to offer them guidance.
Instead of constantly checking over their shoulder, trust them to handle the situation on their own. Only give the employees advice if they come to you and ask for it.
Provide goals instead of instructions
Trusting your employees will help them feel more empowered to solve problems on their own. You can also empower them by providing them with goals instead of instructions.
Instead of telling them exactly what you want them to do, tell them the result you want them to achieve. It will motivate employees to look at that goal and figure out which steps they should take to get there. Over time, this will help them develop better problem-solving skills.
Encourage your employees to be creative
Solving problems requires creativity. If you encourage your employees to think out of the box, play games, and try out new ideas, they will eventually get better at creative thinking. Here are a few examples of things you could try:
Allow your employees to have a flexible work schedule and to take breaks. This will help them be more productive, but also more relaxed and more satisfied with their job.
When an employee gives you a suggestion or shares an idea with you, listen to them. Even if you don't want to use their idea, give them feedback to know you value their input.
Try to encourage teamwork with some team brainstorming. Whenever there is a problem that needs a creative solution, get your employees together and generate new ideas.
Allow them to go past their comfort zone
Providing your employees with opportunities to go past their comfort zone will help them become more creative. It could also help them move towards their career goals.
For example, give them a tough problem to solve, and tell them you are confident they will figure out a solution. Encourage employees to try something new, like working on a project they don't usually work on. A second example is switching departments with another employee for some time.
Make sure they have the tools and resources they need
Creativity is not the only thing your employees will need to learn how to solve problems. You should make sure they have all the tools and resources they need to face different challenges, whether these are found on a computer or mobile device, inside a toolbox, or in a written document.
Your employees might tell you that they lack a tool or some skill to do their job properly. Listen to them and do your best to provide them with what they need.
Providing training to your employees will help them learn new skills, develop their knowledge, use new tools or software, and be better equipped to solve different problems. Keep looking for opportunities to learn something new, whether online or in person.
Remind them to stay calm when a problem arises
Finally, you should keep reminding your employees that they shouldn't panic whenever a problem arises. When something goes wrong, they should remain calm. Take the time they need to analyze the situation and come up with possible solutions. If they are feeling overwhelmed by the problem, they should be allowed to take a moment to relax. It helps them to tackle the challenge with a clear head.
You may also like: 5 Simple Ways To Get The Very Best Out Of Your Employees
Image source: Shutterstock.com