Click here to get this post in PDF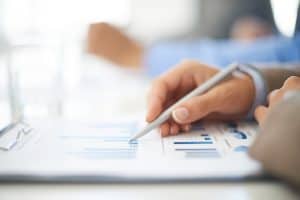 The ability to predict incoming sales gives business leaders greater control – and enables them to make better, faster and – most importantly – data-driven decisions. While some may rely on their gut instinct or a crystal ball to see into the future, the most successful businesses use figures and trends to measure potential growth and enhance the sales process to ensure this growth is realized.
It's impossible to predict what's coming up with absolute certainty. However, sales forecasts that provide in-depth insights can help you create more informed strategies for not only how you sell, but also how you manage your workforce, cash flow, and resources. It's a powerful tool that, when put to good use, can accelerate your company's development and help you outperform rival sales teams.
To simplify the sales forecasting process, we've broken it down below into five important steps. Have a look and consider how you can start implementing them in your business.
Match up the figures
Make sure that when you are creating your forecasting plans, they match how you actually measure sales. For example, if you review your sales quarterly per team, ensure your forecast data reflects this.
The simpler the spreadsheets, the better. Or, better still, ditch the stuffy spreadsheets for specialized reporting software that can automate these processes. That way, you'll be able to identify correlations or gaps at a glance and act much faster.
Develop key sales projections
It's important to create the right type of measurement marker – one that suits your business model. If your business measures in units forecast using units per sale. Your measurement marker really depends on your business so choose what is most relevant to your company.
So, for example, if you are an office products dealer, you may consider measuring the reams of paper sold per month. The measurement marker is a critical element of your sales forecast – it helps you gather, assess and outline the data for optimal insights.
Harness past sales data
The past informs the present – and the future. Knowing what your sales have been to date will give you a good foundation to work from. Any existing sales data is powerful information that you can put to good use as you plot your business' growth. If, for example, you plan to scale operations, you can use the previous month's data to help predict next month's sales figures.
Understand sales factors
There are many factors that influence sales. A better understanding of these factors will help you recognize them and enable you to forecast your sales with greater accuracy. It may not be possible to predict the future, but you can make an educated guess.
If, for example, you manufacture fasteners, then you'll likely know why people typically buy one range over another. It typically boils down to the combination of affordable prices, quality and aftersales service.
To know how to sell your product, you need to know why people are buying it – you need to know your sales factors.
Manage your profit margins
To forecast sales as accurately as possible, you need to know your profit margins. Clearly, indicate your revenue and costs per unit of production so that you can see how much profit you are making per sale. These figures will also vary depending on the product.
In summary…
Once you've completed the above steps to develop your unit projections, you can do some simple maths to calculate how much this creates in actual sales. Visualize it in a spreadsheet or even better, use software that does it all for you.
You know your business – and the industry it sits within – best. If you don't think the data is relevant or helpful, don't worry. Remember, sales forecasting is not a pure science – it's a vital, yet flexible, business process. Go back to your reports and amend them until you feel you're getting the valuable insight you need to make smarter business decisions.
You might also like: Sales Tips: Only Focus on The Sales Metrics You Can Control (Infographic)
Article by Kevin McGirl, president, sales-i