Click here to get this post in PDF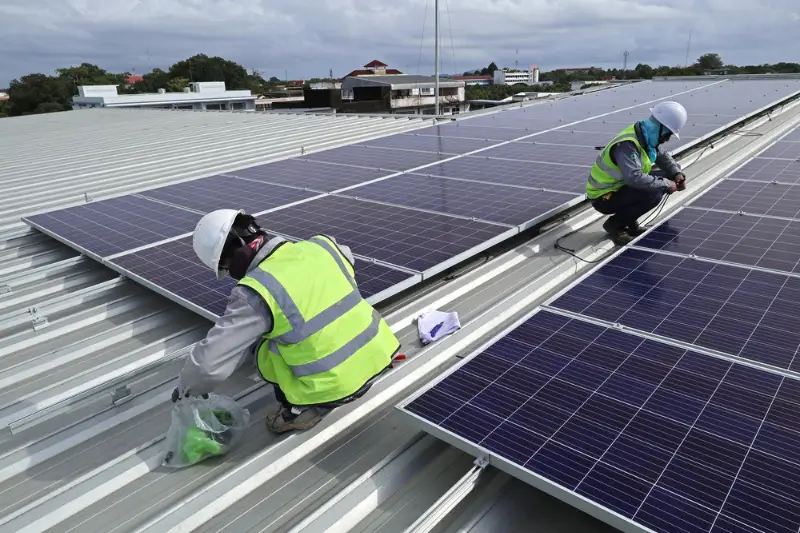 Business budgeting is essential to the success of your company. You have to cover all costs and expenses while paying taxes and other fees. And yet you must still come up with enough money to make a profit and expand your customer base. 
One resource that many business owners turn to is sustainable energy. It's more affordable than it has ever been before. It also provides long-term savings through lower utility bills. Investing now could help you plan for a brighter financial future for your small business. 
Connect Electric can help you learn more about how sustainable power can boost your earning potential. Why should you consider switching to solar energy?
Solar Panels Pay for Themselves
The cost of equipment and installation is an obstacle that stops some small businesses from moving forward. It's important to look at the bigger picture. Solar panels begin making money back as soon as they are used. On average, most businesses pay off the cost of installation in just 3 to 7 years.
Most manufacturers package their solar panels with a warranty or guarantee. This adds another layer of protection for your business when transitioning to solar.
Take Advantage of Solar Incentives and Rebates
Tax incentives and rebates are available to businesses that start using solar. An expanded instant asset write-off was put into place in Australia. This increased the annual revenue cap from $10 million to $50 million for eligibility. It also raised the write-off ceiling from $25,000 to $30,000.
You may also be eligible for small-scale technology certificates when you install solar panels. The value and quantity received will vary. It's another way to earn back when you power your small business with solar energy.  
Bank Solar Power to Minimise Downtime
Downtime can cost a lot of money. Whether you operate online, offline, or both, you need to know that your customers can access your product or service. Solar panels can be paired with a battery bank. This will store excess energy so that you can consume it during times when the sun is not visible. It will help keep your business running, so you don't lose valuable production or sales time.
Generate Energy with Little to No Cost
One of the biggest benefits of solar panels is the ongoing utility savings. You can generate your own energy at little to no cost. Some business owners use a hybrid system that remains connected to the grid but offset some of the company's use with solar power. You can also choose to rely entirely on solar and disconnect from the grid. Should you decide to do that be sure to make use of smart electrical panel to optimize the power consumption
The average solar panel has an expected lifespan of about 25 years. They will continue to operate after that point but may not be as efficient. You can look at the cost of installation as a pre-payment for the next 20 to 30 years' worth of electricity. 
Solar energy is adaptable and reliable. It's a powerful asset to add to your business. Contact Connect Electric to find out how much you could save using solar.
You may also like: 25 Tips to Run an Energy-Efficient Office