Click here to get this post in PDF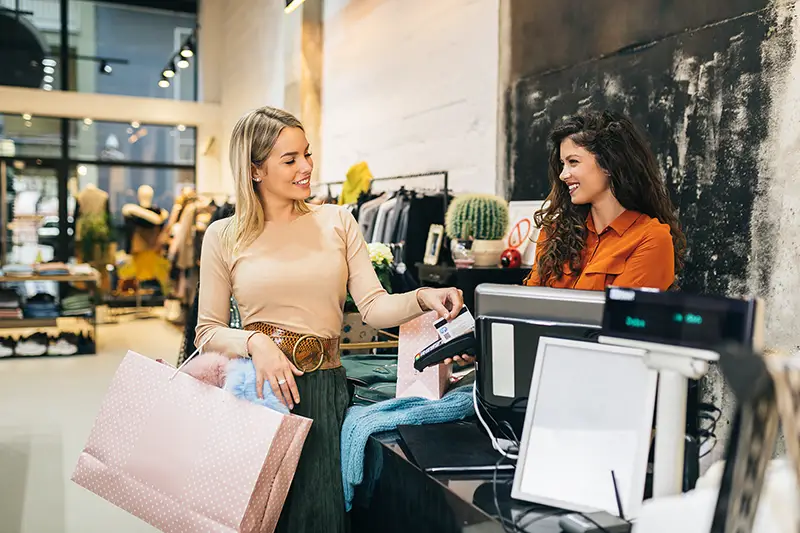 Although online shopping continues to rise, many consumers still prefer the personal touch of brick-and-mortar stores. Therefore, any business that wants to capture as many customers as possible should offer both, as this maximizes your appeal. Even so, it can be tricky to maintain customers, especially when you consider the amount of competition. Businesses – whether online or in-store – must do everything they can to ensure their customers keep coming back.  
Make The Products Accessible 
It doesn't matter if you run an online store or set up a shop in the bustling town centre. First, you must ensure your products are available when your customers need them. For online stores, this means setting up a user-friendly website that is easy to navigate with no broken links and plenty of information regarding delivery times, returns, and more. 
For a physical store, things are slightly different. Logical layouts are key for making the customer experience more enjoyable. You need to group similar items and sprinkle in some unique (but not essential) additions in between, such as accessories. Then, as customers move around the store, they'll get everything they need without needing to double back.
Make the Products Look Good 
No one wants to purchase products that don't look good, so making your products look appealing is a key component of keeping customers coming back to your store. For e-commerce companies, you can use professional product photography or a product photography kit to take photos of your stock. This approach removes shadows and highlights the product's most appealing features. 
Making products look good is even more vital in physical stores. Keeping your products, whether clothing, groceries, or tech equipment, is crucial if you want to sell as much as possible. Retail stores should keep clothes pressed and clean, while grocery stores can use a refrigerator display case to keep cold items in excellent condition. 
Replenish Stock Regularly 
Every store runs the risk of experiencing stockouts which could cause customers to look elsewhere. If your business rarely has full stock, you need to make changes to keep the shelves and racks full. Otherwise, customers will go elsewhere. 
Although many supply chains are currently disrupted, you should look for solutions, including working with new suppliers or ordering more stock than you usually would. Although this means you may affect your budget in the short term, you can feel confident you'll have enough stock for the future. 
Offer Good Prices 
Every customer wants to find the best products at the best prices. Choosing your pricing for products can be tricky. You don't want to make things too cheap, especially if you stock high-quality items. Eventually, you will spend more than you make. At the same time, you can't charge too much because there will always be a store that offers a better deal elsewhere. 
It's important to find a balance that reflects the quality of your products without pricing customers out. This pricing can vary between stores and the nature of your brand, so look at competitors and determine what price level is appropriate for your business. If the prices are good enough, customers will be happy to pay. 
Ensure Easy Payments 
Convenient payments are a must for any business, whether your customers prefer online shopping on in-store purchases. In addition, most of the public, especially younger generations, have moved away from cash payments and prefer the multitude of card payment options, whether through their credit card, fintech services like PayPal, or even cryptocurrency. 
Easy payments will speed up the process and keep customers returning as they know they can do their shopping and get out quickly. If you can offer as many payment options as possible, your customers will never feel like they can't use your service. Despite all these digital or card payment options, accepting cash is still beneficial.
Entice Them With Promotions 
Even the most appealing businesses can't survive on goodwill forever. There will come the point when your loyal customers have purchased everything they need. You need to entice them back rather than accept this as a loss. 
Promotions, deals, and discounts are excellent methods businesses can use to maintain interest in their service, especially for customers who rarely frequent your business but still have experience with your products. In addition, if you can offer discounts or promotions on popular items (or items going out of season), you will bring many customers back because they want to take advantage of an excellent deal. 
Use Data To Keep Them Coming Back
Knowing your customers is one of the most effective ways to boost the customer experience and create a rapport with everyone who walks through your door. You can get to know customers better by analyzing data to understand their browning and purchasing habits as it generates a reliable customer profile. 
If you notice that a customer purchases a specific product every two weeks, get in touch with them via your mailing list to remind them. If you offer reward cards, use the data on this card to offer a discount off their next product purchase (plus deals or bonus points on other products they purchase simultaneously). 
Welcome Them 
Everyone wants to feel welcomed when they enter a store, and for many businesses, this is the most fundamental way to keep customers returning to their store. A friendly atmosphere and helpful staff enhance their enjoyment but ensure you don't come across as too overbearing. 
It's more challenging to make customers feel welcome in online stores, so focus on the layout and let them browse in peace. Pop-up deals are useful, but not on every page, while email reminders about abandoned carts can also help your customers complete the purchase if they get distracted. 
Keep On Browsing 
There is no such thing as the perfect business. Even companies that enjoy regular profit can benefit from making improvements and changes in how they operate, whether online or in person. These tips are ideal for improving the customer experience and encouraging them to come back and attract new customers. 
You may also like: A Business Strategy: 5 Ways to Encourage Customers to Return
Image source: Shutterstock.com