Click here to get this post in PDF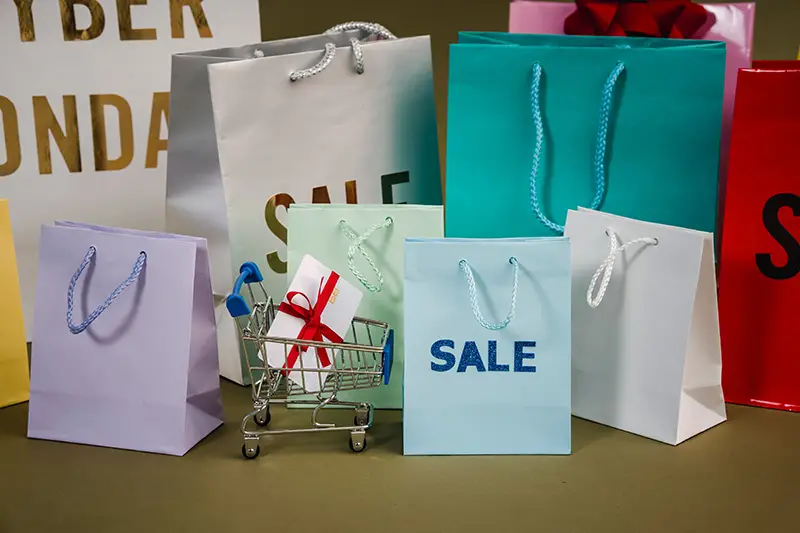 The American e-commerce domain is crowded, with most retailers having an online presence today. The pandemic fueled the trend initially, but most businesses realized that e-commerce is the way to go. The opportunity in the online landscape is huge, but so is the competition. You can well imagine the challenge of selling in a market with hundreds of sellers offering similar products and services. The competition gets tighter when the holiday season is around as every seller does their best to capitalize on the opportunity.
The e-commerce boom is likely to be big in 2021, just like last year. Even as the virus is a lesser threat in the country after vaccines, Americans still want to stay safe. They are likely to shop online rather than step out for festive buying. As an e-commerce seller, you need to prepare for the season to get them to your website and ensure they convert and come back. Here are some tips and tricks that can get your holiday e-commerce sales soaring this season.
Leverage the right opportunities
The first step for getting ahead of the seasonal surge is identifying the right opportunities and leveraging them. American shoppers are most active on Black Friday and Cyber Monday, so make sure you start campaigning early. You will see that the ad space and social feeds are already full but being there makes a difference. Some shoppers even start buying earlier, and you can get an advantage with pre-holiday offers. It makes sense to plan a strategy early so that you can roll it out before the big buying push. Figure peak purchasing times in your area and have promotional material ready ahead of time.
Target the right audience
Timing the campaigns well is crucial, but you cannot undermine the significance of reaching out to the right audience. Almost everyone has access to the internet today, but don't expect them all to be comfortable with e-commerce buying. Focus on millennials because they are your sweet spot. This segment of the population is more tech-savvy and less likely to step out to shop. Moreover, they even help parents and older relatives to buy online. Target millennials specifically for the holidays can get your sales going a notch higher. Invest in creative ways to connect with them and entice them to buy your products this season.
Refresh your website
It is vital to dress up your website for the festive season, just as you deck up your brick-and-mortar store. A design refresh does the trick to hold the visitor's attention as they land on the site. Rework the banner with festive colors and images. If you have a big promotion running or coming up, make it visible on the banner and across the product pages. You may consider changing colors and fonts for the season, but make sure they do not overpower your brand's original appearance.
Create a personalized user-experience
When it comes to e-commerce selling, nothing matters more than your website's user experience. You need one with good looks and user-friendly features. Even better, go the extra mile with a personalized UX this holiday season. Personalization requires creative thinking and technical expertise, so you cannot manage it on your own. You can seek guidance from an Atlanta Ecommerce Specialist if you operate in Atlanta. They can help you with page journey tracking for understanding the lags in user navigation. Experts can even pick the weak spots and improve on them to ensure every visitor gets what they expect and leave only after converting.
Prioritize customer services
Holidays or no holidays, customer services should be your top priority. But you may have to go above and beyond with them during the holidays. Shoppers and purchases surge during the season, and your customer services need to keep pace. Not delivering the best services elevates the risk of unhappy customers. They will probably leave without buying, and even worse, share a negative online review. Customer services entail several factors, and you must double-check all fronts. Ensure that you deliver your products on time and in top quality. The shoppers should be able to track their purchases all the way. If there is an issue, your support staff should be around to resolve it at the earliest.
Publish a gift guide
Customers love special treatment, and you can do your bit to retain them in the festive season. Publishing a gift guide is an excellent idea as it resonates with the spirit of the season. You can present it on your website and blog and even share it personally in your email newsletter. Shoppers will love creative content, so ensure it serves value and entertains them. It shows your intention to help them pick the best gifts for their loved ones. You can even add links to product pages to cash on the impulse buying mindset. If a user likes a gift idea, they may click, order, and convert effortlessly.
Push sales through social and mobile channels
E-commerce selling goes beyond website conversions. If you are serious about pushing sales this holiday season, pay attention to social and mobile channels. Add an influencer to the mix, and you have a winning festive selling strategy for your business. Ordering through social networking platforms such as Instagram and Pinterest continue to grow. Ensure that your buyers have the option. A mobile-responsive website and app can take your sales a notch higher. You cannot overlook mobile buyers because most online shoppers prefer to convert through these devices.
Getting your holiday sales soaring this season requires a strategic approach. Start on time and have your campaign ideas ready well before the traffic hits. Keep your website ready to meet traffic surges because a crash can cost you a fortune. The last thing you want is an unresponsive website on a big day because it leads to loss of customers, sales, and reputation. Ramp it up, work on your social media presence, and have the best promotions to attract customers. Go the extra mile with retention because holiday shoppers often shop and shop until they can.
You may also like: The 3 Best Ecommerce Strategies To Grow Your Business
Image source: Pexels.com