Click here to get this post in PDF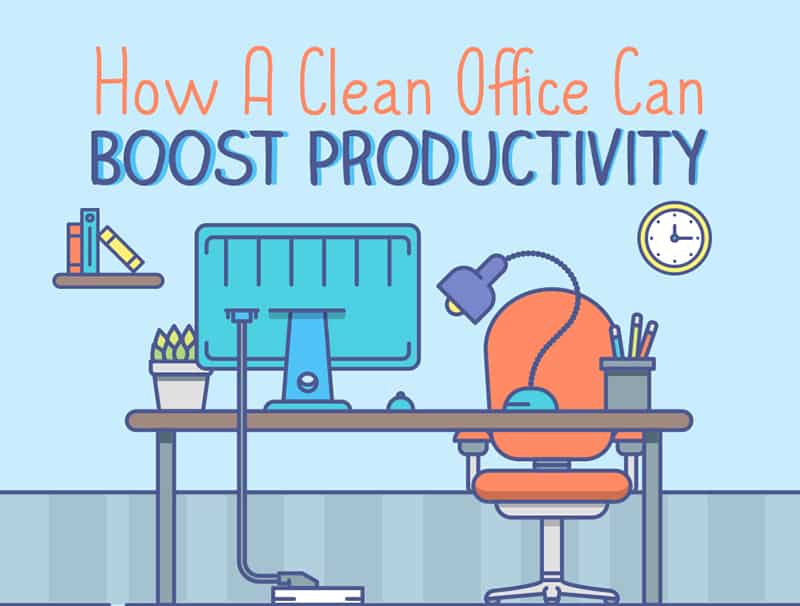 Some people would associate an untidy, paper-strewn office to be a sign of a busy place where everyone is industriously getting through their work, but usually it's cleaner offices which are more productive. This infographic from Cleaning Services Group looks at the link between a well-maintained workplace and a greater level of productivity.
To some, the cleanliness of a working environment has no bearing on how much work employees complete. However, a clean office can boost productivity in numerous ways. For a start, illnesses are far less likely to develop in a clean workspace, which means that fewer sick days will be taken and more work will get done. Absenteeism costs businesses millions of dollars every year, so the health of your workforce cannot be understated.
In a clean office, you'll most likely know where important files are kept and you'll be able to find these easily. Compare that with a cluttered desk that's heaving with papers and rubbish. You could waste several minutes rummaging through piles in the search for just one piece of paper. That situation multiplied by other employees over the long-term adds up to hours squandered in lost productivity.
A clean workspace also has a psychological impact. If your office is excellently maintained, you'll naturally feel a greater motivation to come into work every day than if the place was forever up in a heap with piles of disused equipment and stationery.
Productivity is what matters most in a workplace, but presentation certainly cannot be neglected. A workplace that is maintained in pristine condition is one where management and staff have pride, which is reflected in the quality of work that is completed. The message is simple – a cleaner office can only be beneficial for productivity, which makes all stakeholders happier.

Infographic created by Cleaning Services Group
You may also like: Using Cleaning Products Safely in the Workplace