Click here to get this post in PDF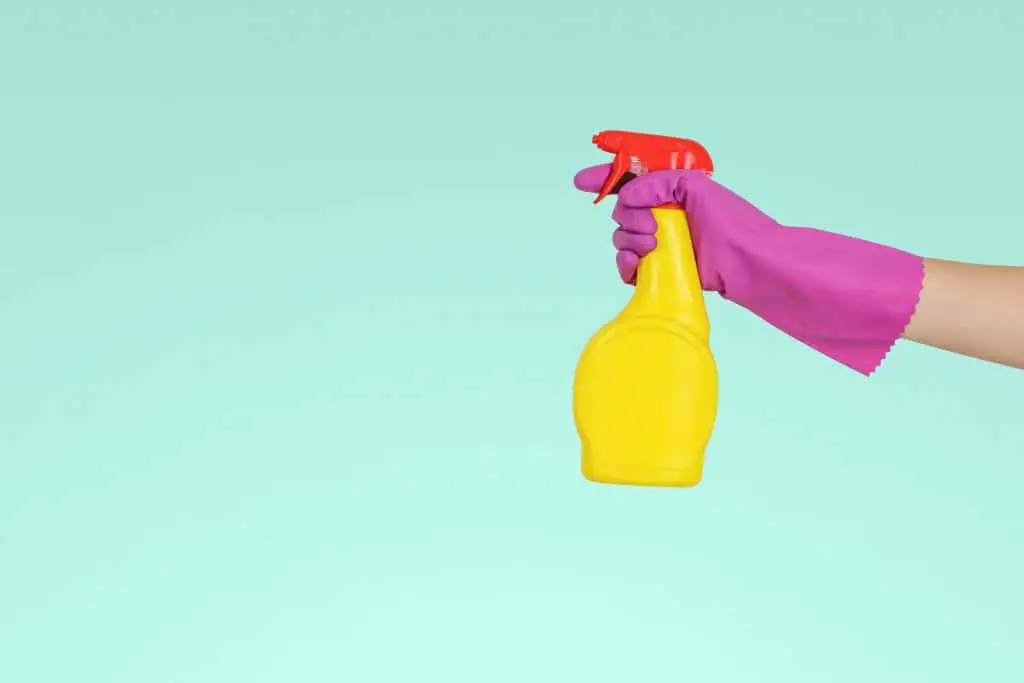 When we think of a safe working environment, it's likely that we'll forget about the most common items in our office that can be harmful to us. Take cleaning products for example — used every single day to help keep our workspaces clean. However, can these chemicals put us at risk?
How to store your cleaning products
There are numerous simple steps we can take to safely store cleaning products, which you can apply to the workplace as a foundation expectation.
The first step is making sure that the storage area for our cleaning products is cool and dry. Ideally, they should be placed in chemical storage cabinets – click here to learn more about how this will ensure that your workplace is in compliance with regulations.
It's important that they aren't stored anywhere that could heat up or cool down suddenly, due to proximity with running equipment for example.
It's also important to consider that, unless stated by the instructions on the product, the original packaging be kept. For one, this should prevent any mix-up with other products, thereby reducing the risk of accidentally mixing two chemicals that should be kept apart: for example, a powerful drain cleaner such as one shot drain cleaner products should not be used if bleach or other chemicals have recently been used on the drain.
COSHH guidelines
If the nature of your workplace deals with chemicals, you're likely to be familiar with COSHH (Control of Substances Hazardous to Health). COSHH also applies to cleaning products held in the workplace. The Health and Safety Executive points out example risks associated with cleaning products and the cleaning process, including:
Asthma
Eye damage
Skin allergies
Dermatitis
Burns
CLP hazard labels
Since 2015, the hazard pictograms on products have been updated from the old orange-and-black symbols to new red-and-white versions. The old "X" symbol for irritant has been replaced entirely. This is to make the pictograms more universal, as well as covering a few new areas. The pictograms you may now come across on cleaning chemicals are:
Flammable, which uses a flame picture
Explosive, which uses an exploding bomb picture
Corrosive, which uses a vial pouring onto a hand and a surface in its picture
Acute toxicity, which uses a skull and crossbones picture
Hazardous to the environment, which uses a dead tree and dead fish in its picture
Oxidising, which uses a flame over a circle in its picture
Health hazard and/or hazardous to the ozone layer, which uses an exclamation mark picture
Gas under pressure, which uses a gas cylinder picture
Serious health hazard, which uses a picture of a person's head and shoulders with a starburst from the centre of the picture
Both obeying these warning labels and properly storing these products will reduce the risks presented. Let's look now at the correct practice for using cleaning products safely in the workplace.
Using cleaning products
Initial risk assessment
Firstly, as recommended by the European Cleaning Journal, is to outline and carry out a risk assessment. This assessment will help to identify specific cleaning products and processes that could have risk-reduction actions in place, as well as reviewing that current processes are being adhered to. Alongside this, you need to check that these processes are working; if not, they will need amending.
As touched upon above, if the risk assessment brings to light any particular handling, storage, or usage requirements for a certain cleaning product or equipment, the next step needs to be putting a process in place. This process should be tailored to reduce any risk associated with the product. Any cleaning products purchased for the workplace should come with instructions for their safe use, as well as a chemical safety data sheet where applicable. Be sure to follow these instructions given, as well as using the datasheet to help bolster your risk assessment.
Staff training
Types of organisational change like a new process are only useful if it is explained and communicated to the staff expected to follow it. Be sure to set aside time to train staff in any hazardous products with new processes in place and make space for safety posters in clear view. It is important that your staff have as little contact with potentially harmful products as possible. Supplying adequate PPE for staff using chemical cleaning products can help with this.
With cleaning products being used so often, we forget the risks that can come with them. Make sure your workplace is safe by following the necessary procedures!
You may also like: A Critical Look at Professional Janitorial Services
Sources:
https://www.thespruce.com/where-and-how-to-store-cleaning-supplies-1900770
http://www.hse.gov.uk/coshh/industry/cleaning.htm
http://www.europeancleaningjournal.com/magazine/articles/product-features/how-to-keep-your-workforce-safe-when-using-cleaning-agents
http://www.hse.gov.uk/chemical-classification/labelling-packaging/hazard-symbols-hazard-pictograms.htm
Image source: Unsplash.com