Click here to get this post in PDF
When the market is hot and you're ready to assign your commercial property to a local realtor, there are steps to take to give you the best chance of selling. Aside from fixing niggly problems like dripping taps, hiring a professional cleaning service should be at the top of your list. It's easy to assume your staff, friends or family would chip in to help, but in order to appropriately display your property for sale, you need to hire the big guns!
Below are the six places within your commercial building that should be left to professional cleaners.
Public Spaces
You should hire a professional cleaning service for any areas the general public see, including:
meeting rooms and foyers
customer lounges and bathrooms
building exteriors
Not only does a professionally cleaned public area paint your business in a good light, but it creates a hygienic atmosphere for both staff and clientele.
Your real estate agent will also appreciate showing buyers and bidders through a building when it's clean, organized, and showing potential as good buying.
Having the exterior of your building professionally cleaned is a good place to start. The outside is the first area the general public and your potential buyers see and first impressions count the most. Industrial cleaners can water blast and clean into every nook and cranny to get it looking in tip-top shape for both your market listing and those prospective purchasers being shown through.
Equally as important is the immaculate presentation of foyers or entrances. Once a customer or buyer walks through those main doors, they take everything in. From the dismal potted plant in the corner of the room to the dust bunny hanging precariously from the ceiling; customers can be quick to form their first impression.
A professional cleaner can scrub these areas from top-to-bottom to give them a sparkle you never thought was possible. This includes disinfecting all surfaces, mopping and scrubbing tiles, dusting shelving, and polishing any metals in need of a good shine.
Meeting rooms and customer lounges will also require a top cleaning company to make it a clean, professional, and sanitary environment.
Potential buyers of your commercial building want to see how your rooms are currently used, so this means the cleaning company you hire will ensure all walls, ceilings and furniture are cleaned and presentable, as well as any pot plants watered and paperwork orderly.
Vents, Heating Systems, Electronic Equipment
Making sure your vents, heating systems and any electronic systems are cleaned is important when showing off all the features of your building. Mike Tardy, the chief janitor from a luxury hotel in Vancouver Carmana Plaza, shares: "With time, heating systems and vents become clogged with dust and other nasty allergens. Not only can they make those using the space sick, but they can also cause damage to the inner workings of systems. The last thing you want is to be replacing expensive gear right before moving day".
Have an industrial cleaning company come in and fix the situation before it becomes expensive.
Bathrooms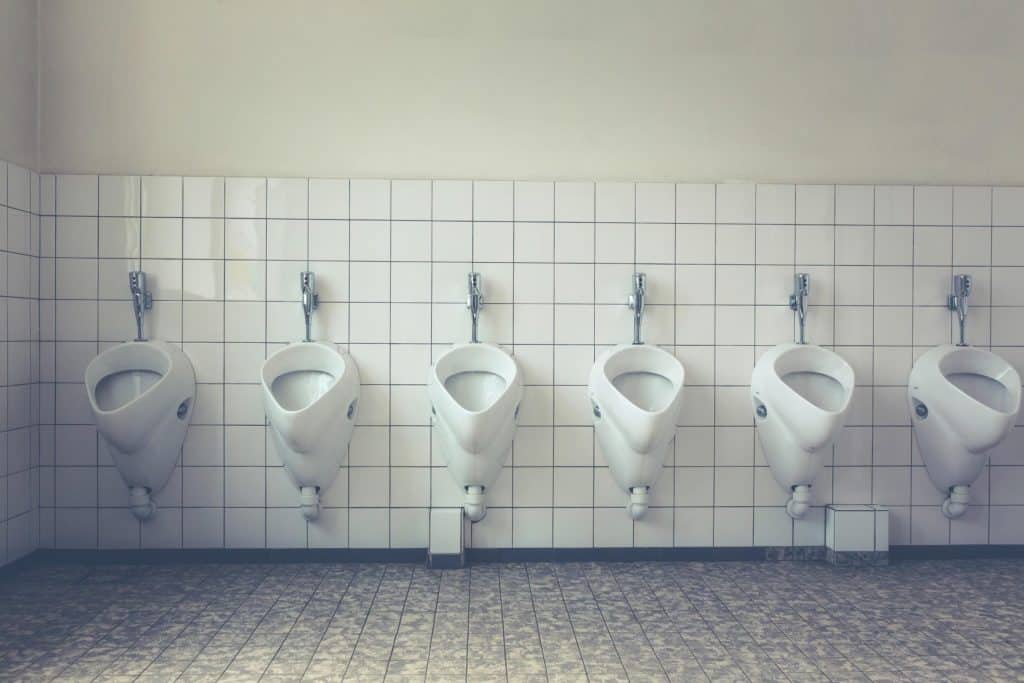 Similarly to the dirtiest places in a residential property, commercial bathrooms have the second-highest concentration of bacteria among all the rooms in a building after kitchens. Both customer and staff bathrooms should be kept in a sanitary and hygienic condition—regardless of whether the general public sees them.
Prior to opening viewings of your building, hire a commercial cleaner to see to this task. From floor to ceiling, all areas of a bathroom need to be cleaned and it takes a professional to get this job done effectively. Choosing the correct floor cleaning chemical is essential to this task. Choosing a chemical that will clean effectively, but at the same time not damage your property, can be difficult. Choosing too harsh of a cleaner could result in ruined carpets and damaged grouting. At this time it would also be opportune to ensure all taps and plumbing are functioning how they should.
Tasks include:
Scrubbing tiles
Cleaning fan and ventilation systems
Emptying and cleaning rubbish bins
Replacing toilet rolls and hand towels
Cleaning floors (here is how much TLC marble ones require)
Cleaning toilets and sinks
Checking cisterns
Wiping doors, handles and surfaces
Cleaning window sills and shelving
Carpets
Whether your entire workspace is carpeted or just the break room, all floor coverings should be professionally cleaned before putting your property on the market. Allow time for the cleaning, drying, any treatments required, and for the carpet to settle back into place. There are several floor cleaning services available so choose the one with expertise in your particular work environment (e.g. industrial, commercial, or office).
Kristina Morales, an experienced Realtor from Orange County, California, shares her advice: "Having carpets cleaned is often an overlooked detail while selling a property. It often seems that carpets don't even look bad until they are freshly-cleaned and you see the difference. And the difference is significant enough, as it contributes to forming the overall impression of your potential buyer. When selling a hotel, for example, it can be measured in a few thousand dollars".
Place particular emphasis on the cleanliness of public areas such as foyers and meeting rooms, and ask for spot treatment on stains or imperfections. Just like a home, clean carpet can lift a building's appearance to a whole new level.
Work Spaces
The condition of your employees' work spaces is a reflection of the moral standards and practices held by the business occupying the space. Even if you're only selling the building rather than the business, clean work spaces can put you on the upper foot. Because if your corporate culture doesn't require tidy work spaces, it probably neither includes a proper facility management. Who knows what components of the building were left in disrepair because of negligence?
There are office cleaning services in the United States and many offer expertise in preparing buildings for sale. They will be able to carry out cleaning on a large scale and can do so within your budget and timeframe.
If your workspace is industrial, there are also plenty of industrial cleaning services available too. These experts have the correct cleaning products to eradicate hard-to-shift stains and can have those greasy workbenches looking sharp in no time. This includes degreasing walls and floors as well as deep-cleaning extractor fans and working mechanisms.
An orderly workshop is easy on the eye and will give the impression of professionalism when potential buyers come to visit.
Storage Spaces
Every business has that room used for storage that probably shouldn't be. It becomes a cemetery for old files, broken office chairs, and redundant technology. Your building is now going to be looked over with a fine-tooth comb, so use this opportunity to clear out any old 'junk' that should have been taken care of years before and revitalize the space. This will also create less work come moving day.
You may also like: How a Clean Office can Boost Productivity (Infographic)