Click here to get this post in PDF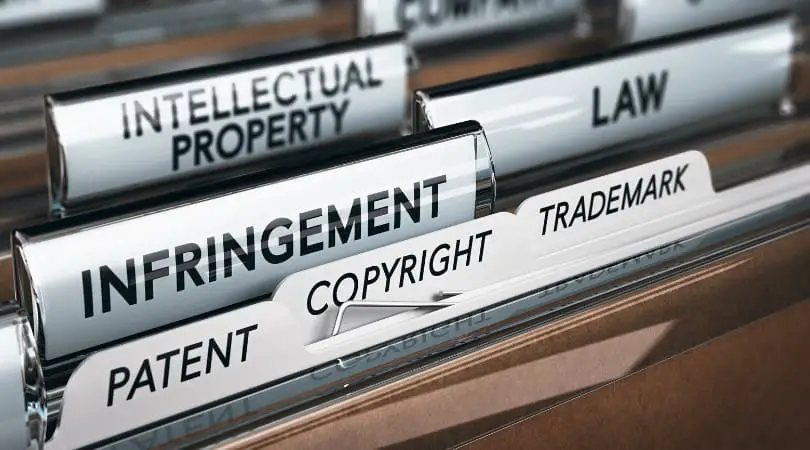 Intellectual property (IP) law isn't the first thing on most people's list to get excited about. In fact, many business owners and entrepreneurs get intimidated by its apparent complexity. However, IP law is an incredibly useful field to get acquainted with, as it offers small business protections and support they otherwise could not get.
Gaining some basic knowledge on the types of IP law can save you time, stress, and money both short-term and long-term, and even a cursory overview can tell you when it's time to consult a professional. There are four main categories of IP law; keep reading to learn what each has to offer.
Copyrights
Copyright law is perhaps the most familiar category to the average person. A copyright protects any original creative work. This extends beyond art and music and can include original writing, coding, and even choreography.
Copyright protection means that no one else except the creator can reproduce, perform, or profit from the work unless expressly given permission or license. There are, of course, exceptions to this under fair use and in educational settings.
Copyrights are unique in that they exist as soon as a work is fixed or performed in some tangible form (recording, sheet music, etc.) regardless of if a copyright has been officially registered. However, this registration isn't very difficult and should be a priority as soon as a creative work has been created.
Owning registered copyright allows for greater financial punishments for knowing infringers, easier licensing, and serves as proof of ownership. Plus, any federal copyright violation cases brought require registration of copyright anyway, so it makes sense to pre-empt the matter.
Trade Secrets
Trade secrets are pretty much what they sound like. A trade secret can be a vendor or supplier list, a specific but secret way of manufacturing a product, and so on. Anything that gives a business a leg up in the market and benefits from remaining confidential can qualify as a trade secret.
Trade secrets aren't registered like copyrights. Instead, companies must take "reasonable steps by the rightful holder of the information to keep it secret" according to the World Intellectual Property Organization. This means that a company can't litigate against its employees for discussing a manufacturing process outside of the company unless they have used confidentiality agreements and the like. This is a problem experienced by entrepreneurs worldwide but is particularly evident in high tech regions such as California. Whilst there are federal and state laws providing protection against trade secret thefts, it can be beneficial to consult a trade secret lawyer California for legal advice.
Trademarks
You'll recognize trademarks by the "TM" or "R" present on boxes of cereal, advertisements, logos… the list goes on and on.
That's because trademarks are used to establish and maintain brand identity. In the U.S., a business can have intrinsic protections of their brand name and recognizable brand features only in its immediate geographical area and in its field. Given the prevalence of businesses that operate in more than just one town, and are involved in any sort of e-commerce that is not limited by proximity, trademarks are a must.
A trademark enables a business to protect itself from other companies who want to trick consumers into thinking that they are the same entity, perhaps trying to piggyback off of positive associations people have with the "real" company
 The U.S. Trademark and Patent Office (USPTO) has a fairly straightforward trademark application process that starts with a trademark search. Trademarks are fairly inexpensive and can be used to protect your brand's logo, name, and even associated jingles or slogans.
Patents
Patents are the heavy hitters of the IP law world. They protect inventions, but only temporarily. Why then apply for a patent?
The purpose of patent protection is to reward innovators, inventors, and entrepreneurs. Oftentimes, a smaller venture with a great idea needs time and support to bring that invention to market. If other, larger companies with more production infrastructure and an expensive legal team could find out about the invention, they could sell it as well, and drive the actual inventors out of business.
Why, then, not use a trade secret protocol? Well, new inventions need to be discussed and disclosed so that they can attract funding and support. Thus, the patent system grants a temporary 20-year monopoly to any successfully approved inventions that allow the company of origin the sole right to bring that product to market and lets it take legal action against infringers.
While patent cost can seem daunting sometimes, the potential downsides of not protecting your inventions are much more significant. According to J.D. Houvener, a patent attorney serving Los Angeles, timing is key.
"Patents must be filed within one year of the first public disclosure or offer to sell the invention; after that, it's too late and any company has fair game. Patents exist to support innovation and invention, and so as a patent attorney one of the most rewarding parts of the job is to make sure that someone gets credit for their own amazing intellectual property."
In Summary
Copyrights, trade secrets, trademarks, and patents all play a huge role in a well-functioning business venture. Copyrights can protect creative work, while trade secrets ensure confidentiality. Trademarks lead to robust and secure brand identity, and patents make the entrepreneurial business model financially feasible.
Don't wait until it's too late to get informed about your IP law options. There have been many documented cases of predatory, larger companies taking advantage of less-than-ideal IP policies of smaller ones. Hopefully, this article has provided some insight into the basics; make sure to consult a professional patent attorney or law firm when the time is right.
You may also like: 4 Legal Mistakes Often Made by Startups