Click here to get this post in PDF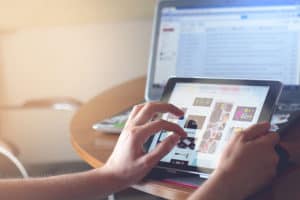 If you are planning on running a small business, then you are very likely going to need a small business. As a matter of fact, it is almost impossible to run a small business without the internet. Therefore, you are going to have to look into internet service providers or other forms of internet access so that you can get your business off the ground. With the right type of internet service, you are going to be able to build your business the way you want to.

What You Need For Your Small Online Business
There is a lot you need for your small business besides the internet. Among the things you are going to need are electronic devices such as computers, smartphones, and other pieces of hardware. When it comes to software, you are going to need productivity products. This includes cloud services, data analytics, and other software as it depends on your small business. Then you are going to need to figure out a plan for your marketing methods. This includes figuring out the platforms that you can use to spread awareness of your brand.
Marketing With the Use Of Optimized Content
One of the most talked about topics when it comes to making money with a small business over the internet is search engine optimization or SEO. One of the reasons that people use SEO is that search engines are the best source of traffic. SEO involves many factors such as keywords, links, relevance and overall content. Overall, the focus should be on what you are bringing to the users. Search engines factor websites based on the overall experience it is bringing customers.
Marketing With Social Media
Social media has become one of the most popular forms of marketing. One of the reasons that social media is so popular as a marketing tool is that so many people are online gaining popularity with their social media accounts. Therefore, this brings forth many possibilities for what can be done with social media. For one thing, people can direct the traffic of their following to their site or their own platform for the chance to monetize it. Also, many large companies are seeking influencers in order to help with their brand.
Building Your Brand
However, you decide to build your brand, one of the most important things to consider is how you are going to market the most important aspect of the brand. If you are planning on starting your business, you have to learn how to market yourself. Therefore, one thing that would help is making sure that you are focusing your business on something that you are passionate about and then reaching out to communities that are involved with your niche. This is the easiest way to make connections with others and also establish yourself as one of the valuable sources of information on the topic. This will get people wanting to listen to what you have to say on the matter.
Types of Media To Use
There are different ways you can get your information across to your audience. As a matter of fact, the type of media you are going to use depends on the type of business you are hoping to run. Among the types of content you can create are text, audio and video. You can do a combination of all of them. The only thing is that you are going to have to decide on what you are comfortable with and start there while getting ready to use other forms of content.
The Cash Flow Issue
There is one issue that you have to solve with your small business. This issue is cash flow. If you are able to maintain good cash flow for your business, then you will be able to keep your business from becoming insolvent and ultimately failing. Therefore, you need a plan for getting cash and keeping the cash flow going.

Overall, if you have marketing skills, then you are going to be able to make money over the internet with your small business. You can also use advertising and paying for advertising spots in order to get people to visit your site. One of the reasons that businesses still use this method is that it has been very effective throughout a long period of time. However, other forms of marketing are cost-effective in bringing in the number of sales.
You may also like: Strengthening Your Online Presence in 2019