Click here to get this post in PDF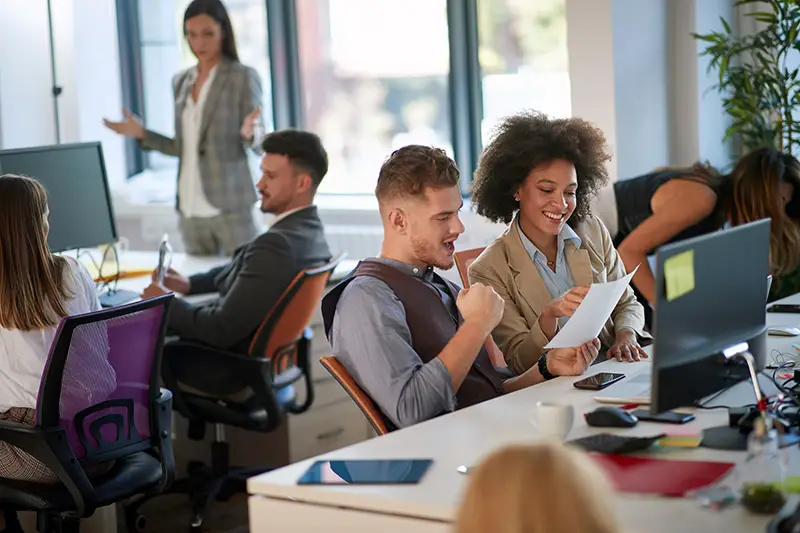 Managing a workplace can be risky, but a positive feedback mechanism can make things much easier. When people feel appreciated and receive consistent feedback they can act on, they gain more insight into their successes and opportunities. This further boosts morale and motivation. If you are part of a team and want tips on providing positive feedback to your colleagues,  here are some ways to achieve this.
1. Words of Affirmation
Words of affirmation are an incredibly powerful tool for showing appreciation in the workplace. So often, when we feel like our work isn't valued or recognized, it can be discouraging and disheartening, but expressing positive feedback to colleagues, like words of affirmation, can boost their confidence and morale for everyone. Genuine words of encouragement and thanks can go a long way in making someone feel appreciated and respected in the office.
For example, let's say your company has just brought in new team members who need help with the onboarding and orientation process. One of the employees is responsible for training them and showing them around to bring them up to speed with company operations. As a leader, acknowledging the extra work they put in to keep the team in a winning position can go a long way. Simple positive affirmations are all you need. Make sure you acknowledge what they did and express your gratitude.
2. Offering Growth Opportunities
No one wants a stagnant career with no room for growth. Offering opportunities for team members to advance professionally can mean a lot to them. You can offer opportunities by offering promotions for deserving employees. Not only does this show your appreciation for their contribution, but it also encourages them to take on bigger responsibilities that come with their new roles. 
By facilitating training for deserving employees, you equip them with skills that allow them to contribute even more significantly to the rest of the team. It is now easier to provide training for employees through the internet. A talent development platform can help them solidify their strengths and acquire more skills necessary for their respective positions. You can learn more about talent development platforms here. Remember to be more specific with the element you want to encourage for the best outcome.
3. Celebrating Work Anniversaries
This is an opportunity for everyone to recognize the hard work and dedication that your colleagues have put in. Not only does it give everyone a chance to get together and appreciate one another, it also illustrates just how far an individual or team has come. When colleagues cheer each other on during milestones, it encourages growth and development in the workplace and bolsters teamwork. 
4. Time Off
Burnout is a real challenge for employees. If you have a team member who consistently works late hours, they could be at risk for potential burnout, impacting their productivity and even affecting the rest of the team. In such a case, allowing them to take some time off will be of assistance. Help them understand why you think they need a break and how it could benefit their personal and professional life.
Time off is an effective way to show your colleagues they're valued and appreciated. Whether it's a few extra PTO days or occasional "no meeting" Fridays, these small tokens of appreciation can make a world of difference in creating an environment where people feel respected and energized. Quality time off is just the kind working professionals need, a reminder not to take their jobs too seriously, and that "all work and no play" isn't in the cards for long-term success.
5. Leadership Positions
Offering leadership positions to deserving employees boosts confidence in everyone involved and lets those willing to step up know they're appreciated. Doing this affirms the importance of their work and engages them in a meaningful way. It also achieves two very important goals: it can give your team members the professional recognition they deserve and may help you create more leaders capable of taking ownership when you're unavailable. 
Every team member wants to feel appreciated for going the extra mile. Positive feedback is great for doing this without eating into your budget. Remember, it is all about identifying the achievement and finding ways to acknowledge them. The impact of positive feedback can be a huge boost to the entire team.
You may also like: The Importance Of Maintaining Good Employer-Employee Relationships
Image source: Depositphotos.com