Click here to get this post in PDF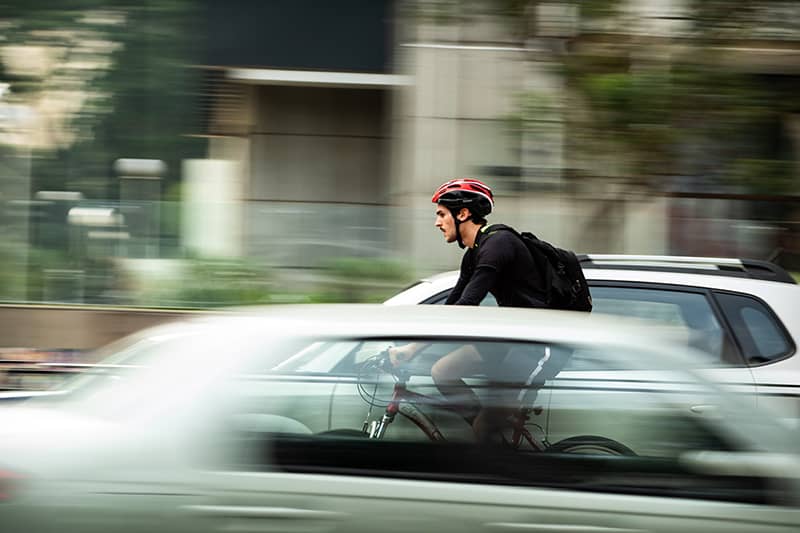 Due to its numerous benefits, cycling to work is becoming a preferred way of commuting for many employees in urban areas.
Whether you're considering the option for fitness and health reasons, you want to save money, or you just dread being stuck in traffic, cycling to work is well worth every effort you put into it.
Even so, urban pedaling is not all roses. Busy streets, speeding cars, bike thefts, cold and rainy weather -every day brings a new challenge.
To reap all the benefits of urban cycling, you need to be well prepared to face these challenges, with the right clothes and the right equipment.
Here is the essential gear you need to make your commutes comfortable so that you arrive at your destination feeling healthier and happier.
Bike Helmet
While cycling without a helmet isn't illegal, whenever you're anywhere near traffic, it (unfortunately) makes perfect sense to have one.
Unless you live in the Netherlands, one of the least dangerous countries for bikers in the world. Due to the insulated road system in this country, bicyclists are protected from the unpredictable and fast-moving road traffic, and helmets are almost unknown.
Bicycle helmets are built with a single purpose – to prevent possible head injuries in case of fall or crash and potentially fatal consequences. Wearing a helmet can minimize the risk of a head injury to bicyclists by 85%, significantly reducing the death rates due to such injuries.
Helmets nowadays come in all sizes, shapes, and colors. If you decide to play it safe in a possibly hazardous environment, take your pick from many excellent and affordable helmets on the market.
Cycling Power Meter
A power meter is a training tool used by professional athletes to track their cycling performance. However, anyone who rides a bike can benefit from using a power meter. This convenient tool measures your power output on the bike in watts. You can convert watts to kilojoules, which is almost equal to the calories you burned while cycling, to keeping track of your weight loss. Most importantly, a power meter is an overall helpful tool for training to improve your power, speed, and stamina.
Convenient Clothing
If you're a beginner in urban cycling, you should ditch the idea of cycling to work in a floral dress or any suit-and-briefcase tendencies you might have.
It is doable, of course, in regions with a temperate climate. But, if you're living in an environment where you'll be facing cold and rainy days or the extreme heat, you'll need to take measures of precautions.
How much your dressing habits will change, depends on the length of the road and the intensity of pedaling. Many people start biking in their working clothes, yet choose to switch to a full biking kit, for the sake of higher comfort. If you find it hard to have the attire that is both functional for the ride and suitable for work, you may need a set of different clothes for your commute.
This doesn't mean that you'll have to Lycra-up, as there are many comfortable cycling clothes, not so super-tight.
Cycling gear fits well even when you lean over the handlebars. It is padded in all the right places and moves as you ride. The fabrics used can handle the sweat perfectly, while the outer layers are breathable – keeping the rain out, but not keeping the sweat in.
Base layers, shorts, bib shorts, thighs, jerseys, jackets, shoes, and gloves – there are all sorts of items on the market for an affordable price.
Cycling gear will add to the comfort of your rides, and offer better visibility thanks to its reflective surfaces.
Commuter Backpack
To transport everything you need for a day in the office, comfortably and safely, you need a good cycling backpack.
There is a large variety of commuter backpacks on the market, so you can choose the one that best fits your pocket as well as your needs for its cargo capacity, a mix of features, design, and durability.
If you're an average commuter, you can settle with 15L cargo space, that is enough to pack all the essentials. If you have large gear requirements, opt for backpacks with internal compartments above 20L.
Aim for a durable, water-resistant backpack with versatile storage options, that fits your body perfectly while biking through crowded city streets.
Personal Items
As for items you'll need during your commute, there are a few things you shouldn't leave your home without:
Water,
Eyeglasses,
Cell phone,
Personal documents.
You can take your post-ride personal items with you, or keep them at your workplace. Most of the employees who cycle to work, choose to leave a few essential clothing items at their offices, like a jacket, or a pair of shoes. They commute in their cycling kit and carry other clothing items in their backpack.
While this may function perfectly most of the time, it can be quite tricky on the days when they forget a shirt. Or trousers. Minimize the inconvenience and keep a stash of backup clothes at work, just in case.
Also, you should consider personal hygiene options, if your ride works up a sweat. You might want to pack your toiletries and your towel or have them stashed at the office too.
Core Repair Items
As for the repair items you're taking with you, focus only on the essentials. The idea of a heavy backpack will demotivate you before you've even started.
When you're in the city, chances are you will easily find a shop or another friendly cyclist to help you if something goes wrong. Consider your route, and see where you could get help if you face any difficulties.
Go for a small multi-tool if you need to do the necessary fixes. If you don't mind the weight and want to be prepared for a punctured tire too, you will benefit from carrying a pump, a spare tube, and some tube layers.
Prevent Theft
As bike theft is a common problem, skimping on a lock is never a good idea. Once you get to work, you want to be sure your bike will still be there when your working hours are over, and the fact that almost half of the active cyclists have had their bike stolen doesn't seem very comforting.
Even if your company has secure parking, just think of all the other places you might leave your bike too. Invest in a high-quality U-lock that will secure both your rear wheel and frame to the rake.
Road Safety
Apart from driving carefully and following the rules of the road, you will contribute to your safety by wearing reflective clothing, as well as installing lights and reflective strips to your bike.
Especially when it's dark and rainy, the more visible you are to the other drivers, the safer you and your bike will be from accidents.
If you're not using dynamo lights that you can power as you cycle, keep a couple of emergency lights in your backpack too if your lights run out of charge.
And remember, the sooner you start cycling to work, the sooner you'll feel all the benefits. You can always decide to start small and simple and gear up as you go.
You may also like: How to design your office for maximum health and productivity