Click here to get this post in PDF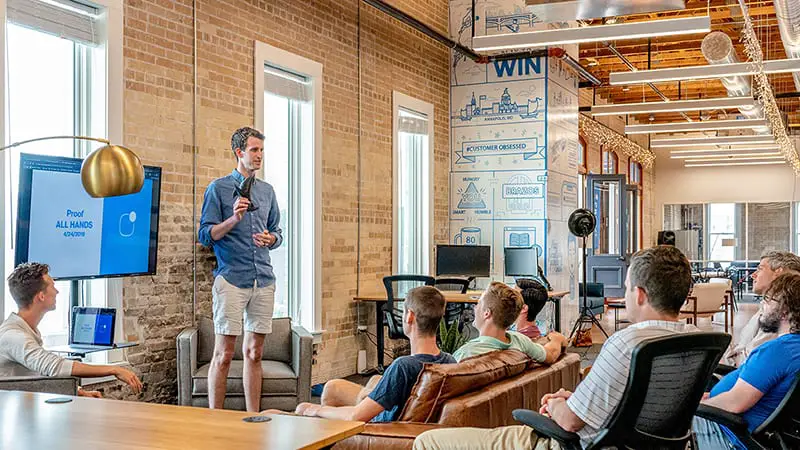 Whether you're an entrepreneur or a hustler, you never know when opportunities arise.

From a random coffee conversation to an official meeting, anything could turn out to be a big investment deal.
Who knows, even your gym partner might end up investing in your business. But only if you know – how to present your business idea efficaciously.
Remember that all the contrarians out there were once in your shoes. They know exactly where to look to get the best out of their investment.
Doubtlessly, as first impressions last till the end, you must always have a great pitch or even an elevator pitch prepared. But that's something easier said than done.

Inevitably, it's a nail-biting scenario and questions like whether they'll like you or your ideas start to float in your mind. And above all, you always wonder whether they are going to invest or not.
To take you out of this hurdle, below are the four surefire ways to make your pitch compelling to lenders.

Let's dive in.
Out-Think And Do Your Homework
Your pitch is the crux. You need to tailor your pitch outlining to match exactly what investors are looking for. And for this, you need to do a lot of homework.
Start with going through investment backgrounds and social accounts of the investor you're about to pitch. You must be aware of each and everything that drives this lender. This will help you adapt to the right pitch.
While making the presentation, remember it should be varied for different lenders, keeping in mind their respective expectations. Think over and over and prepare well for each question that you may encounter during your pitch.

This makes your pitch more comfortable and everything comes out more naturally. And the more comfortable you are, the more influential your presentation will be.

Remember, there are no short-cuts here, you have to do your complete homework and out-think. If you require help in this area, check out pitch specialists, Launch Module
Practice, Practice and Practice
It's just the initial 90 seconds in which you have to make your point impact investors. If you fail to do that, you will lose your funding. The reason is, investors speculate on the fast and thoughtful entrepreneur rather than on accustomed ones. We all know what happens in Shark Tank, don't we?
They check out whether you are fast and efficient enough to sustain the pace of the project's growth from its conception. So, you also need to prepare yourself along with your idea.
Of course, no one can judge your skills in just ninety seconds. But definitely, you can assure them of your worth with a simple tactic. That is – "Practice".

Start with creating a pitch that excites the audience then start practising your pitch in front of real people, before going on to investors.
This will help you to take notes on what went well and what else can be done. Implementing this practice, soon you will realize what is that most connect to the audience.

Ultimately, this will make your pitch delivery and performance flawless.

For instance, Aaron Krause ( owner Scrub Daddy) was practising for months in front of other people prior to going on Shark Tank. With continued practice, he had refined his pitch to such a great level, that it lead to the Sharks investing $200,000 in Scrub Daddy shares live on the show.
That's what we call – Practice truly leading to perfection.
Create an Appealing Presentation
Don't forget that the lion's share of an investor's decision is going to be based on the quality of your presentation. For a digital presentation, there are even templates like the Pitch Deck starter template for Google Slides that can make your presentation look great and organized.

In the words of Neil Patel, your presentation should be focused on the three W''s. That is, what you do, what problem your product solves and why you're different.
Apart from that, make sure you have a clear USP (unique selling proposition). Keep it short but be descriptive about the uniqueness of your product or services.
A golden rule to follow here is – "It should be neither too long nor any nitty-gritty is left to tell".
The presentation of a pitch must be in a conversational tone. Beyond any doubt, it should clearly demonstrate the business objectives.  Nevertheless, it should also be explanatory to how funding can help for the business growth. Note though to provide a realistic amount if you're aiming to raise funds for your business idea. Intelligent investors are continuously searching for new businesses that have control over total costs. With that said, refrain from giving yourself a huge salary and stick to a minimum working capital budget.
You can do this by keeping your spending as low as possible, for example, purchasing affordable PCs instead of buying up-to-date models with high tag prices. However, take note to consider a buffer for your operational and marketing expenses.
Additionally, another influential approach is using the story-telling presentation. Presenting your pitch as a story (if you can) is always more compelling than other approaches.
Moreover, if there is an emotional appeal or connection in your pitch then chances are pretty high that you will catch that big fish.  So do some work on that. Then again, avoid pitching your business idea like a get-rich-quick formula. Cautious people in business will not recognize a daring multi-million-dollar revenue and profit projection. As an alternative, highlight a practical income growth and demonstrate three likely results–your prospective case, worse case, or the optimum case based on revenue.
Remember to present pieces of evidence for your figures like competitor analysis and the latest market data. Ensure you likewise straightforwardly discuss why and how you arrived at your income forecasts. 

Also, if your product is related to some legacy or intended to help others somehow, use these points to build your pitch. Studies show that doing so has helped many get a fair share of their investor's attention.
Select the Right Spot and Environment
Choosing the right spot and environment also plays a crucial role to make the lenders feel your worth. First of all, you need to take care that you're choosing the right spot for that one meeting for which you've been waiting for months of the investor's call.
If you have your own office or workplace, it will be good for you to use it as the venue. Doing so will give a better understanding of your business to the rentiers. In this way, it will be much easier for you to convince them for funding.
However, you must ensure to check the tidiness of your workplace. It is a very important aspect of the workplace environment.  Some of the steps that you can use in this favour are organizing the unnecessary cables, reducing clutter on desks and scheduling office cleaning.
Without any doubt, one must get his/her workplace gets cleaned by professionals when gearing up for such an important event. One such professional cleaning service providers are the Cleaning Services in NYC. You can use their services every then and now, as and when required. Just make it a day prior to the investor's arrival.
Conclusion
By implementing these four ways (listed above), you are sufficient to make your pitch compelling to investors. Don't forget the ultimate key for shaping your dream business ideas to reality is how efficaciously you put your ideas in front of others. Keep it factual, enthralling, attractive and full of confidence.
Remember also the objective of a winning pitch is to make sure investors will be clamouring to invest in your business. Indeed, the idea may sound unattainable; however, keep in mind that it's possible. When you effectively present what your investor is searching for, you genuinely have a compelling pitch. Above all, believe in yourself, take rejections as new learnings. The world is waiting for you to conquer the success you deserve.
You may also like: Have a Great Invention? Here's How to Make it a Product
Image source: Unsplash.com