Click here to get this post in PDF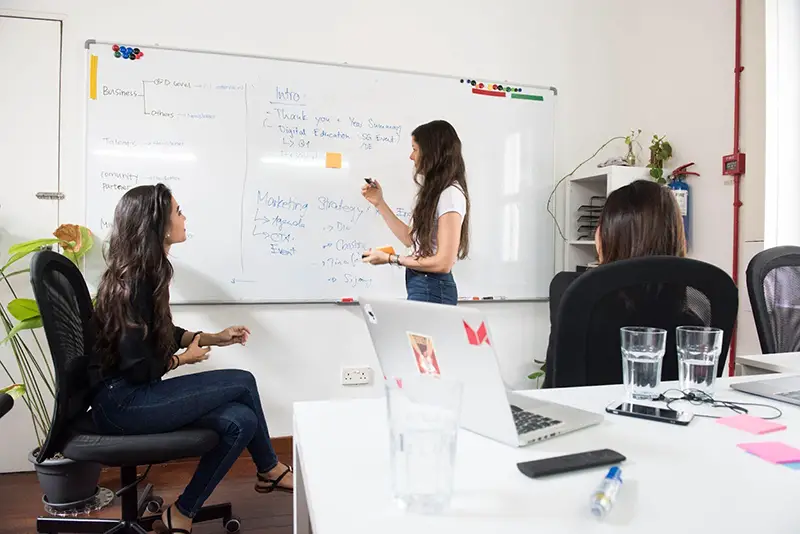 As you align marketing and sales strategies with account-based marketing or ABM, one crucial area needs particular attention. 
And that is your content. 
While marketing and sales teams have different goals in content, in an ABM strategy, these should be aligned to have the most significant impact on your content. 
It means that you should be analyzing every single bit of your content assets, ensuring that it meets your team's needs. Apart from that, every piece of content should also meet the needs of your target accounts. 
In this post, we'll walk you through the seven best practices to create helpful content for your ABM advertising strategy: 
Tailor Your ABM Content to Your Target Audience
Your ABM strategy data might have given you insights into your target accounts. Therefore, it's time to put those insights to work. 
Utilize everything you know about your target accounts. That way, you can come up with highly personalized content. It could be the by location, industry, business size, and any other data you have. It would be best if you also considered the preferred content channels of your target audience. 
Every segment you're targeting should have content specifically tailored for them.
Support With a Personalized, Optimized Content Strategy
Your content strategy should also align with the interests that engage the decision-maker of these accounts. 
To accomplish this, you need to develop extensive pillar content pieces explaining how your product solves your target audience's specific pain points. Then, cluster supplementary content linking from and to this particular pillar piece explaining the concepts within it. 
At ABM Advertising UK, we always tell clients that when planning their content strategy using the pillar and cluster format, every pillar will be targeting a different decision-maker persona. Doing so delivers more personalized content to boost your visibility to critical accounts. 
On the one hand, SEO ABM will enhance your visibility on Google. Since almost half of the search traffic comes from the top results on the search engine, you also need to ensure that the content you create is SEO ready. 
Create Creative Content That is Tailored to Your Audience
People tend to absorb and consume information if different ways. Some people prefer written material, whether through a blog post, eBook, or any material that uses texts. Others will like to have videos, pictures, infographics, and podcasts. 
To reach a bigger audience, you must ensure that your content types and other delivery techniques are diverse. 
Since you don't know the prospect personally, creating content that integrates different elements to capture their attention is better. For example, while a 2,500-word essay may seem appealing for some, it doesn't mean they won't consume an appealing infographic that gives them a more simplified version of the information. 
It would be best to produce content that interests your audience regularly. People want to learn more about what you do, what you sell, and the value you're offering to them. 
Identify The Appropriate Content & Channel For Each Account
After identifying the appropriate account, every campaign will have personalized messaging on proper channels. Meaning your message is personalized to the individual. 
ABM targets different individuals at different levels within a company. While customized landing pages and digital marketing strategies work well with directors, managers, and VPs, most C-level executives won't likely register for webinars or give you their information in exchange for a free eBook. 
Landing pages: Personalized landing pages are one of the most effective ABM tactics. Showcase custom copies, images, offers, and forms. Duplicate these for particular accounts and individuals. 
Direct Mail: For C-level executives, your approach may vary. Direct mail can be effective if the C-level exec comes from a much older generation and is not as quite receptive to digital marketing tactics or unsolicited messages on social media. 
Peer to Peer: Another essential thing when communicating with top-level executives is to assign your own internal people to manage their accounts and should support all aspects of communication. 
LinkedIn: The right content and channels vary depending on the account or business type, but you should use LinkedIn. It has over 610 million users, with 90 million senior-level influencers are 63 million are key decision-makers in the company. 
Use More Personalized and Relevant Experiences
One of the essential aspects of ABM is creating highly personalized and targeted content for a specific person or role within a target account. 
ABM often challenges marketers to flip the funnel by identifying key accounts and then creating a plan to engage these accounts directly before and after they become paying customers.
Optimize Your ABM Content for SEO Team
To optimize your content for SEO, you need to do a content audit. What content does well on organic searches, and what are the ones that need a little boost? 
It would help if you also optimized for the right keywords. Use a long-tail keyword tool such as Answer the Public to help you narrow specific key terms that your target audience might use.
You must also pay attention to the content structure, formatting, and images. Do you have clear subheadings that include keywords? Are you using bullet points, number lists, and tables to support your content? 
Do you use images and videos that engage users?
Over to You
So there you have it. A holistic look at your content strategy will help you determine which needs best support your ABM approach. Good luck!
You may also like: A Guide to Choosing the Appropriate Tools for ABM