Click here to get this post in PDF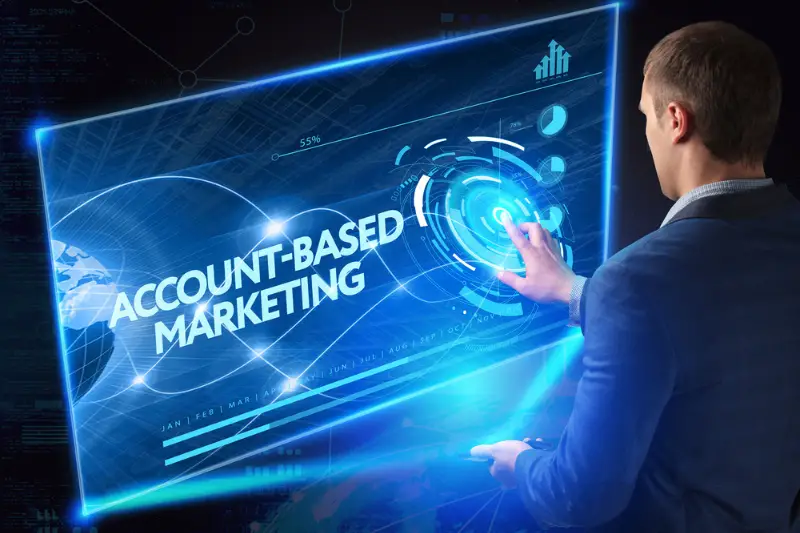 In today's fiercely competitive business landscape, crafting a robust and highly effective Account-Based Marketing (ABM) strategy is not just an option; it's an absolute necessity. ABM operates with pinpoint accuracy, identifying the most promising accounts and engaging them through personalized campaigns that establish long-lasting connections with key decision-makers. In this introduction, we embark on a journey through the essential stages of creating a victorious ABM strategy, emphasizing the crucial role of meticulous planning, seamless collaboration between marketing and sales teams, and the invaluable insights derived from data.
At the core of ABM lies its ability to identify the ideal accounts, conduct thorough research, and tailor strategies to address each account's unique challenges and aspirations. This elevated approach takes marketing efforts to unprecedented levels of success. The true power of ABM lies in its capacity to provide a personalized and captivating experience, fostering trust, loyalty, and profound relationships with potential clients.
As we delve into the intricacies of constructing an ABM strategy, we uncover a world of strategic brilliance and innovation. Each step in this process seamlessly aligns, creating a symphony of success, all aimed at achieving business growth and prosperity.
Different Types of Account-Based Marketing Campaigns
Account-Based Marketing (ABM) encompasses a diverse array of campaign strategies, each carefully customized to engage and convert ideal accounts. These campaign types are strategically crafted to cater to the unique needs and preferences of target accounts, ensuring personalized and impactful interactions.
Individualized ABM Campaigns (One-to-One):
In the realm of ABM, Individualized Campaigns shine when dealing with a singularly crucial client. These clients hold the key to numerous potential deals, and creating tailored deliverables for them offers a significant advantage. These offerings are finely tuned not only to their industry but also to their specific products, organizational structure, and branch network. Individual ABM campaigns can take various forms, including sustained, gradual-burning campaigns, recurring burst campaigns, or one-off campaigns. They serve as both a complement to the efforts of sales representatives and an independent initiative, cleverly generating Sales Qualified Leads (SQLs) for field representatives.
Focused ABM Campaigns (One-to-Few):
This prevalent campaign archetype caters to a range of 2-50 designated accounts that share common attributes like industry, product requirements, geographical location, and more. Often, it's advisable to break down a substantial roster into smaller, finely delineated lists to fully leverage the potential of ABM. This campaign mode serves as a premier and sought-after format, frequently striking a balanced approach for a multitude of enterprises. The enthusiasm and impact of focused ABM campaigns can be adjusted based on the average order value, ensuring a formidable Return on Investment (ROI). Typically orchestrated for lead generation, these campaigns also provide valuable support to ongoing sales initiatives and brand endeavors.
Broad-Scope ABM Campaigns (One-to-Many):
This campaign variant represents a fusion of traditional and ABM campaigns, targeting a spectrum of 50-500 designated accounts. While it may possess slightly less precision compared to typical ABM endeavors, it shares commonalities among the targeted accounts. Broad-scope ABM campaigns often prove effective for promotion when the Average Order Value (AOV) tends toward the lower end or when comprehensive insights about each account remain somewhat limited. This campaign format serves as a dual-purpose vehicle, capable of generating leads and enhancing brand visibility. Its adaptability allows for fine-tuning to align with your desired outcomes.
Crafting an Effective ABM Marketing Strategy
Creating a successful Account-Based Marketing (ABM) strategy demands a well-structured plan that encompasses the essential stages outlined below:
Define Ideal Buyer Personas and Identify Target Accounts:
Initiate the process by meticulously outlining ideal customer profiles and pinpointing your target accounts. These profiles serve as your navigational compass, guiding you toward accounts that perfectly align with your revenue, margin, and profitability goals. Once your target accounts are identified, it's crucial to adopt a proactive approach. Kickstart interactions through personalized email pitches or calls made by your dedicated sales representatives. Should the initial outreach not yield the desired results, be ready to explore alternative pathways. Leveraging well-connected individuals, such as regional VPs, can prove instrumental in opening new doors of opportunity.
Conduct In-Depth Stakeholder Interviews:
To gain a comprehensive understanding that goes beyond surface-level research, arrange face-to-face interviews with key stakeholders within your target accounts. Delve deep into their objectives, aspirations, and pain points concerning your products or services. This firsthand insight is invaluable for determining whether these accounts are the right fit for your ABM program.
Proactively Anticipate and Address Objections:
While conducting these interviews, it's vital to anticipate objections and prepare to handle them adeptly. Engage upper management to introduce the meeting, creating an atmosphere centered around comprehending customer needs rather than delivering a conventional sales pitch. Gathering essential information, including job functions, age, industry specifics, number of employees, revenue figures, and location data, allows you to fine-tune your Ideal Customer Profile (ICP).
Segment Your Contacts:
Categorize your contacts into distinct groups, such as Champions, Decision Makers, Influencers, and Users. This segmentation facilitates more precise and personalized communication efforts. By effectively identifying and targeting the right individuals with tailor-made messages, you significantly enhance the effectiveness of your account-based marketing strategies.
By diligently following these steps, you will establish a sturdy foundation for your ABM strategy. This ensures that you're not only reaching out to potential clients but also engaging with them in a meaningful and personalized manner. Such an approach not only elevates your chances of success but also fortifies the relationships with your target accounts. If you're seeking further guidance on optimizing your ABM strategy, consider consulting account based marketing experts, who specialize in driving exceptional results through strategic marketing approaches.
Bringing it All Together
In summary, achieving success in account-based marketing demands a meticulous and strategic approach that places a strong emphasis on personalization, collaboration, and data-driven insights. The three fundamental pillars of an effective ABM program are the identification of key contacts, the creation of tailored content, and the utilization of well-researched tactics.
The seamless coordination between sales and marketing teams is of paramount importance, as they must operate in harmony throughout the entire customer journey, ensuring a unified and personalized experience for high-value accounts. The quality and availability of data are foundational, necessitating ongoing efforts to collect and maintain accurate, comprehensive, and up-to-date information.
When it comes to account selection and prioritization, careful research and consideration are crucial. The focus should be on quality rather than quantity to optimize resources and outcomes. By embracing the strategies and insights outlined above, businesses can establish lasting relationships, accelerate their growth, and unlock unparalleled opportunities for expansion.
You may also like: Secrets to Creating & Launching a Successful B2B Influencer Marketing Strategy
Image source: Depositphotos.com